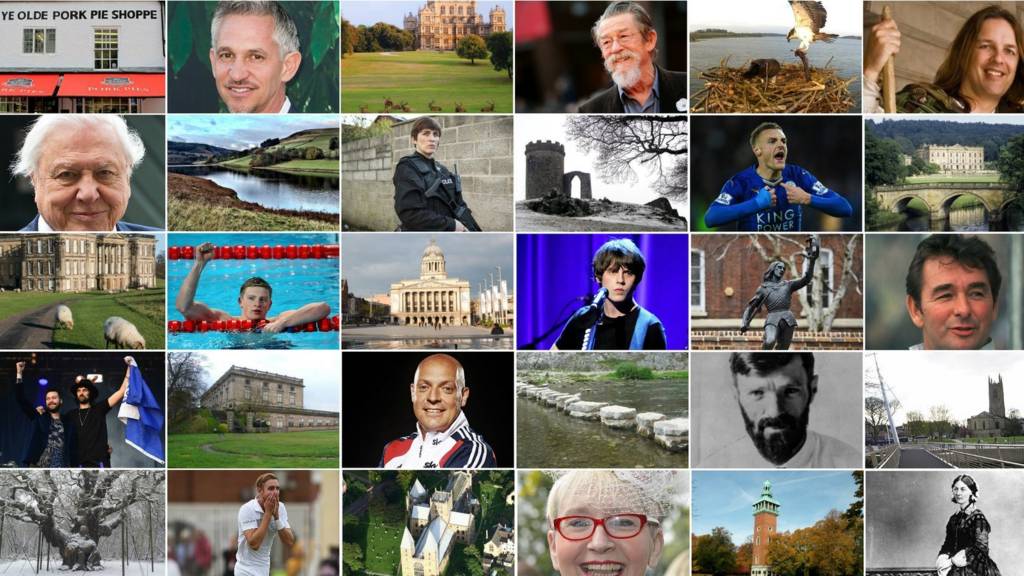 Latest updates: East Midlands Live
Listen live to your BBC local station in Derbyshire, Nottinghamshire and Leicestershire.
Summary
Pedestrian killed in M1 crash
Teen due in court over Jaden Moodie death
Plans for thousands of homes to be debated
Car crashes into hair salon
Car flipped in 'drink drive' crash
Arrest after five robberies on two city streets
Updates for Monday 21 January 2019
Severe disruption: A57 Derbyshire both ways

BBC News Travel

A57 Derbyshire both ways severe disruption, between A6013 and Hurst Road.

A57 Derbyshire - A57 Snake Pass closed between the A6013 (Ladybower Reservoir) Ladybower Reservoir junction and the Hurst Road (Royal Oak Inn, Glossop) Royal Oak Inn junction, because of snow.

To report traffic and travel incidents dial 0330 123 0184 at any time

Severe disruption: M42 Leicestershire northbound

BBC News Travel

M42 Leicestershire northbound severe disruption, before J11 for A42.

M42 Leicestershire - M42 partially blocked and heavy traffic northbound before J11, A42 (Burton-Upon-Trent), because of an abnormal load.

To report traffic and travel incidents dial 0330 123 0184 at any time

Our live coverage across the day

Live updates have now finished for the day however links to some local stories may continue to appear on this page overnight.

We will resume our live updates from 08:00 on Tuesday.

Weather: Cold evening ahead

It's going to be dry and largely cloudy this evening.

Later in the evening, there will be some rain with some hill sleet or snow mixed-in.

Man with terminal cancer fighting to die at home

Amy Orton

Local Democracy Reporter

An army veteran with terminal cancer who wants to die at home has been stuck in hospital for three weeks because care can't be arranged for his discharge.

The 88-year-old man, who does not want to be named, was diagnosed with colon cancer last year. As the result of a blocked colon the grandfather had an operation in September 2018 where surgeons fitted a stoma bag.

During the operation it became clear that the cancer had spread to his bowel, stomach and duodenum. He was told he had weeks or months to live.

His son, who is trying to help arrange care at home, said: "I dread the call that dad has died in hospital.

"Dad doesn't want to end his life being left to rot on a post surgical ward, his wish is to die at home in comfortable surroundings."

Delays in making arrangements for carers to visit the man when he returns home means he cannot be discharged from Leicester General Hospital - despite being deemed medically fit.

Discussions have continued between the man's son, ward staff and social services but no care could be arranged and 15 companies have declined to provide the medically complex care he needs.

Quote Message: We are sincerely sorry that the discharge process for the man has not been straightforward and we understand how frustrating this can be. If a patient has complex medical needs, it is not always possible for care to be provided at home." from Gill Staton Leicester's Hospitals

Vote on huge city building could have been closer

Chris Doidge

BBC Radio Derby, political reporter

A member of Derby's planning committee, who was absent when his colleagues voted in favour of The Landmark building last week, has said he would have rejected it.

This would have made the vote 7-6 rather than 7-5 and shows how close it could be when the final decision is made next month.

Current plans are for a block of 202 apartments with the tallest part of the building being 17 storeys high.

UKIP's John Evans says he'll "definitely" be voting against it. He said high-rise blocks were tried in the 1960s and tend to turn into ghettos.

Severe disruption: M1 Derbyshire northbound

BBC News Travel

M1 Derbyshire northbound severe disruption, from J29A for A6192 Erin Road Markham Vale to J30 for A616 Worksop.

M1 Derbyshire - One lane closed on M1 northbound from J29a, A6192 (Markham Vale) to J30, A616 (Worksop), because of a broken down vehicle. Traffic is coping well.

To report traffic and travel incidents dial 0330 123 0184 at any time

Peak District gritters prepare for snow

We could be in store for a sprinkling of snow in the Peak District tonight. The gritters are out ready.

Shelter 'saves life' of homeless man and dogs

David Pittam

BBC News Online

An Ilkeston man and his two pet dogs who spent eight years on and off the streets now have a new home thanks to a night shelter.

Melvyn Beard said the town's winter shelter, which opened on Christmas day, "probably saved [his] life" after it put him in touch with a charity that helped him find and move in to a flat.

He said: "I never expected anything like this.

"If it wasn't for the shelter me and my two little dogs (Poppy and Buddy) would still be walking the streets."

Copyright: Ilkeston Winter Shelter

Tram services cancelled following 'faults'

There is some disruption on the trams in Nottingham this afternoon - several services between 15:45 and 20:22 have been cancelled.

Concerns for man missing from home

Police are appealing for help to find a man missing from his home in Woodville, Derbyshire.

Steve Martin, 43, was reported missing this morning and is believed to have left the house some time between 07:00 and 08:00 in his car - a white VW Scirocco.

Derbyshire police said it's thought he may have travelled to Nottingham.

Copyright: Derbyshire Constabulary

Severe disruption: M1 Derbyshire southbound

BBC News Travel

M1 Derbyshire southbound severe disruption, from M1 to J28 for A38 Alfreton.

M1 Derbyshire - One lane closed on M1 southbound from M1, Tibshelf Services to J28, A38 (Alfreton), because of a lorry having a tyre changed. Traffic is coping well.

To report traffic and travel incidents dial 0330 123 0184 at any time

Panthers win under new head coach

Nottingham Panthers got their first win under head coach Rick Strachan - who's in charge for the rest of the season after Rich Chernomaz was sacked last week.

The Panthers, who are third in the Elite League, beat fourth placed Fife Flyers 3-2 after penalty shots at the National Ice Centre last night.

Copyright: Nottingham Panthers

Campaigners call for disabled pass reversal

A petition of more than 1,100 signatures has been handed in to Nottingham City Council calling for the reversal of a cut to travel passes for disabled people.

The changes to the Disabled Persons Mobility Pass came into effect last September and prevented card holders from travelling for free on buses and trams in the city between 23:00 and 09:30.

The council has blamed a reduction in government funding and said the policy change will save £100,000.

But campaigners have criticised the plans as the council spends £50m on developing the Broadmarsh shopping centre and asked for the pass to be funded for 24 hours a day.

Gary Freeman said: "We think it's a terrible decision to attack disabled people who need that pass to go to medical appointments before 09:30 or maybe working late shifts or night shifts."

Gritting teams out in force

As temperatures are set to fall below zero tonight, gritting teams will be out across Leicester.

Met Office issues warning over icy weather

The Met Office has issued a Yellow weather warning for most of the UK including the East Midlands.

The warning is for ice and applies from midnight tonight till midday tomorrow.