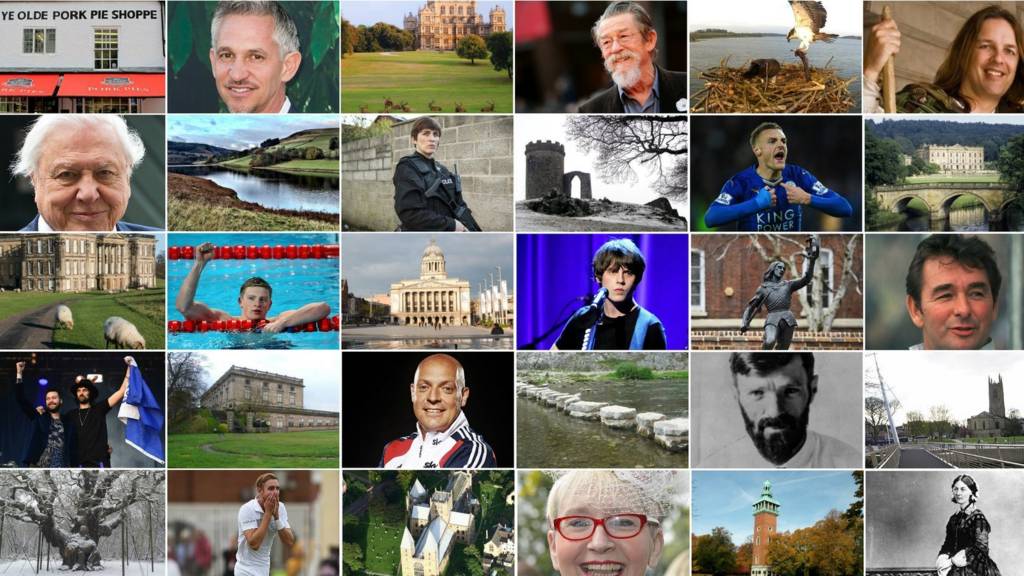 Latest updates: East Midlands Live
Listen live to your BBC local station in Derbyshire, Nottinghamshire and Leicestershire.
Severe accident: M1 Leicestershire southbound

BBC News Travel

M1 Leicestershire southbound severe accident, after J21 for A5460.

M1 Leicestershire - Two lanes closed and queuing traffic on M1 southbound after J21, A5460 (Leicester), because of an accident.

To report traffic and travel incidents dial 0330 123 0184 at any time

Severe disruption: M1 Northamptonshire northbound

BBC News Travel

M1 Northamptonshire northbound severe disruption, from J18 for A428 to J19 for A14.

M1 Northamptonshire - Two lanes closed on M1 northbound from J18, A428 (Rugby) to J19, A14 (Catthorpe Interchange), because of a vehicle fire.

To report traffic and travel incidents dial 0330 123 0184 at any time

Dry conditions have exposed the remains of usually submerged buildings.

Our live coverage across the day

Today's live updates are now finished. Some breaking news, sport and travel will continue to update overnight and our dedicated coverage will resume from 08:00 on Tuesday.

Arrests after driver's death in bollard crash

Police continue to appeal for witnesses to a fatal crash in Earl Shilton, Leicestershire on Saturday evening.

A man in his 30s was pronounced dead after his car, a green Rover Metro, crashed into a bollard in Wood Street at around 23:00.

Officers said about 10 minutes earlier they had been called to reports of damage to the vehicle in a nearby car park.

Two men aged 19 and 32 have been arrested on suspicion of criminal damage and released pending further investigation.

Det Con Pete Davies said he wanted to hear from anyone who was in the area on Saturday night and saw the car before or after the crash.

Record amount raised for Children in Need

Severe disruption: A38 Derbyshire northbound

BBC News Travel

A38 Derbyshire northbound severe disruption, from Derby Road to M1 J28 Alfreton.

A38 Derbyshire - One lane closed and slow traffic on A38 Alfreton Road northbound from Watchorn Island in Alfreton to Alfreton in South Normanton, because of a broken down vehicle.

To report traffic and travel incidents dial 0330 123 0184 at any time

'Destroyed' restaurant had just been revamped

The owners of a Derbyshire restaurant which was severely damaged when a car crash into it say they had only just finished a refurbishment.

Rex Howell, who runs the Bay Tree on the corner of Potter Street and Derby Road in Melbourne, told BBC Radio Derby: "It's all brand new, two weeks old. It's heartbreaking.

"I heard a bang like something had come through the ceiling and my wife came screaming and saying there's a car parked in the restaurant."

Copyright: Derbyshire Fire and Rescue

His wife, Susie Howell, said everything including the bar and tables had been destroyed.

"We'll now have to try and get builders in and people to shovel out everything from outside that's gone inside," she said.

One of the two occupants of the vehicle was treated for minor injuries.

Phone clue to anti social behaviour at retirement home

If you're missing a phone similar to this, it could be with police at Clifton Station.

Officers have invited the owner to collect it after it was dropped by a youngster who ran off when police responded to complaints of anti social behaviour at the Lark Hill retirement village.

Copyright: Nottinghamshire Police

Asking for the owner to come forward, Clifton police officers wrote on Facebook: "We would love to make you a cup of tea and have a little chat."

City council proposes expansion

Kit Sandeman

Local Democracy Reporter

A plan which would see Nottingham City Council's boundaries expand into nearby areas will now be consulted on.

The Labour-run authority says the city boundaries are too tightly drawn meaning people who live just on the outskirts use its services - such as public transport - but do not contribute towards them in their council tax.

Council leaders in Gedling and Broxtowe have objected to the plans and said their residents have no desire to become part of the city.

The leader of the city council, Jon Collins, has previously said the city had no desire to undergo a re-organisation.

But a report for the city council said: "Nottingham has made it clear that if the county pursues the creation of a single tier of government within Nottinghamshire, this would cement the city's under bounded status.

"Therefore the city has no alternative but to respond to the county's proposals with local government reorganisation proposals of our own."

Children in Need: East Mids raises £1.7m

Heather Burman

Journalist, BBC News Online

Well done East Midlands. The region raised more than £1.7m on Friday for Children in Need.

Fundraising activities included flash mob dancing, mascot racing, and giant selfies.

A record-breaking £50.6m was donated nationally during Friday's programme.

Children in Need has now raised more than £1bn since it began the annual fundraiser in 1980.

Man in court over city centre sex assaults

A man has appeared in court charged with 22 counts of sexual assault against women and girls in Derby city centre.

Csaba Kiss, who is Hungarian, spoke through an interpreter to confirm his name and address.

The 35-year-old of Chad's Road, Derby, has been remanded into custody and will next appear at Derby Crown Court in December.

Police are still investigating a number of assaults in the city centre over recent months where a cyclist approached women aged between 13 and 38.

Man denies attempted murder of police officer

A man has denied the attempted murder of a police officer who was hit by a car in Leicester last month.

Yasin Adam, 25, of Bradbourne Road, also denied causing serious injury by dangerous driving at Leicester Crown Court.

Copyright: @JMT896 / Twitter

He has been remanded in custody and a trial date has been set for 25 March.

The officer suffered head injuries when he attempted to stop a vehicle in Bradbourne Road in October.

Rise in young people treated for mental health problems

The number of children being referred for specialist help for mental health problems has risen hugely across the East Midlands - with experts describing the situation as "a crisis".

Figures obtained by East Midlands Today show the number of children seeking professional help has risen by 131% in the last six years in Nottinghamshire, and 50% in Leicestershire.

South Derbyshire and Derby City saw 1,500 children referred for help last year - but they didn't provide previous figures to allow any comparison.

They said the average waiting time for a child to have an initial assessment is more than eight weeks, in Nottinghamshire it's seven weeks and in Leicestershire, 32 days.

But charities have told the BBC actually getting help can take much longer.

Kate Majid, from Newark-based mental health charity, The Shaw Mind Foundation called it "an epidemic".

She said: "We've seen a rise in young people who self-harm as a coping mechanism, a rise in generalised anxiety, a rise in depression in young people."

Two women killed in car crash

Heather Burman

Journalist, BBC News Online

Two women died during a crash in Derbyshire on Saturday.

A Mercedes and a Renault collided on the A515 Clifton Road in Ashbourne at about 23.10 on Saturday.

A woman, 49, from Swadlincote who was driving the Mercedes and the 26-year-old driver of the Renault, from Hatton, both died.

Derbyshire Police said the families of both women had been informed.

Anyone who witnessed the crash or has any dashcam footage has been asked to contact police.