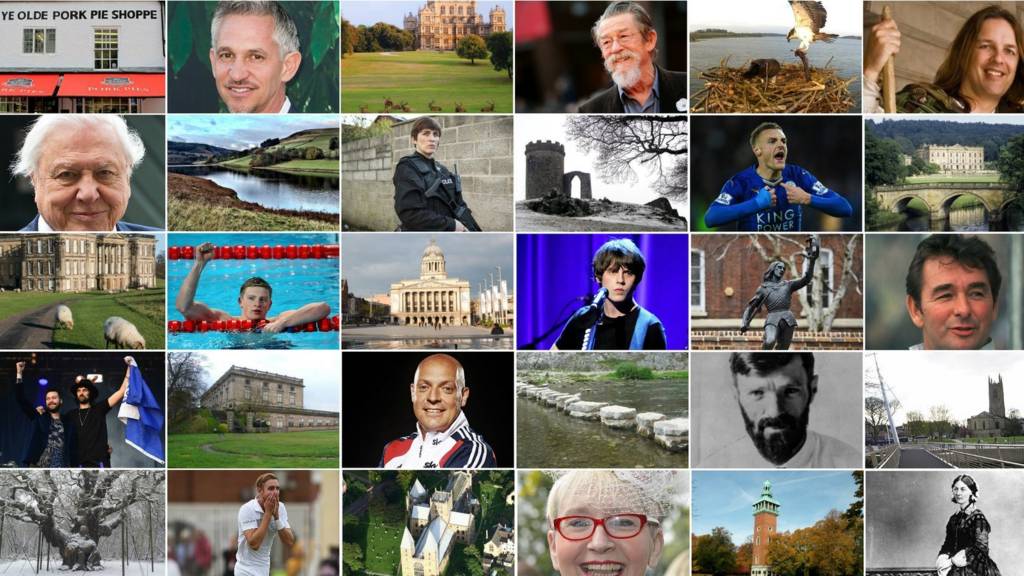 Latest updates: East Midlands Live
Listen live to your BBC local radio station in Nottinghamshire, Derbyshire and Leicestershire.
Summary
Activist criticises Labour over rape claim
High speed police chase ends after car ran out of fuel
Boxer facing misconduct charge over 'sickening' social media video
Addresses searched in terrorism investigation
Bungee fit: 'A whole new type of flying'
Concerns for missing 11-year-old girl
Crushed car falls from lorry
Live updates on Tuesday 18 September
Severe accident: M1 Derbyshire northbound

BBC News Travel

M1 Derbyshire northbound severe accident, between J28 for and J29 for Chesterfield.

M1 Derbyshire - One lane closed on M1 northbound between J28, Alfreton and J29, Chesterfield, because of an accident earlier on and emergency repairs. Traffic is coping well.

To report traffic and travel incidents dial 0330 123 0184 at any time

Roy Lowe bought the kitchen knife for £6 after a confrontation with three people outside a pub.

Severe disruption: M1 Nottinghamshire southbound

BBC News Travel

M1 Nottinghamshire southbound severe disruption, from J27 for A608 Mansfield Road to J26 for A610 Nottingham.

M1 Nottinghamshire - One lane closed on M1 southbound from J27, A608 (Hucknall) to J26, A610 (Nottingham), because of a lorry having a tyre changed.

To report traffic and travel incidents dial 0330 123 0184 at any time

Our live coverage across the day

Today's updates have now finished. We will be back with more news, sport, travel and weather from 08:00 on Wednesday.

Tonight's weather: Wind and patchy rain

A band of cloud and patchy rain will push south-east during the first half of the night, clearing to leave it mainly dry after midnight with long clear spells. It will remain windy throughout.

'Super council' referendum rejected

Kit Sandeman

Local Democracy Reporter

A plan to hold a referendum in Nottinghamshire over scrapping district and borough councils has been rejected.

A group opposed to the "super council", which supporters say would save between £20m and £30m, had put a motion calling for a county-wide referendum to be held.

The Ashfield Independent Party, which opposes the plan, attempted to hold a debate on whether to have a county-wide referendum on the plan.

But because the decision to draw up a business plan was passed by a committee in July, no amendments could be made to that plan for six months, the council said.

A detailed plan is currently being put together by Nottinghamshire County Council for the new council, with a public consultation expected early next year.

Buxton teenager goes missing

An appeal has been issued after a 16-year-old girl went missing from the Buxton area.

Police said Abigail Hope has not been seen since about 16:00 yesterday.

They've asked for people to look out for the teenager, who has links to Glossop and Mansfield.

Copyright: Derbyshire Police

Estate evacuated after discovery of 'anti-tank device'

Nick Smith

BBC News Online

The discovery of a replica "anti-tank device" resulted in the evacuation of an Ilkeston estate this afternoon.

A 100m cordon was put in place after the discoverty in Cotmanhay. The Derby Telegraph said one witness likened it to a "rocket launcher".

A spokesman for Derbyshire Police said: "We received a call at 14:10 to reports of a suspected explosive device in Thatchmarsh Close, Ilkeston.

"The Explosive Ordnance Division were called and it was discovered that it was a replica."

The cordon was lifted at 16:30.

Image released in burglary investigation

Nick Smith

BBC News Online

Police have released an image of two men they would like to speak to in connection with a burglary.

The burglary happened in Poppyfields Meadow, Allestree between 08:30 and 15.30 on Tuesday, 28 August.

The two men pictured were seen in the area several times that day. They are described as being in their late teens and dressed in black. At one point they were seen with a yellow JD Sports bag.

Derbyshire Police made this image public today.

Copyright: Derbyshire Police

Oliver Cromwell to pass through Leicestershire again

Nick Smith

BBC News Online

The locomotive which hauled the last steam powered passenger service will be passing through Leicestershire again.

Oliver Cromwell was built in 1951 and was used by British Rail for the final time in 1968.

The engine will be featured as part of Great Central Railway's Autumn Steam Gala next month, appearing courtesy of the National Railway Museum.

It will be travelling along the heritage route between Loughborough and Leicester North between 4 and 7 October.

Richard Patching from GCR said people come from across Europe to enjoy the event.

"What GCR offers isn't just a train passing by every half hour or longer, there's something happening at a gala weekend every five or ten minutes."

Severe disruption: A42 Leicestershire northbound

BBC News Travel

A42 Leicestershire northbound severe disruption, at M1 J23A.

A42 Leicestershire - One lane closed and slow traffic on A42 northbound at the M1 J23a junction, because of a broken down vehicle.

To report traffic and travel incidents dial 0330 123 0184 at any time

Princess Diana 'thank you' letter fetches thousands

A thank you letter written by Princess Diana a few weeks before she died has sold for nearly £3,000 at an auction in Leicestershire.

The note, which was also signed by Princes William and Harry, was sent to a bodyguard who had provided protection while she stayed with Dodi Fayed at his father's summer compound in St Tropez.

The Kensington Palace-headed letter said: "We all had a magical ten days - which would not have been possible without your invaluable contribution."

It was sent on 23 July 1997 - five weeks before she died in a car crash in Paris.

Copyright: Gildings Auctioneers

The note was bought by a private UK-based collector for £2,950 at Gildings Auctioneers in Market Harborough.

Director Mark Gilding said: "The result shows that Diana, commonly known as The People's Princess, remains close to the hearts of many."

Man jailed for kitchen knife stabbing

A 72-year-old man has been jailed for eight years for stabbing a man in Nottingham following an argument.

Police said Roy Lowe verbally abused a woman outside the Dog and Partridge pub on Lower Parliament Street on 30 June. He then had an "altercation" with a 38-year-old man who stuck up for her.

Copyright: Nottinghamshire Police

Lowe, previously of Rona Court in Bulwell, then walked to the nearby Wilko store and bought a 4.5in kitchen knife. He then returned to the scene of the argument and stabbed the man, officers said.

The victim was taken to hospital with a non life-threatening injury.

At a previous hearing at Nottingham Crown Court, Lowe pleaded guilty to having an offensive weapon and wounding with intent.

Drivers warned to 'Think Ahead' on rural roads

Signs reminding drivers to be wary of other road users have been put up around Charnwood.

It's part of a campaign called Think Ahead - focusing on rural roads.

Liz Randall lives in Woodhouse Eaves and has been a horse rider for more than 20 years.

She said riding on the road has changed in the last 10 years. She said they are much busier, people are driving far too fast and passing far too close.

Her stables has had an incident in the past when a young horse was scared by a passing camper van that was travelling too fast. The horse ended up in the ditch but luckily wasn't hurt.