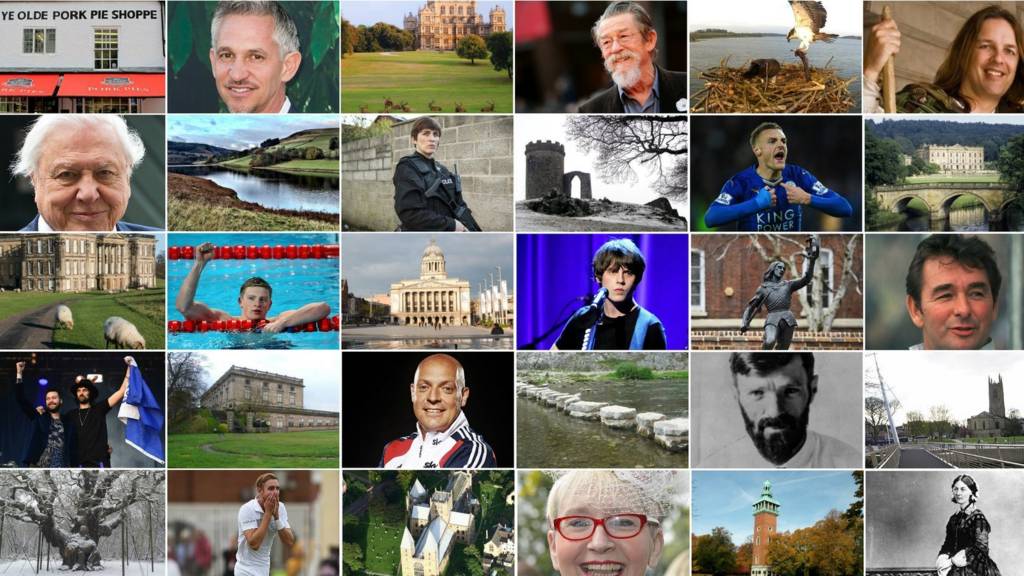 Latest updates: East Midlands Live
Listen live to your BBC local radio station in Nottinghamshire, Derbyshire and Leicestershire.
Christopher White has been accused of illegally persecuting badgers after footage showed him laying and baiting a trap.

Severe disruption: M1 South Yorkshire southbound

BBC News Travel

M1 South Yorkshire southbound severe disruption, from J31 for A57 Sheffield to J30 for A616 Sheffield.

M1 South Yorkshire - One lane closed on M1 southbound from J31, A57 (Sheffield) to J30, A616 (Sheffield), because of a broken down vehicle. Traffic is coping well.

To report traffic and travel incidents dial 0330 123 0184 at any time

Our live coverage has ended

Our dedicated live coverage has ended for the day, but breaking news, sport and travel updates will continue to appear throughout the night.

East Midlands Live returns from 08:00 tomorrow morning.

Nottinghamshire Fire and Rescue say the fire on grassland off Gainsford Crescent, Bestwood, is now out.

An officer at the scene told BBC East Midlands Today crews are being called out to similar fires almost every day at the moment and warned people to be extra cautious in the dry weather.

This was the smoke that could be seen from houses nearby earlier.

Weather: Could rain be on the way tomorrow?

It's going to stay cloudy for most across the region today with a minimum temperature of 14C.

Tomorrow will be cooler with a light breeze and there might be a chance of rain by the evening in some places.

Jail for motorcyclist who filmed himself riding dangerously

A man has been jailed for dangerous driving after he filmed himself "pulling wheelies" on a motorbike and weaving in and out of traffic at almost 200mph.

Adam Campion, 26, of Nottingham Road, Hucknall, pleaded guilty to five counts of dangerous driving at Nottingham Crown Court yesterday and was sentenced to 21 months in prison.

Nottinghamshire Police said officers investigating a stolen motorbike searched Campion's house and found a laptop with hundreds of videos and images of him riding motorbikes dangerously.

One of the videos released by police show Campion riding a bike one-handed and holding his mobile phone in the other while filming his speed, which topped 189mph. Others show him riding through red lights, on the wrong side of the road, pulling wheelies and speeding in and out of traffic.

Inspector Glenn Longden said: "The illegal and dangerous use of motorcycles is a massive issue to our communities and although this investigation was immensely complex and time consuming, the result in court has been satisfying."

More crews sent to grass fire

More firefighters are at the scene of the fire in Gainsford Crescent.

They're now using beaters to put it out.

Man fined over harecoursing

A man has been fined for harecoursing in High Peak, Derbyshire, after his photo was given to police by a group of photographers attending a workshop.

Dean Sherratt, 30, of Princess Drive in Weston Coyney, Stoke-on-Trent, was seen with two others on Bleaklow on 12 January releasing their dogs to chase and kill the mountain hares.

Police said their photos were captured by a group of photographers and Sherratt was identified after they were shared on social media.

Copyright: Derbyshire Constabulary

Sherratt appeared at Chesterfield Magistrates' Court on Tuesday where he was found guilty of hunting a wild mammal with a dog and was fined £1,500.

Officers from the Derbyshire rural crime team described the case as "very interesting", and, praising the witnesses, added: "I'm sure everyone who has the best interests of our wildlife at heart would like to thank them for their excellent work."

The team said they are still trying to identify the other two men who were with Sherratt that day.

Derbyshire wood chosen for TV star's campaign

TV presenter and naturalist Chris Packham has been in Derbyshire today to launch a national campaign to find and identify wildlife.

The Waingroves Community Woodland, in Ripley, has been selected as one of the locations to take part in the Bioblitz campaign and volunteers have been working since last night to try to record every species of wildlife they can find.

Volunteer Shaun Walters said: "It's like doing a national audit.

"What we are finding outside the nature reserve is a loss of habitats and loss of species so we are trying to record as many as possible and see what effect it's having on places like our woodland."

He said they have already found 100 species of moths and 19 species of butterfly in their woods.

Severe disruption: A1 Nottinghamshire northbound

BBC News Travel

A1 Nottinghamshire northbound severe disruption, at A46.

A1 Nottinghamshire - A1 in Winthorpe entry slip road blocked and heavy traffic northbound at the A46 junction, because of a broken down lorry.

To report traffic and travel incidents dial 0330 123 0184 at any time

Severe disruption: A46 Leicestershire northbound

BBC News Travel

A46 Leicestershire northbound severe disruption, at M1 J21A.

A46 Leicestershire - A46 entry slip road blocked and slow traffic northbound at the M1 J21a junction, because of a broken down lorry.

To report traffic and travel incidents dial 0330 123 0184 at any time

Here's some more information from the fire service on the Bestwood fire.

They say around 2,000sq m of grass and undergrowth is alight.

Steveholme Crescent has also been taped off.

Travel: Rutland road closed by fire

There's also a fire in Rutland which is causing delays. The road was shut around 15.00.

Crews deal with large grass fire

Firefighters are currently dealing with a large grass fire in Bestwood.

A spokesman for Nottinghamshire Fire and Rescue said crews were called to land off Gainsford Crescent shortly after 15.00.

A Bestwood Park resident said large amounts of smoke could be seen in the area.

He said they had closed their windows as, "it is getting too difficult to breathe properly".

Wildfire fund launched in Peak District

A funding appeal has been launched in the Peak District following the recent spate of moorland fires.

Donations will support fire prevention messages, volunteer costs and restoration work, the national park authority said.

Copyright: Peak District National Park Authority

It said it's helped emergency services at more than 20 moorland fires in the last few weeks, fuelled by the hot, dry weather.

Chief executive, Sarah Fowler, said the authority's been "overwhelmed" by offers of support.

"It's heartbreaking to see swathes of our internationally important landscapes being damaged," she said.

"Wildfires are catastrophic for wildlife, flora and, importantly, the peat itself which not only provides unique habitat but vital carbon and water storage.

"The smallest spark can lead to huge amounts of damage. Ashes blown from a barbecue, a broken glass, a dropped cigarette butt can devastate our precious and protected landscapes, and affect people's livelihoods.

"The damage to the environment, wildlife, habitats and vegetation takes years to recover."

Yesterday Greater Manchester Police said the wildfire on Saddleworth Moor on the far northwestern edge of the Peak District is finally out after more than three weeks.