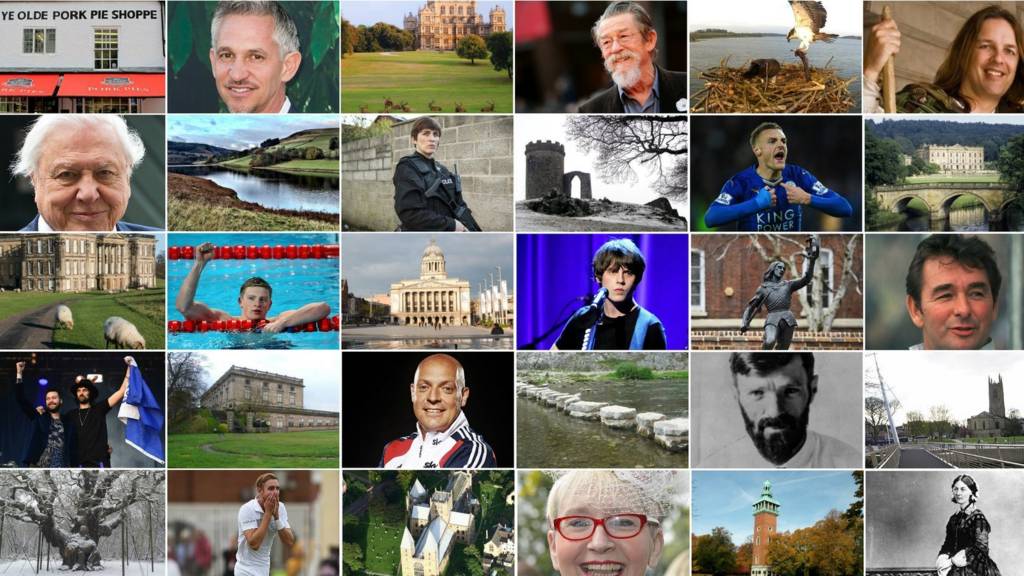 Severe disruption: A50 Derbyshire eastbound

BBC News Travel

A50 Derbyshire eastbound severe disruption, from J4 A38 Burton Road to J3 A514.

A50 Derbyshire - A50 closed eastbound from J4, A38 (Toyota Island) in Willington to J3 A514 in Chellaston, because of police reconstruction.

To report traffic and travel incidents dial 0330 123 0184 at any time

Crash dead dad 'will remain in our hearts forever'

The family of a man killed when his van was involved in a crash with a lorry in Warwickshire said they had been left "shattered" by his death.

Copyright: Warwickshire Police

Karamjit Singh, 37, from Leicester died in hospital after the crash on Siskin Parkway East, Baginton, at about 22:50 on Tuesday 10 July.

His 11-year-old son, Aarondeep, said: "No one can replace my dad and he will remain in our hearts forever."

Sonia, his wife said she would now be "left with his memories which shall stay alive in my heart forever".

Officers are continuing to investigate the crash.

Our live coverage across the day

Dedicated coverage on East Midlands Live has now finished but some news, sport and travel will continue to appear overnight. We will be back at 08:00 on Wednesday.

Council to look at extending tram network

Nottingham City Council is to spend £200,000 on evaluating whether they can extend the city's tram network.

The authority said they have commissioned a study to look at a number of potential new routes, including to the HS2 hub at Toton.

However it said priority will be given to an extension from the current Clifton stop to a new housing development off the A453 where up to 3,000 new homes are being planned for land at Fairham Pastures.

'I am the judge, not duck', says judge

Hundreds of parks get new status

More than 160 Green Flag awards have been handed out to parks across the East Midlands this year.

Keep Britain Tidy says there has been a "record number of accolades" across the country and recipients this year also include cemeteries and a crematorium.

Others to get the award in Nottinghamshire include Highfield Park, Green's Windmill and Bulwell Hall park.

The Green Flag Awards recognise and reward well managed parks and green spaces across the UK and sites get a plaque to promote their status.

Government urged to call time on cheap booze

Amy Orton

Local Democracy Reporter

Health bosses, politicians and police in Leicester are backing calls for a minimum price on alcohol sold in England.

The officials on the city council's health and wellbeing board have signed a letter to the Home Secretary Sajid Javid urging the government to introduce minimum unit pricing, similar to the scheme in Scotland.

Deputy city mayor Adam Clarke, who chairs the board, said: "Targeting those consuming harmful amounts of alcohol is key, as currently about 4% of the population are drinking just under a third of all the alcohol consumed in the country.

"A minimum unit price of 50p per unit would reduce alcohol consumption among some of the most vulnerable, without having a significant impact on moderate drinkers."

Public Health England has estimated that over 20 years, a 50p minimum price per unit of alcohol could reduce healthcare costs by £1.3billion.

Leicester City set for £1.7m World Cup payout

Leicester City are set for a windfall from Fifa for their stars' performances at the World Cup.

City had 10 players out in Russia, representing six different countries, and are due to land around $2.22million (£1.7m).

County council overspends on HQ work

Work to improve Nottinghamshire County Council's headquarters has gone over budget - for a third time.

The Local Democracy Reporting Service reports the council was granted £1.3m in February 2015 to demolish offices next to County Hall, known as the CLASP building.

However, a year later, an additional £600,000 was approved for the project and then £16,000 was granted - taking the total budget to £1.9m.

Now, it has been revealed the final expenditure is at more than £2m.

Conservative councillor Richard Jackson called the overspend "unacceptable" He said: "The previous Labour administration failed to take into account a number of factors in their original costings, all of which have increased expenditure, at a time when this council can scarcely afford to be going over budget."

The original work was approved by a Labour administration in 2015. The now Tory-run authority has plans to build new offices on the space of the former CLASP building, which it hopes will generate income for the authority.

It blamed the overspend on several factors including extra works not initially accounted for and problems with a feasibility study.

Councillor 'open and transparent' over A52 work

A councillor has said he will resign if it's found he "didn't act transparently" over the troubled A52 roadworks project.

Work on the A52 in Derby, near the Wyvern junction, is now expected to cost £30m, instead of the original estimate of £10m, and the overspend is being investigated.

Asaf Afzal, the Labour cabinet member responsible for the project until May, says he didn't know about the problems when he was in charge.

Speaking to BBC Radio Derby he said: "I've not done anything wrong, the first I was made aware of it was after the elections and I did contact the chief executive.

"I can assure you I've been open and transparent in everything I've done."

Travel: Delays expected in Leicester

One route to avoid if you can...

Man 'punched 14-year-old boy in face'

Police want to speak to this man after a 14-year-old boy was allegedly grabbed and punched in the face in Kegworth.

The teenager was with a friend when the incident happened in Market Place at about 21:15 on Tuesday, July 3.

Leicestershire Police said the attack ended when another man intervened. The boy was not seriously injured but witnesses have been asked to call 101.

Copyright: Leicestershire Police

Five arrests in two counties after burglary

Four men and a woman have been arrested in Sheffield and Somercotes after a burglary in Hucknall.

Nottinghamshire Police were called to Maple Leaf Way at about 02:00 this morning to a report that several people had fled the scene after a burglary.

A 27-year-old man who confronted the group was treated in hospital for an injury to his hand.

Police tracked one car they believed to be involved to Sheffield, where three men, aged 23, 27 and 23 were arrested on suspicion of aggravated burglary by South Yorkshire Police following a collision.

Another car was found in Mount Crescent, off the Clover Nook Estate in Somercotes, where a 23-year-old woman and a 29-year-old man were arrested, also on suspicion of aggravated burglary by Derbyshire Police.

Accident restricts access to city hospital

Edwards Lane, close to the Five Ways junction, in Nottingham is still closed after an accident this morning.

As a result access to the City Hospital is only via the Hucknall Road entrance.

City's specialist children's services called 'weak'

The services provided to children in Leicester with special educational needs or disabilities has been branded "weak" in a new report.

The Care Quality Commission and Ofsted carried out a joint inspection between April and May, and criticised the city council and the city's CCG (Clinical Commissioning Group) for it's education, health and care plans.

Their report also said leaders do not have "a clear strategy of how they are going to improve outcomes for children and young people" and the transition for young people into adult health services needed "significant development".

The Local Democracy Reporting Service says the two organisations now need to submit a 'statement of action' by September to show how they will improve.

Ivan Bowne, from Leicester City Council, said: "The report is very useful and shines a light on some issues we're looking at already.

"Lots of this is more about education than health so we are aware of where changes need to be made."