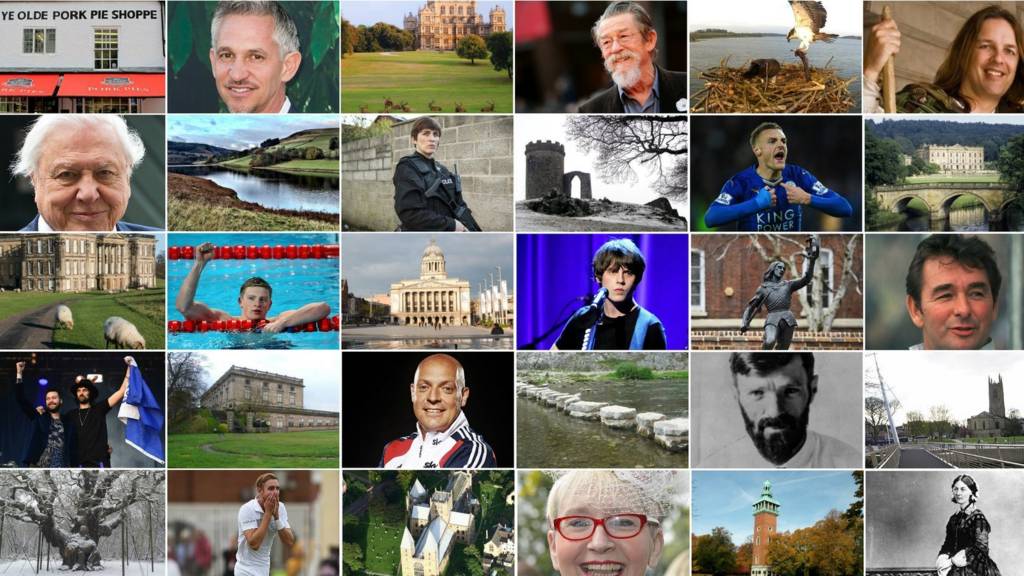 Summary
Explosion heard across Derby after fire hits city centre building
Man shot in Nottingham
Arrest after woman, 100, has neck broken in bag snatch
Man admits sending threatening emails to MPs
Bomb squad called to Leicester street over 'suspicious package'
M1 may be moved to make way for HS2
Wannabe drinker used 'Little Britain' fake licence
Threatening tweets left Lampards 'vulnerable and worried'
Latest updates for Monday 4 June 2018
Our live coverage across the day

That's it for dedicated live coverage today but breaking news and travel will continue through the night.

We'll be back with East Midlands Live from 8:00 on Tuesday.

More pictures from Derby fire

The fire service has released these pictures which give a hint at the scale of the operation from today's fire in Friary Gate.

Copyright: Derbyshire Fire and Rescue Service

Copyright: Derbyshire Fire and Rescue Service

The blaze is now out and an investigation into what caused it is under way.

Fire investigation launched after blaze confirmed out

Derbyshire Fire and Rescue Service has now confirmed the blaze at the top of the building off Friar Gate is now out.

The service said it is working with East Midlands Ambulance Service and the police to "bring the incident to a close" adding that it will take time to find out what happened.

Firefighter Adam Hind said: "Obviously when we do the fire investigation if we find something that could have caused the loud noise, the bang or the explosion, that will be part of the fire investigation.

"There have been roofing contractors up there in the last few days... and may confirm whether there was an explosion."

A loud explosion could be heard across Derby shortly after the blaze took hold.

Police urge patience as roads reopen after fire

Derbyshire Police tweets...

Road closures still in place due to Derby fire

Derbyshire Police said it was called out to deal with the explosion and fire at around 16:50 this afternoon.

It put in place a number of road closures and it is not yet known when they will reopen.

As expected, traffic is currently heavy around the city centre as the red lines indicate.

Fire service: Friar Gate blaze under control

Adam Hind, from Derbyshire Fire and Rescue Service, has been talking to BBC Radio Derby about the fire at Norman House in Friar Gate.

He said: "We believe the fire started in a plant room on the roof of the fifth-storey portion of the building, cause unknown.

"Currently we believe the fire to be extinguished. The aerial ladder platform was able to get water onto the roof.

"We've now got crews on the fifth floor taking down the ceiling and checking the roof space to check there's been no fire spread into the residential accommodation."

No casualties following fire, police say

There are no reports of casualties following the explosion and fire in Derby this afternoon, police have said.

Derbyshire Police added that it believes the blaze started in the plant room on the roof of a six-storey building.

A man has been taken to hospital after being shot in Nottingham.

Police said the male's injuries are not believed to be life-threatening.

Officers are currently in attendance on St Ann's Well Road following the attack at around 16:00 this afternoon.

It is closed between Southampton Street and Ransom Road while investigations continue.

Ch Insp Sukesh Verma said: "Incidents of this nature are rare in Nottinghamshire and we'd like to reassure the local community that we do not believe there's any wider risk to the general public."

He added there will be an increased police presence to provide reassurance to the public.

Watch: Firefighters tackle Friar Gate blaze

In this video you can see firefighters dealing with the blaze from an aerial platform as black smoke emerges from the building.

Suspect device removed from Leicester street

The suspicious item found in a parked vehicle in Leicester earlier has been removed from the scene, police have said.

A cordon was set up around Huntingdon Street after the package was reported to police at about 08:34.

A 26-year-old man arrested in connection of the incident, which is not being treated as terror-related, remains in police custody.

A Leicestershire Police spokesperson said: "We fully appreciate the significant inconvenience today's events have caused for local residents and to local passing traffic, and the upset and anxiety this may have caused.

"Protecting public safety is of paramount importance and we have worked hard and quickly today to resolve this incident."

No further details about the situation have been released.

Severe disruption: M1 Leicestershire northbound

BBC News Travel

M1 Leicestershire northbound severe disruption, near J23A for A42.

M1 Leicestershire - One lane blocked and slow traffic on M1 northbound near J23a A42, because of a broken down lorry. In the roadworks area.

To report traffic and travel incidents dial 0330 123 0184 at any time

Paramedics assisting at Derby fire

East Midlands Ambulance Service tweets...

Watch: Firefighters tackle Friar Gate blaze

This video shows fire crews arriving to tackle the blaze in Friar Gate.

In the past few minutes, an eyewitness has told BBC Radio Derby it appears the fire is being brought under control.

Crews from across county tackling Derby fire

Derbyshire Fire and Rescue tweets...

Dramatic footage of fire at top of Derby building

This is the dramatic moment a loud bang could be heard across Derby city centre.

Derby fire 'sounded like a bomb had gone off'

An eyewitness has been describing the moment the fire took hold in Derby.

Copyright: Lily Fox/Twitter

Liam, who works in a building nearby, said: "It sounded like a bomb had gone off, but obviously it wasn't.

"We presume it was a gas canister because there was a couple of them that we could see from our viewpoint."

Derby fire: Smoke spotted across city

Smoke from the fire in Friar Gate can be seen from much of Derby city centre with several witnesses reporting hearing an explosion.