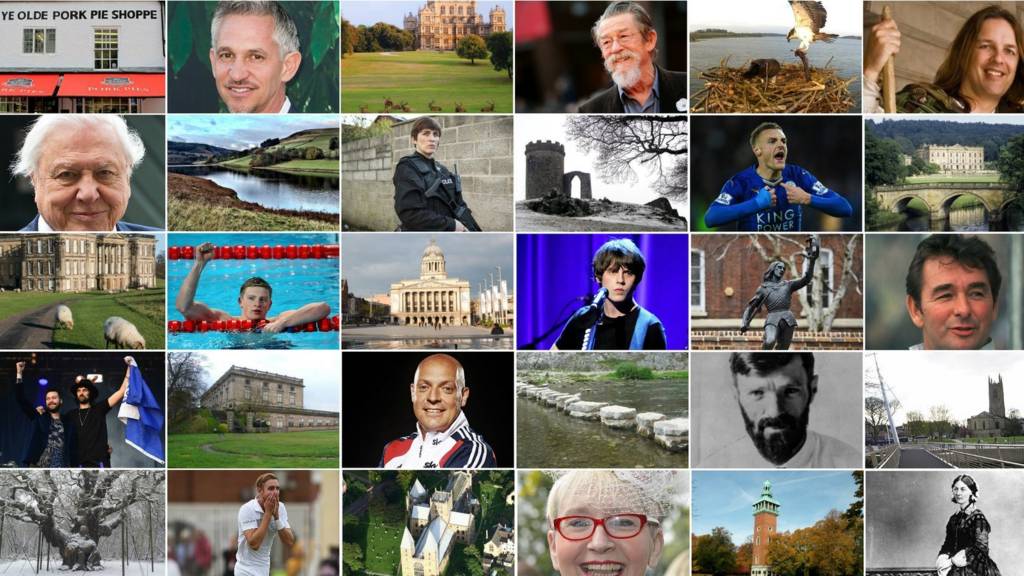 Summary
More arrests over Leicester jeweller death
Two pupils injured after Nottingham stabbing
Motorcyclist dies in Belper crash
M1 reopens after weekend bridge works
Missing man found dead in Colombia
Updates on Monday 14 May 2018
Our live coverage across the day

That's it for regular live updates today but some news, sport and travel will continue to update through the night.

Full service will resume again at 8:00 on Tuesday.

Watch: Timelapse footage of bridge installation

Impressive stuff. This is timelapse footage of the bridge on the M1 motorway being lifted into place this weekend.

They started work on Friday evening and managed to open the motorway at 10:00 on Sunday.

Fate on Derby's side ahead of crunch game

If you're a nervous Derby County fan looking for a lucky omen ahead of tonight's play-off clash with Fulham, here are two you can have.

The Rams have have progressed to the play-off final on each of the previous three occasions they have won the semi-final first leg (in 1994, 2007 and 2014).

Add to that, Fulham are still looking for their first ever win in the Football League play-offs, having drawn two and lost five of their previous seven games.

Prince Harry and Meghan Markle baked into pork pie

They really are the upper crust of society.

Pork Farms worked with food artist Nathan Wyburn to create this giant pork pie at the Nottingham bakery to celebrate the upcoming nuptials.

It used 552 sq in of pastry and gravy granules to recreate the couple's engagement photo. Heartwarming stuff.

Appeal to trace men who helped woman

Police are trying to trace five men who helped a woman who was attacked in Derby.

She was assaulted on Midland Road between 20:00 and 23:00 on Friday.

Det Con Teresa Daniels said: "I'd like to reassure the men, and their families, that our interest in them is purely as witnesses, as we believe they can assist us with our investigation."

A 33-year-old man from Derby has been charged in connection with the assault.

M1 south to close overnight

Plan accordingly, drivers.

Death crash motorcyclist named

Police have named a motorcyclist who died in a crash in Pentrich yesterday.

Derbyshire Police said Robert Baker, from Sutton-in-Ashfield, was killed when his Kawasaki motorcycle was involved in a crash with a Riley RMA car in Chesterfield Road at about 14:15.

The 66-year-old car driver is being treated in hospital for serious injuries.

Four men were arrested on suspicion of causing death by dangerous driving and have been released while investigations continue.

Copyright: Family photo/Derbyshire Police

Rolls-Royce gets £1.5bn submarine contract

A £1.5bn contract safeguarding more than 700 jobs at Rolls-Royce in Derby has been announced by the government.

The contract is to build a seventh Astute submarine for the Royal Navy.

Defence minister Guto Bebb, who was at the Raynesway site for the announcement, said: "Having a security of employment for the next 10 to 12 years, most people would see that as a long-term commitment from the government."

A further £900m of investment has also been agreed to boost the second phase of construction for the UK's four nuclear-armed Dreadnought submarines.

Police still at Ransom Road stabbing

Police are still at the scene where two Nottingham Academy students were injured in a stabbing early this morning.

The school said two of its pupils were taken to hospital after the attack on Ransom Road this morning.

A 16-year-old boy has been arrested in connection with the incident and remains in custody.

Driver jailed for crash which left friend brain damaged

A power cut in the Holbrook area of Derbyshire has left 119 homes and businesses without electricity.

Western Power Distribution said it hoped to have the problem resolved by 19:30 (just in time for Fulham v Derby).

Creating art helped woman through cancer 'ordeal'

A Derbyshire woman is publishing a book of art and poetry she created while she was recovering from aggressive ovarian cancer.

Karen Clegg, from Breaston, plans to donate the proceeds from Moments to Derbyshire Mind, because she says producing art helped her deal with the mental side of her ordeal.

She said she hoped to encourage other people to look into an activity or hobby as a way of dealing with mental illness or difficult life events.

She said: "I'd always advise someone who is going through a difficult experience or time in their lives to do something active or creative.

"Even if you don't think what you've done is very good, the feeling you get from just doing it and getting it out there is really powerful."

A launch event for the book is due to take place at Quad in Derby on Thursday.

Speed limits could be cut to boost cycling

Daniel Clark

Local Democracy Reporting Service

There are plans to cut speed limits on two roads in Newark in a bid to treble the number of people who cycle to work.

Hawton Road and Lincoln Road could be reduced from 40mph to 30mph as part of Nottinghamshire County Council's cycling strategy.

The Conservative-led authority, which has secured £860,000 of funding, said it would also upgrade existing cycling routes and provide new routes to create "joined-up coherent cycle networks" throughout the town.

A report to be presented to the county council on Thursday said feedback from a consultation held last September supported the reduced speed limit as "beneficial to users' safety", and said it had committed to increasing cycling levels from 3% to 10% by 2025.

Tory councillor Keith Girling has objected to the proposed 30mph limit on Hawton Road saying it's wrong to penalise all motorists.

Mr Girling added that the road has been monitored and "at no time has it been shown to be a fast or unsafe road."

Don McLean adds name to charity guitar

Don McLean has added his signature to a guitar that will be used to raise money for the East Midlands children's hospice Rainbows.

The American singer-songwriter added his name to the instrument when he met with guitar owner Dave Allen and charity worker Andy Goss.

The Fender Stratocaster has already been signed by Eric Clapton, Brian May and Jimmy Page. It went missing 10 years ago but was recovered by Leicestershire Police earlier this year.

The guitar will be sold at auction for Rainbows in December - and it's hoped more rock "legends" will have signed it by then. Those approached to add their names include Alice Cooper, The Hollywood Vampires, Sir Paul McCartney, Keith Richards, Jeff Beck and Ozzy Osbourne.