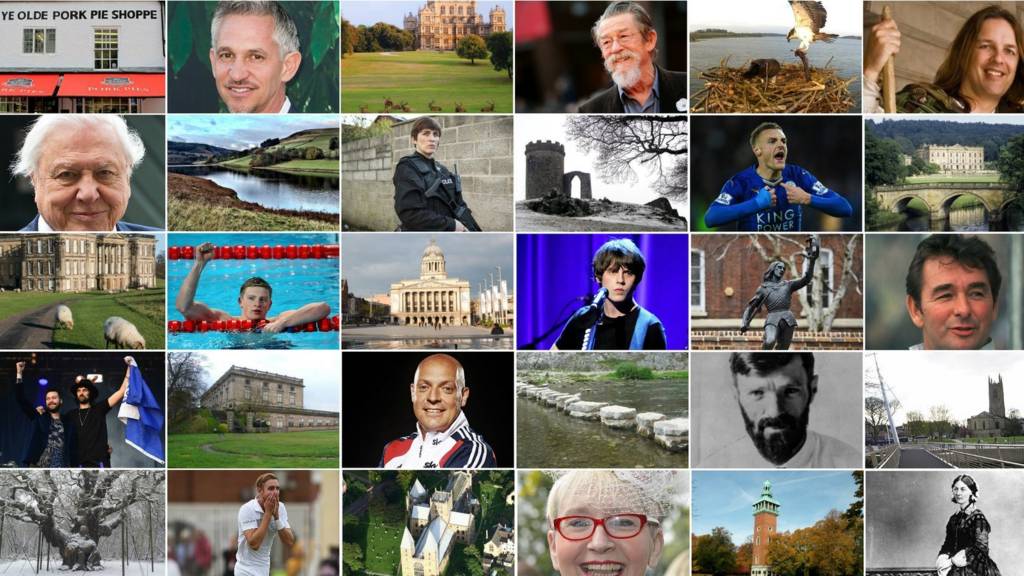 Severe disruption: M1 Derbyshire northbound

BBC News Travel

M1 Derbyshire northbound severe disruption, between J28 for A38 Alfreton and J29 for A617.

M1 Derbyshire - One lane closed on M1 northbound between J28, A38 (Alfreton) and J29, A617 (Chesterfield), because of a broken down vehicle. Traffic is coping well.

To report traffic and travel incidents dial 0330 123 0184 at any time

Severe disruption: M1 Derbyshire southbound

BBC News Travel

M1 Derbyshire southbound severe disruption, at J29a for Markham Lane Markham Vale.

M1 Derbyshire - One lane closed on M1 southbound at J29a, Markham (Markham Vale), because of a broken down vehicle. Traffic is coping well.

To report traffic and travel incidents dial 0330 123 0184 at any time

Our live coverage across the day

Dedicated live coverage for the region is now over, but some news, sport and travel will be posted overnight.

East Midlands Live returns from 08:00 tomorrow morning.

Weather: Dry evening with clear spells

Anna Church

Weather Presenter, BBC East Midlands Today

For most it will be a dry evening and night with clear spells. However a few showers are possible, most likely to the East.

It's a cold and breezy night, the wind should help to keep most frost free. But some frost is likely in sheltered spots.

It will be a cold and bright start to Friday, any showers will fizzle out quickly leaving a dry day with plenty of winter sunshine. Highs of about 6C (43F).

Man to appear in court over crash murder charge

A 56-year-old man is due to appear in court tomorrow charged with the murder of a woman who died when she was hit by a car in Nottingham on Monday.

Janet Scott, 51, of Arnold, Nottingham, was pronounced dead at the scene in Peel Street.

Simon Mellors, of Berkeley Court, Nottingham, has also been charged with the attempted murder of a 35-year-old man, who's still in hospital - his injuries are not believed to be life-threatening.

Mr Mellors was remanded in custody after appearing (via video link) before magistrates today and is due to appear at Nottingham Crown Court tomorrow.

Watch: Monte Carlo Rally cars stop off at Barnby Moor

Oli Constable

Reporter, BBC Radio Sheffield

If you drove through Doncaster this morning, you might have spotted a convoy of vintage cars.

The legendary Monte Carlo rally has passed through South Yorkshire and North Nottinghamshire today.

Dozens of drivers set off from Barnby Moor and this collection of classics was quite a sight:

Heather Burman

Journalist, BBC News Online

Police have confirmed two missing Nottinghamshire teenagers Hannah Patton, 15, and Jamica Rae-Johnson, 13, have now been found.

Arrests made over Clifton burglary

Nottinghamshire Police have tweeted...

Appeal over 'air rifle threat' in Normanton

Police have appealed for witnesses or dashcam footage after reports of a man pointing an air weapon at a member of the public in Normanton.

Officers were called to a collision in Charlotte Street at about 00:20 on Friday. There are then reports of a man getting out of his vehicle and pointing an air rifle at a man before driving off.

Police have arrested a 34-year-old man and a 14-year-old boy in connection with the incident - they have been released under investigation.

Severe disruption: A623 Derbyshire both ways

BBC News Travel

A623 Derbyshire both ways severe disruption, between Manchester Road and Pittlemere Lane.

A623 Derbyshire - A623 in Wheston closed in both directions between the Manchester Road junction and the Pittlemere Lane junction, because of an overturned lorry.

To report traffic and travel incidents dial 0330 123 0184 at any time

Open letter over Ramniklal Jogiya death

The leading detective in the Ramniklal Jogiya murder investigation has written an open letter appealing to the public for information.

Copyright: Leicestershire Police

In the letter, Det Ch Insp David Swift urged anyone to come forward with information even if it seemed "insignificant".

He said: "Mr Jogiya was a husband, father, brother and well-known businessman who was innocently walking home when he was pulled off the street and bundled into a van.

"I cannot even begin to imagine the fear he must have experienced that night, how scared and frightened he would have been and the violence he may have experienced before he died."

Det Ch Insp Swift thanked the public for their help in the investigation so far.

Police have arrested seven people in connection with the death - three have been charged with kidnap and robbery while the other four are being questioned on suspicion of kidnap and murder.

Nicky Morgan responds to Brush restructure

£10m funding for Rushcliffe Borough Council housing development

Kevin Stanley

Reporter, BBC Radio Nottingham

The government's awarded Rushcliffe Borough Council almost £10m to help build road links to a new housing development.

As many as 3,000 homes are planned for Fairham Pastures, south of Clifton.

The council says the funding will help to minimise delays in getting the project under way.

Copyright: Rushcliffe Borough Council

Rushcliffe Borough councillor Roger Upton, said: "We very much welcome this funding that will allow developers to greatly improve the pace of delivering homes on the site.

"We have some major challenges of delivering over 13,000 homes across the borough in the next decade - this is a major boost for one of our strategic housing sites."

Ring girl says taking away jobs is 'anti-feminist'

Scrapping women's roles in certain sports isn't something to be celebrated, according to ring-girl Kaytee Wilson.

Ms Wilson, 23, told BBC Radio Nottingham her role "adds glamour" to boxing, but she wouldn't be surprised if the sport eventually got rid of her job too.

Ms Wilson walks the fighters to the ring and displays numbered cards between each round - sometimes wearing a crop-top and hot pants.

This comes after the Professional Darts Corporation announced it would stop using walk-on girls and Formula One said grid girls would no longer feature as they are "at odds with modern day social norms".

She said: "I feel that taking the job away from us is anti-feminist, it's telling us we cannot do a job - if this happened in any other career, there would be an uproar - if we feel safe and comfortable it should be our choice."