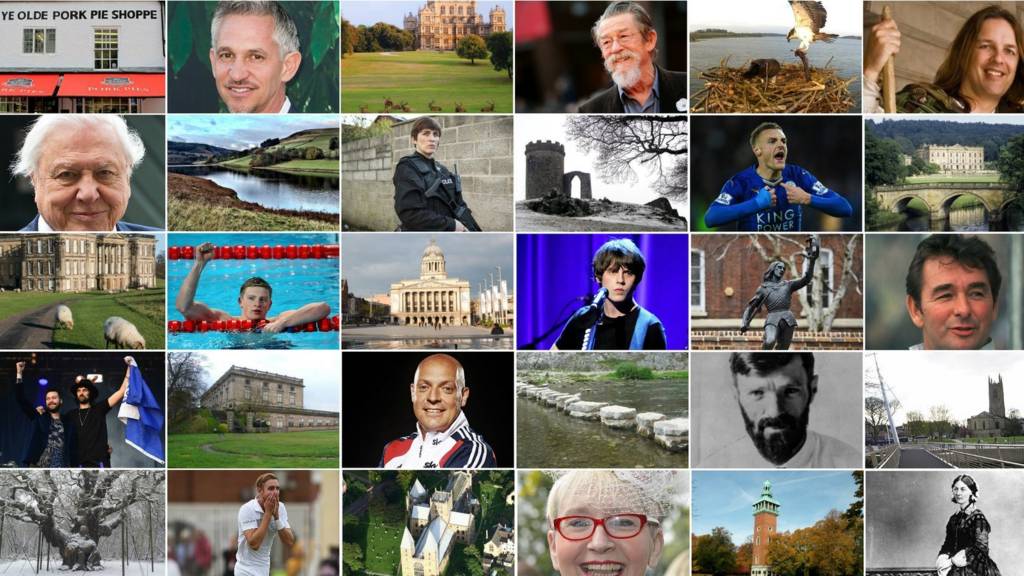 Our live coverage across the day

That's all from East Midlands Live. We will be back from 08:00 on Wednesday after Boxing Day. In the mean time, Merry Christmas everybody!

Christmas weather for the East Midlands

Anna Church

Weather Presenter, BBC East Midlands Today

It's another mild night with some early mist and fog forming. Minimum temperature of 8C (46F).

Although some brightness is possible on Saturday it will be another generally cloudy day, the westerly wind will strengthen slightly. Maximum temperature of 11C (52F).

Remaining cloudy, mild and mostly dry on Christmas Eve and Christmas Day but a spell of more unsettled weather arrives Christmas Day night.

Temperatures will return to normal from Boxing Day onwards.

Christmas traffic beginning to build

Traffic is beginning to build around the three East Midlands cities this afternoon as people prepare for the Christmas getaway.

The red roads show where it is particularly heavy - thankfully, the motorways are looking surprisingly clear for what's dubbed Frantic Friday.

That's expected to change later on though with an estimated 1.3 million extra travellers to add to the usual traffic and the RAC urging people to avoid long journeys.

Your pictures: East Midlands winter skies

For many of us it's almost time to put your feet up for a few days and enjoy the Christmas break.

Here are some of the best shots from around the region today. The sun setting in East Markham in Nottinghamshire:

Copyright: Made in Finland

A Highland cow in Baslow in Derbyshire.

Copyright: Janice's Patch

And the sun dropping behind the trees in Breedon-on-the-Hill in Leicestershire.

Extra council tax could save more police officer jobs

Leicestershire's Police and Crime Commissioner is asking people if they're prepared to pay an extra pound a month towards policing.

Lord Willy Bach has launched an online survey today - the council tax increase would mean an average contribution of £200 per household going towards Leicestershire Police.

Quote Message: Without it we calculated that in a couple of years time we'd have to lose another 250 officers - that's on top of the 547 that we've already lost. That's a big, big loss." from Lord Willy Bach Police and Crime Commissioner, Leicestershire

Your comments: What's NOT a dogs Christmas dinner

As expected - there's been a lot of love for Marty McFly on Facebook today.

He helped us demonstrate what festive food would make him, and other dogs, poorly over Christmas.

Reggie Williams said: "Love my Pugs. They do ok on doggie food and treats."

Amanda Day said: "Don't worry, Mr Woofit won't be getting any of those but he's getting turkey and a little pig in blanket."

Victoria Hibbert said: "Bitey face Brienne is having chicken and broccoli, carrots and potato no gravy though because of the onion in it."

Children passengers in drink-drive crash

There were two children, aged five and three, in this car when it crashed in Ripley earlier.

The driver, a 36-year-old man, was breathalysed by police and found to be more than double the legal alcohol limit.

Copyright: Derbyshire Police

It happened at 12:15 at the roundabout where the A610 meets the A38. The road was closed until 15:00 as a lamp post needed cutting down.

Luckily no one was injured but the driver was arrested and remains in police custody.

Police have said they are also making a "child safeguarding referral".

Travel: A42 crash cleared

Man admits stabbing 21-year-old to death

A man has pleaded guilty to murdering a 21-year-old man in Nottingham.

Copyright: Nottinghamshire Police

Remee Jarrett, 30, also admitted attempted wounding with intent to cause serious injury to another man, also aged 21, during the same stabbing attack in St Ann's.

He also admitted possession of an offensive weapon.

Reuben Morris-Laing was found with a single stab wound to the abdomen outside a Premier Express shop in Robin Hood Street in March.

He died at the Queen's Medical Centre in the early hours of the next day.

Jarrett, of St Ann's, had previously denied murdering Mr Morris-Laing, and was due to face trial next year, but changed his plea today at Nottingham Crown Court

He was remanded to appear at the same court for sentencing in January.

Severe accident: M1 South Yorkshire southbound

BBC News Travel

M1 South Yorkshire southbound severe accident, between J31 for A57 Sheffield and J30 for A616.

M1 South Yorkshire - One lane closed and slow traffic on M1 southbound between J31, A57 (Sheffield) and J30, A616 (Worksop), because of an accident.

To report traffic and travel incidents dial 0330 123 0184 at any time

Fight leaves man with fractured eye socket

A man has been left with a fractured eye socket and cuts to his face after he was attacked during a Christmas night out.

Copyright: Derbyshire Police

The 40-year-old was punched in the face outside a takeaway in Glossop, Derbyshire, at about 02:45 on Sunday after he intervened in a fight.

PC Gareth Podmore said: "This was a particularly nasty assault that has had a profound affect on the victim."

Breaking

Controlled explosion after terror arrests

The Army bomb squad has carried out a controlled explosion in Chesterfield after a series of terror arrests.

Material found at a property in the town, where a cordon remains in place, was taken to a "nearby safe location" to be destroyed, Counter Terrorism Policing North East said.

No premises were evacuated.

Four men, aged 31, 22, 36 and 41, were arrested during raids at addresses in Sheffield and Chesterfield on Tuesday.

Police have until Christmas Day to charge or release the men.

The Army bomb squad was deployed to Mermaid Tradition fish and chip shop on Sheffield Road in Chesterfield following the raids.

Arrests after armed robbery at jewellers

Two people have been arrested after a jewellers in Leicestershire was robbed earlier this week.

Four men in balaclavas, wielding an axe and a crowbar, entered Cathy Stevens Jewellery in Ratby Road, Groby, at about 17:30 on Tuesday.

Staff, who were in the shop at the time, were not injured but were left "shaken", police said.

The gang left the store with jewellery in a red Ford Focus which was found in the village that evening.

The axe was recovered from the shop, while the crowbar was found with the car.

Two men, aged 21 and 22, were arrested last night on suspicion of conspiracy to commit robbery.

A42 crash: Picture from scene

Warwickshire Police are at the scene of the two-vehicle crash on the A42 between Ashby-de-la-Zouch and Appleby Magna in Leicestershire - close to where it becomes the M42.