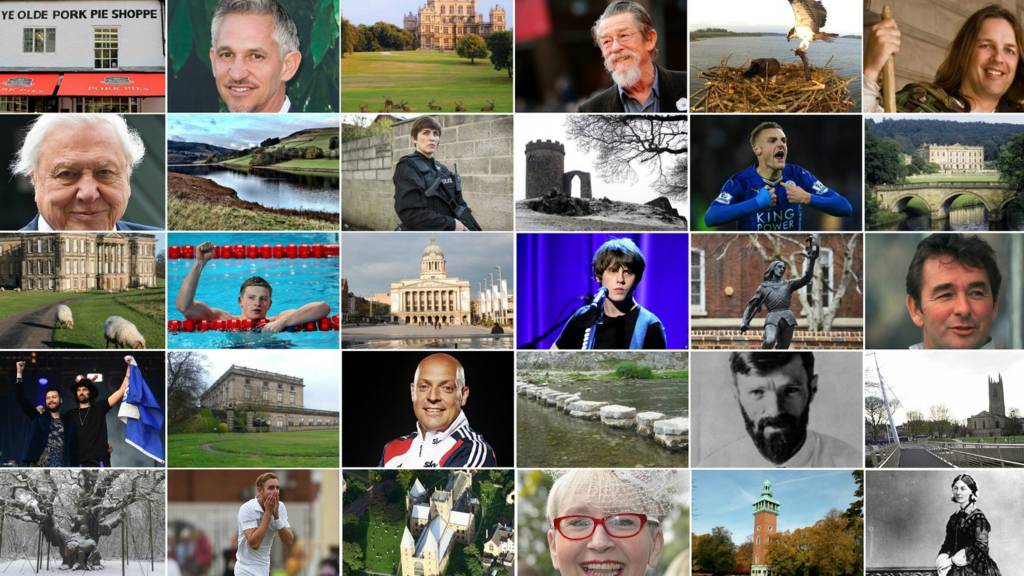 Summary
Former pub landlord found guilty of killing customer
Paedophile has sentence increased to more than 24 years
Ancient Chinese plate sells for £230,000 at Derbyshire auction
Man seeking skin surgery after losing half his body weight
Jack Lester appointed Chesterfield manager
Live updates for Friday 29 September 2017
Dafydd Pritchard

BBC Sport Wales at Cardiff City Stadium

Our live coverage has ended

That's it from us for another week. East Midlands Live returns at 08:00 on Monday.

Weather: Dry evening ahead

Anna Church

Weather Presenter, BBC East Midlands Today

It will be a dry and fine end to the day with some sunshine before dark.

This evening will remain dry overnight with clear spells and it will be a cooler night.

Saturday will start dry and bright but cloud will increase through the morning with the increased risk of showers.

Some more persistent rainfall possible from the west during the afternoon.

It will feel fresher in a strengthening south westerly wind with maximum temperatures reaching 16C.

Parking tickets rise in Rushcliffe

Maryam Qaiser

BBC Local Live

The number of parking tickets handed out in Rushcliffe has increased by nearly a fifth in the last year.

There were 1,500 more issued in the area in the past year compared with the previous 12 months.

Income from car park charges has also risen by 11% after a change in hourly fees despite a fall in the number of people parking there.

Birds escape during farm break-in

Maryam Qaiser

BBC Local Live

Several birds have escaped after a break-in at Stonebridge City Farm in Nottingham.

Staff at the farm said someone had broken the aviary and let the birds out last week, which included finches, budgies and cockatiels

Copyright: Stonebridge City Farm

The break-in has been reported to the police and the farm is now raising funds to increase the security at the site.

Plea to everyone to be a little greener

If everyone in Derbyshire recycled one extra pop bottle, the county council would save £27,500 a week.

That astonishing figure is why the council, along with Veolia in Nottinghamshire, are appealing for everyone to be a little greener.

Bus services hit by Friday night delays

Gavin Bevis

BBC Local Live

The wheels on the bus aren't going round.

Apprentice contestant says you will love her or loath her

Maryam Qaiser

BBC Local Live

A florist who is a contestant on the new series of The Apprentice has said viewers will either love her or loath her.

Elizabeth McKenna runs a florist in West Bridgford and Southwell and is keen to get investment from Lord Sugar to boost her business.

She said: "I have been wheeling and dealing since I was about 12 or 13 years of age.

"I started my first business as soon as I left college in 1997 and I have been doing all sorts of things around the floristry industry."

The new series of the show will start next week.

Ancient Chinese dish kept at Derbyshire home sells for £230,000

Gavin Bevis

BBC Local Live

An ancient Chinese dish that hung on the wall at a house in Derbyshire has sold for £230,000 at auction.

The plate, which is nearly 300 years old, was bought in the US by a British man in the early 20th Century and ended up in Derbyshire after being passed down by relatives.

We've asked Hansons Auctioneers for more information on the winning bidder.

Copyright: Hansons auctioneers

Man fined after fly-tipping waste with his own address on

Maryam Qaiser

BBC Local Live

A 40-year-old man has been ordered to pay £580 for fly-tipping after he left his name and address on the rubbish.

Toy packaging and a delivery box with Justin Mather's details was dumped on land near his house in Swinton Copse in Boughton, near Mansfield.

Copyright: Newark and Sherwood District Council

Mather was invited to two interviews by Newark and Sherwood District Council to discuss the situation but he failed to attend.

At Mansfield Magistrates' Court yesterday he admitted fly-tipping and was fined £200, ordered to pay costs of £350 and a victim surcharge of £30.

University student knocked to floor as thieves grab handbag

Gavin Bevis

BBC Local Live

This shocking video shows the moment a 19-year-old university student was dragged to the floor as she tried to stop thieves stealing her handbag in Derby.

The victim, who had only just moved to the city, was badly shaken but otherwise unhurt in the robbery, which happened in Market Place on 10 September.

Warning: Video may contain third party ads.

Your photos: Two rainbows for the price of one

Thanks to Splatman for this splendid photo of a double rainbow in Plumtree this morning.

Listen: Leicestershire chief executive on season 'riddled with disappointment'

Leicestershire chief executive Wasim Khan has gone on record to express his disappointment with his players' performance this season.

He says "wholesale changes" are the only way to turn things around.

You can listen to the interview in full below.