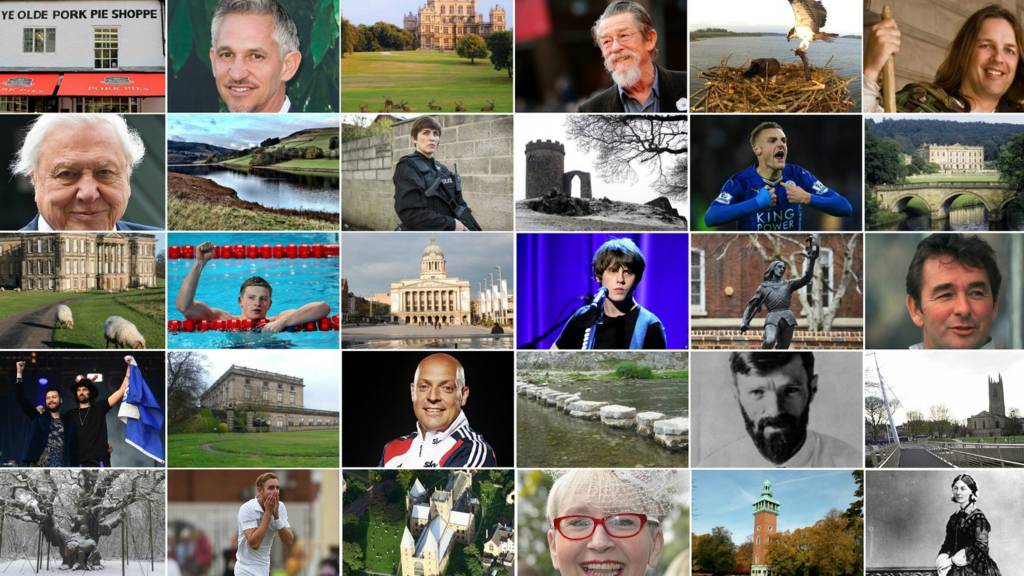 In August 1972, Ugandan dictator Idi Amin announced his plans to expel the country's Asian population. Gita Watts spoke to Witness about her family's journey.

Severe accident: A6514 Nottinghamshire both ways

BBC News Travel

A6514 Nottinghamshire both ways severe accident, between B690 Aspley Lane and A610 Nuthall Road.

A6514 Nottinghamshire - A6514 Western Boulevard in Nottingham closed between the B690 Aspley Lane junction and the A610 Nuthall Road junction, because of an accident.

To report traffic and travel incidents dial 0330 123 0184 at any time

Our live coverage has ended

Regular live coverage on this page has ended for the day, but breaking news, sport and travel updates will continue appear through the night.

East Midlands Live returns from 08:00 tomorrow morning

Policeman describes the moment he saw teen hit by train

Navtej Johal

East Midlands Today reporter

A police officer who was following a teenager when he was killed by a train told an inquest he "thinks about it every day" and gets flashbacks.

Mitchell Rodgers, 16, ran onto the tracks in Belper after he was challenged by police who were responding to reports of a group of youths trying to enter a property.

At his inquest today, Det Con Andrew Cocking - who was a PC at the time - told the hearing that Mitchell went to the railway station and was on his side of the platform but on the tracks.

He saw a light and shouted "there's a train coming, get off the track" but seconds later the train passed at about 100 mph.

He said: "I could feel the blood draining away from me and I was dry retching".

The teenager suffered 22 injuries including a fatal head injury.

Weather: Dry evening ahead

Alexandra Hamilton

BBC weather presenter

This evening will be calm and settled with clear spells in the first half of the night and cloud building in the early hours.

Temperatures will reach lows of 9C (48F).

It'll be cloudy with some bright spells tomorrow morning.

Cloud will increase over the course of the day with rain moving in from the west overnight with highs of 21C (70F).

East Midlands Airport changes car parking names

Maryam Qaiser

BBC Local Live

The names of the car parks at East Midlands Airport have changed and people who made their booking before 28 June should check the new names.

Here is a map of where all the car parks are located.

Copyright: East Midlands Airport

These are a list of the new names:

Short Stay is now Short Stay 1
Express Park is now Short Stay 2
Long Stay 2 is now Mid Stay 2
Long Stay 3 is now Mid Stay 1
Long Stay 4 is now Long Stay 1
Long Stay 5 is now Long Stay 2
Long Stay 1 has been split in two and is now either Short Stay 3 or Mid Stay 3*
Jet Parks 1 and 2 remain the same

Confused? Me too.

Migrants are 'more likely to start their own business'

Chris Doidge

BBC Radio Derby, political reporter

The local enterprise partnership for Derbyshire and Nottinghamshire has released a report today into the impact migrants have had on the region's economy.

The accompanying publicity material says migrants in the two counties are more likely to start their own business than people born in the UK.

But it's not quite that simple.

The full report reveals the figures are at least six years old and are only available for the UK – there aren't actually any local figures about this.

It may well be the case that migrants here are more entrepreneurial but as the report itself says, when it comes to the kind of businesses migrants are setting up: "There is very limited hard evidence."

Severe accident: A38 Derbyshire northbound

BBC News Travel

A38 Derbyshire northbound severe accident, at A516.

A38 Derbyshire - Slow traffic on A38 northbound in Mickleover at the A516 junction, because of an accident involving a lorry and a car earlier on.

To report traffic and travel incidents dial 0330 123 0184 at any time

Rail fares price out commute to London

Amy Woodfield

BBC Local Live

Rail fares are set to rise next year meaning we will have to pay more to get to work by train.

Many could see themselves joining the so-called £5k commuter club.

Matt Blackwell lives in Leicester with partner Niki - she is a teacher in the city but he commutes to London for his job in the media.

Copyright: Matt Blackwell

The 27-year-old told the BBC: "I lose a crippling £750 from my salary each month in repayments to my company, which covered the upfront cost of my ticket."

"Even if the increase is minor come next January - when my season ticket runs out - I'm really not sure that I can afford to accommodate it, especially when I am far from guaranteed a rise in my salary."

Dad 'relieved' after being found not guilty over crash deaths

Liam Barnes

BBC News Online

Rashminder Gill said he was looking forward to getting his life back on track after a jury found him not guilty of causing the death of his wife and 14-year-old son in a car crash last year.

Leicester Crown Court heard the 41-year-old was driving his family home from a meal out in Leicester in January last year when his Mercedes hit standing water on the A50.

Witnesses described seeing the vehicle zig-zag before it crossed the central reservation, where it collided with an Audi.

Mr Gill's wife Amrit and son Taran were killed, and his daughter was severely injured in the incident.

The jury deliberated for about an hour before clearing him of two counts of causing death by careless driving.

"I feel like I can breathe again," said Mr Gill, who runs a logistics company.

"The whole last year-and-a-half has been a nightmare."