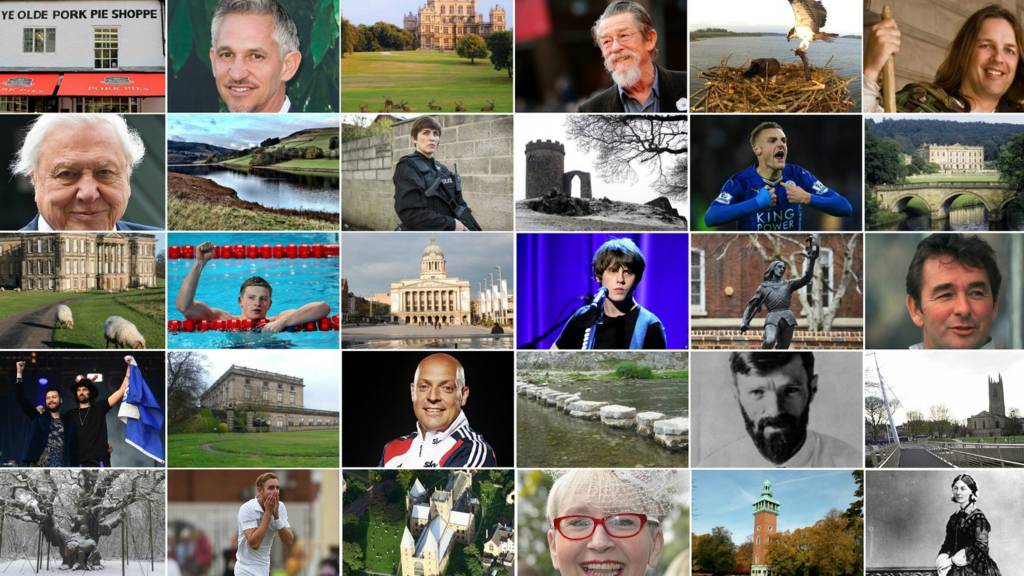 Summary
Live updates for Wednesday 14 June 2017
UKIP MEP denies EU cash misuse claims
Two houses damaged by fire in Bilsthorpe
Disgraced presenter could lose honorary degree
Doctor suspended over boy's death
Poppies display still proving popular
News, sport, travel and weather updates resume at 08:00 Thursday
Our live coverage across the day

Today's updates have now finished. Local Live will return at 08:00 on Thursday.

Weather: Muggy night in store

It's going to be a mild and muggy night, with variable amounts of cloud and clear spells into the early hours.

Lows of 16C (61F)

A bright start tomorrow with some sunshine first thing but cloud will push in from the west fairly quickly. Some sunny spells through the afternoon, with the odd isolated shower. Mild but breezy.

Highs of 20C (68F)

Leicester 'road rage' attacker still not found

Gavin Bevis

BBC Local Live

An irate driver who was caught on camera assaulting another motorist has yet to be identified, police have said.

Dashcam footage showed the man driving his BMW over the pavement to undertake and block a Renault Clio before reaching into the car's window to attack the driver.

It happened in Blackbird Road in Leicester on 31 May. Police have appealed for the public's help in identifying the man.

More than 100 victims of modern slavery rescued in East Midlands

Jeremy Ball

Social affairs correspondent, BBC East Midlands Today

Police forces across the East Midlands have discovered 140 suspected victims of modern slavery in the last three years.

They include foreign children and women, some of whom were sold into prostitution.

Many of the suspects were never prosecuted because victims were often too scared to given evidence, police said.

A Red Cross team supports the work of the police by taking clothing, food and blankets to victims who are rescued in Nottinghamshire and Derbyshire.

Derbyshire's Assistant Chief Constable Chris Haward said: "It's estimated that there are more than 20,000 victims of modern slavery in the UK at the moment.

"This includes victims of domestic servitude, forced labour and sexual exploitation."

Buildings in Nottingham to be assessed for safety

Maryam Qaiser

BBC Local Live

Premises will be assessed to ensure safety measures are put in place following the blaze which has destroyed a block of flats in London.

Nottinghamshire Fire and Rescue Service said, although incidents like this were extremely rare, they would continue to work with partner agencies to assess the fire safety measures in premises.

Assistant chief fire officer Craig Parkin, said: "Our thoughts are with those affected by this tragic incident, including our emergency services colleagues who have worked through the night and are still on scene."

Nottingham City Homes held an emergency meeting today to discuss safety measures for its buildings.

At least 12 people have died in Grenfell Tower in London after a fire ripped through the tower block.

Extra cash made available for Assembly Rooms replacement

Gavin Bevis

BBC Local Live

A further £2.5m has been found to rebuild Derby's Assembly Rooms after the fire there three years ago.

The D2N2 enterprise partnership - which funds projects in Derby, Derbyshire, Nottingham and Nottinghamshire - is proposing to give the city council the full £8.6m needed for the rebuild by postponing some of the projects on its list in order to prioritise others.

Severe disruption: M1 Nottinghamshire northbound

BBC News Travel

M1 Nottinghamshire northbound severe disruption, between J27 for A608 Hucknall and J28 for A38 Alfreton.

M1 Nottinghamshire - Heavy traffic and one lane closed on M1 northbound between J27, A608 (Hucknall) and J28, A38 (Alfreton), because of a broken down vehicle.

To report traffic and travel incidents dial 0330 123 0184 at any time

High rise residents offered fire safety advice after London blaze

Gavin Bevis

BBC Local Live

Fire safety experts are to visit Derbyshire's only high rise block of flats to reassure residents in the wake of the devastating tower block fire in London.

Area manager Alex Johnson said: "I would like to assure everybody that Derbyshire Fire and Rescue Service carries out regular inspections of blocks of flats, including Rivermead House, owned and managed by Derby City Council and Derby Homes, which fully complies with current fire safety regulations."

Fareed Hussain, Derby City Council's cabinet member for urban renewal, said it was "understandable" if council tenants were concerned about their own safety.

He said: "Our organisations would like to reassure residents that fire safety precautions are given the highest priority across all of the properties we manage.

"All blocks of flats have fire risk assessments in place and are subject to regular inspection and review.

"Rivermead House, our only high rise block, fully complies with current fire safety regulations. The construction of the block is designed to prevent the spread of fire between flats and between floors."

Fire safety experts will be at Rivermead House from 11:30 to 12:30 on Thursday.

Your photos: Summer in Leicestershire

A splendid photo of a busy bee, taken by Maggie T in Loughborough.

Concern for missing Derby man

Gavin Bevis

BBC Local Live

Police are searching for a 48-year-old Derby man who's been missing for nearly a week.

Matthew Collymore was last seen in the Kingsway area on Thursday afternoon.

He's about 5ft 7in, with a slim build and dreadlocks.

Copyright: Derbyshire Police

Loughborough thieves take triathlon star's bike

Gavin Bevis

BBC Local Live

Double Commonwealth gold-winning triathlete Jodie Stimpson says thieves in Loughborough stole her new bike and a swimming bag last night.

She branded the person responsible a "scumbag" and is circulating photos of the white Amira bike in a bid to try to get it back.

Copyright: Jodie Stimpson

Copyright: Jodie Stimpson

Racist abuse 'a regular thing', says Derby tennis star

Gavin Bevis

BBC Local Live

British tennis player Jay Clarke has been talking about the racist abuse he receives online.

The 18-year-old, from Derby, told BBC Sport he receives 15 to 20 abusive messages via social media a month and it is "not a surprise" when it happens.

He highlighted one abuser who repeatedly referred to him as a monkey and included a series of monkey emojis.

"The first few times it's a shock, now you're almost waiting for it," he said.

Rolls-Royce investigating Sydney engine emergency

James Roberson

Reporter, East Midlands Today

Derby-based Rolls-Royce is investigating after damage occurred to an airliner's engine, forcing it to turn back to Sydney.

The Airbus A330 had been on its way to China two days ago when the hole appeared in the engine casing.

The firm said: "We are aware of the incident, and we will be working closely with our customer, and relevant partners, to understand the cause of the issue."

Airbus also said it was discussing the incident with Rolls-Royce.

Detectives search for Asfordby sock thieves

Gavin Bevis

BBC Local Live

Police are on the hunt for burglars who broke in to a garage in Asfordby and helped themselves to a load of socks.

School socks, novelty socks and walking socks were taken during the raid in St John's Road at the weekend along with Christmas candles and a couple of gazebos.

Police said they were keen to hear from anyone who saw anything suspicious or had been approached about buying socks.

Fatal attack on man 'unprovoked', says best friend

Three people hurt in Brailsford crash

London fire 'was accident waiting to happen'

Maryam Qaiser

BBC Local Live

A Nottingham woman who once lived in the London tower block that was gutted by a huge fire overnight said the blaze "was an accident waiting to happen".

Agnes told BBC Radio Nottingham there were concerns over safety at Grenfell Tower.

Six people have been confirmed dead following the fire. Police say they expect that number to rise.