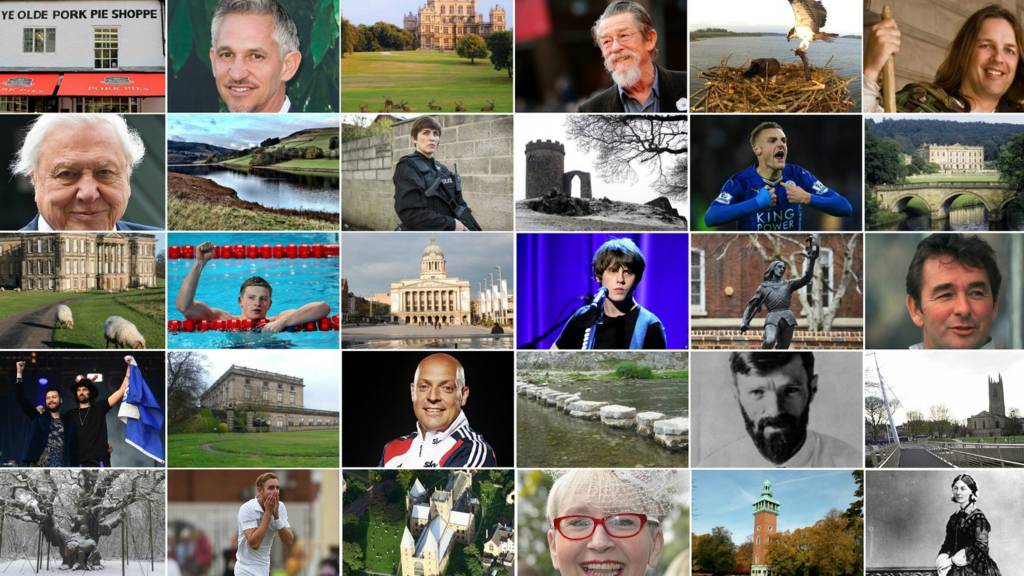 Summary
Live updates for Monday 12 June 2017
Soccerdome fire 'started deliberately'
Warning to secure bicycles
Visitor centre opens at Gedling Country Park
Loughborough beaten by Wasps in final
News, sport, travel and weather updates resume at 08:00 Tuesday
Our live coverage of the day

Our live coverage has now ended and will return on Monday from 08:00.

Dinosaurs arrive in Nottingham

Maryam Qaiser

BBC Local Live

Dinosaur skeletons and fossils have sailed 50,000 miles from China for an exhibition at Wollaton Hall and Nottingham University's public arts centre Lakeside Arts.

It will take two weeks for the installation process to be complete before the Dinosaurs of China exhibition opens on 1 July.

The display, which will tell the story of how dinosaurs evolved into birds, will include some of the best-preserved specimens in the world.

Copyright: Dinosaurs of China

Exhibition curator Dr Adam Smith said: "It's absolutely incredible to have the Dinosaurs of China here, having completed their two-month long inter-continental journey.

"Seeing such important finds up close is really thrilling and we can't wait to start the installation process so we can share them with the rest of Nottingham this summer."

Copyright: Dinosaurs of China

Visitors to Lakeside Arts will be greeted by two dinosaur skeletons - the Alxasaurus and the Dilophosaurus.

The exhibition will be on until 29 October.

Copyright: Dinosaurs of China

Weather: Clear but mild evening

Maryam Qaiser

BBC Local Live

It will be a rather clear night with some showers across the region this evening.

There will be some cloud while temperatures reach up to 16C.

It will drop to 13C later tonight.

There will be cloud and rain early tomorrow across northern parts of the region which should clear, with winds easing and sunny spells developing.

School on lockdown after 'malicious call'

A 16-year-old boy has been arrested after a school was placed on lockdown earlier this afternoon.

Police were called to the Pingle Academy in Swadlincote after a "malicious message" was received.

Derbyshire police said there was no risk to students or staff and pupils were allowed to leave as normal at the end of the school day.

Officers have remained at the site this afternoon to offer reassurance to pupils, parents and staff.

The teenager was arrested in Lincolnshire.

Women's Tour: Massive crowds cheer on cyclists

Maryam Qaiser

BBC Local Live

Tens of thousands of people cheered on cyclists during stage four of the Women's Tour on Saturday around Derbyshire.

Australia's Sarah Roy sprinted to victory in the stage which finished in Chesterfield.

Derbyshire County Councillor Simon Spencer said: "It was a fantastic event, showcasing the world's best cycling talent.

"Tens of thousands turned out to see it and the Derbyshire crowds did us proud, cheering on the riders along the route as well as in Chesterfield where it started and finished."

Mr Spencer said: "Derbyshire is a great place to cycle, for beginners to the most experienced riders as well as the sport's elite, and I'm really pleased we were able to showcase the county again at this great event."

Cables cut on railway lines

Maryam Qaiser

BBC Local Live

Thieves tried to steal cables from the railway lines between Nottingham and Sheffield twice in the last week, police said.

British Transport Police said cable was cut on two consecutive nights in locations near Worksop in Nottinghamshire last weekend.

On one occasion, rail workers disturbed a group of men on a crossing near the station.

The men fled but left trailers, bikes and cut cable at the scene.

Grand old lady of the road returning home

A 1950s coach, restored by an enthusiast in south Norfolk, is finally on her way home to the Shetland Islands.

For years, the Bedford OB was a lifeline to hundreds of islanders, taking children to school, fishermen to their boats, even used for Sunday School picnics.

After many years of service and many miles, the coach ended up in Norfolk for retirement, and Nick Taylor (pictured right) spent six years lovingly restoring her at his home in Weybread in Suffolk - before gifting the old lady back to the island from whence she came.

It will take 12 days for the vintage bus to travel the 1,200 miles - and behind the wheel is the coach's original driver, 73-year-old John Watt (pictured left).

Before she sets off, there was time for a blessing from the Bishop of Norwich. It was a first for the Right Reverend Graham James - he'd previously blessed an ambulance and its passengers, but not a bus and crew.

With no sat navs, but an old-fashioned map (remember them?), the first leg of the journey takes the crew 100 miles from Norwich, via Aylsham, Hunstanton, King's Lynn, and Newark to Gainsborough where they'll spend their first night.

If you see her on her journey of a lifetime, give her a wave!

NASA technology to grow vegetables in developing countries

Maryam Qaiser

BBC Local Live

A student has used space technology to grow vegetables without soil and very little water.

Nikian Aghababaie developed the low cost growing kit so families with limited resources in harsh climates can cultivate food using 90% less water than traditional methods.

Copyright: Nottingham Trent University

NASA uses a complex version of the technology at the International Space Station so astronauts can grow fruit and veg in space.

The technology works by suspending seedlings or cuttings from plants or vegetables mid-air in a growing chamber.

Nikian, who is studying product design at Nottingham Trent University, said: "It was important to me to design an affordable product which communities can make themselves, maintain and adopt."

Severe disruption: M1 Leicestershire northbound

BBC News Travel

M1 Leicestershire northbound severe disruption, at J24 for A6 affecting J23A for A42.

M1 Leicestershire - Two lanes closed and very slow traffic on M1 northbound at J24, A6 (Kegworth), because of a broken down car. Congestion to J23a A42.

To report traffic and travel incidents dial 0330 123 0184 at any time

Man who died after suspected crash named

Maryam Qaiser

BBC Local Live

Police have named a man who died after apparently being hit by a vehicle in Leicester city centre.

Robert Allen, 63, was found seriously injured in Lower Brown Street, at its junction with Norton Street on the night of 1 June.

Mr Allen was taken to the Queen's Medical Centre, where he died the next day.

A 25-year-old man from the city was arrested on suspicion of leaving the scene of an accident and released pending further inquiries.

Bomb squad raid: Two men charged with drugs offences

Maryam Qaiser

BBC Local Live

Two men have been charged with drugs offences after a police raid in Sneinton, which saw the bomb squad called in.

A 55-year-old and a 45-year-old, both from Manvers Court, have been remanded in custody, Nottinghamshire Police said.

On searching the property officers found equipment and materials used for making drugs.

Both men were charged with production of a class B drug and the attempted production of a class A drug.

They will appear at Nottingham Crown Court on 7 July.

Some of the materials at the property required the attendance of Joint Services Explosive Ordinance Disposal Engineers to make sure they were safe.

Hospital heroes to be celebrated

Maryam Qaiser

BBC Local Live

Patients are being asked to nominate a member of staff who may have helped them or a relative.

Nottingham University Hospitals NHS Trust is looking for candidates for this year's 2017 NUHonours Awards in November.

Last year, 650 staff from the QMC and City Hospital were nominated.