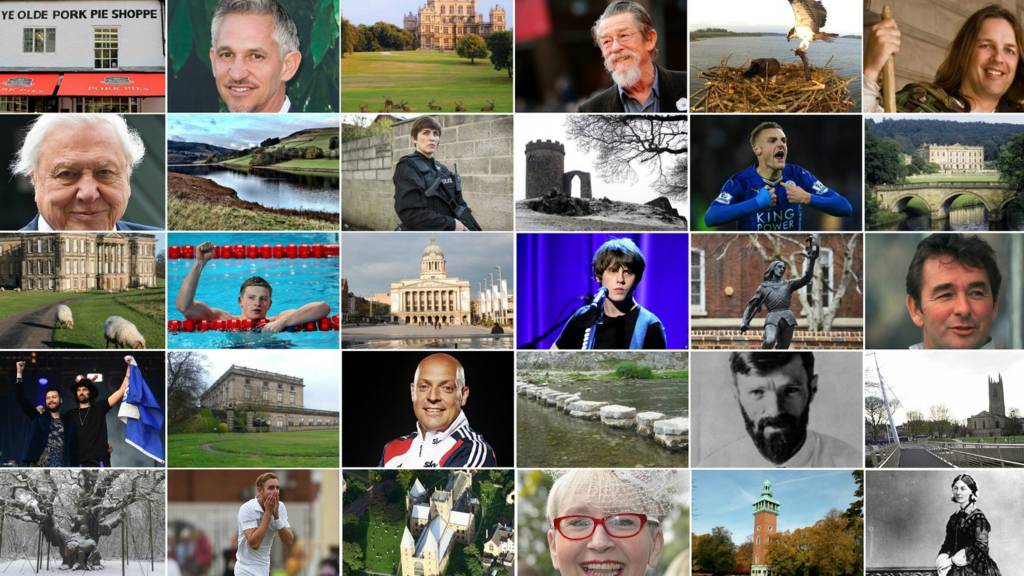 Summary
Updates for Thursday 8 June 2017
Polls open across region for General Election
Hairdryer gran is 'national hero', say fans
'Random' bag searches at shopping centre
Tower of London poppies go on show in Derby
Celebrities back toddler's cancer treatment bid
Shakespeare named permanent Foxes boss
Our live coverage across the day

Today's live updates have ended - for now.

Amy Woodfield will be with you from 22:00 this evening to bring you results, reaction and analysis from the general election in the East Midlands.

East Midlands weather update: Chance of heavy rain

Alexandra Hamilton

BBC weather presenter

Some clear spells will develop in the first half of tonight.

In the early hours, cloud will increase with the chance of some showers which could be heavy.

Lows of 10C (50F).

Work begins on new university health centre

Maryam Qaiser

BBC Local Live

A ceremony has been held to celebrate the start of work on a new wellness centre.

The Cripps Health Centre, at the University of Nottingham, is set to become one of the country's largest wellness centres.

The new facility will contain clinical consulting rooms, minor operations suites, a patient observation bay, physiotherapy areas, dentist treatment rooms, a pharmacy and mental health suite as well as training rooms and offices.

Copyright: University of Nottingham

Work will be completed by 2018.

Leicester academics find therapy that could stop superbugs on farms

Calum McKenzie

BBC Local Live

Researchers at the University of Leicester have shown that it might be possible to develop an alternative to antibiotics for treating diseases in pigs.

They have identified a range of viruses, called bacteriophages, that can be used to kill common pig infections.

The aim is to reduce the risk of antibiotic resistant bacteria emerging on farms that could also infect humans.

If trials in pigs work, the new therapy could be extended to treat people.

Shakespeare 'will help us take club forward,' vice chairman says

Calum McKenzie

BBC Local Live

In a statement on the club's official website, Leicester City vice chairman Aiyawatt Srivaddhanaprabha said that Craig Shakespeare was the "ideal choice" to become the club's permanent manager.

"Craig has shown all the qualities in leadership, motivation and talent management that are required to be successful in this role," Mr Srivaddhanaprabha said.

"Those qualities, aligned with his first class coaching acumen, his knowledge of Leicester City and its philosophy, and the respect he has earned at every level of the club make him the ideal choice to help take us forward."

Leicester confirms Craig Shakespeare as its new permanent manager

Calum McKenzie

BBC Local Live

Here's the official confirmation...

Shakespeare 'fully deserves' Leicester job

Calum McKenzie

BBC Local Live

BBC Sport presenter Manish Bhasin tweets...

Motorcycle racing suits stolen

Maryam Qaiser

BBC Local Live

Several racing suits have been stolen by three masked burglars, Derbyshire Police have said.

The offenders smashed the windows at Pidcok Motorcycles in Draycott Road, Breaston.

The suits, including Spidi, RST and Alpinestar branded leathers, were stolen at around 22:40 on 27 May.

After the break-in, the offenders drove off towards Long Eaton in a dark coloured car, which had its boot open for a while.

Analysis: Appointing Shakespeare as Foxes boss 'sensible'

Ian Stringer

BBC Radio Leicester Foxes commentator

Appointing Craig Shakespeare as the new Leicester boss is a sensible decision in my view.

The big test for him now is attracting quality players this summer.

Swimming: Peaty backs 'mixed events' for next Olympics

Nick Hope

BBC Sport Olympic sports reporter

Rio 2016 champion swimmer Adam Peaty believes the introduction of mixed events for Tokyo 2020 would make the Olympics "more fun".

Copyright: Matt Roberts/Getty Images

The International Olympic Committee (IOC) will decide the medal events for each sport in 2020 on Friday, 9 June - a month ahead of schedule.

The IOC believes mixed events and mixed relays will help promote gender equality.

"I'm 100% in favour as it would add spice," City of Derby swimmer Peaty told BBC Sport.

Watch: Tower of London poppy artist on his creation's homecoming'

Tower of London poppy artist Paul Cummins has said bringing his creation to Derby's Silk Mill for seven weeks is "overwhelming"...

Derbyshire hoping major cycling event brings tourism boost

Calum McKenzie

BBC Local Live

Final preparations are under way across a number of Derbyshire towns and villages as they get ready to welcome the Women's Tour of Britain on Saturday.

The county is hosting Stage 4 of the race and it will pass through places including Chesterfield, Belper and Wirksworth.

Toby Wilton, who works at a cafe in Crich, said: "I think there will be a fair few crowds round the village.

"I think it will be very good, [it'll bring publicity for] people who don't know where Crich is.

"Overall, I think that there is some great excitement for the race."

Today's stage sees the riders in Stoke-on-Trent before the race heads to Leamington Spa on Friday.

Chatsworth RHS: Long queues to enter site

Maryam Qaiser

BBC Local Live

Visitors to Chatsworth for the Royal Horticultural Society's show have been met with long queues to get into the site.

Traffic was also building up this morning with some drivers stuck in 11 miles of queuing traffic.

Analysis: Tigers' Euro draw 'offers the chance to right the wrongs of 2016/17'

Chris Egerton

BBC Radio Leicester rugby reporter

The draw offers an early chance to put things right against opponents very familiar in Munster and Racing 92.

Despite home victories last season against both, it will be fascinating to see whether Tigers do better on the road under Matt O'Connor, having notched one penalty goal at Thomond Park (38-0 loss) and the Stade Yves Du Manoir combined (34-3 loss).

Castres meanwhile will be fresh opponents for Leicester with the two having never met before in Europe.

Rugby: Tigers learn European Champions Cup fate

Calum McKenzie

BBC Local Live

Leicester Tigers have been drawn alongside Munster, Racing 92 and Castres for the pool stage of the European Champions Cup.

Dash cam appeal following serious crash

Maryam Qaiser

BBC Local Live

Nottinghamshire Police hope drivers with dash-cam footage can help them with an investigation into a serious crash on the A46 at Collingham.

It happened at the Station Road junction at 21:45 on 6 June.

The drivers of both cars involved, a woman and an elderly man, were taken to hospital with chest, leg and back injuries.

Delays on M1 after van overturns

Maryam Qaiser

BBC Local Live

There are long delays on the M1 northbound between J15A and J16, near Nottingham,after a van overturned.

Emergency services have now removed the vehicle.

Copyright: Highways England

School will reopen on Monday following fire

Maryam Qaiser

BBC Local Live

A school, which has been closed following a fire, has confirmed it will reopen on Monday.

The blaze at Holgate Primary and Nursery in Nottingham, was quickly brought under control but the sprinkler caused extensive water damage to the classrooms.

Nottinghamshire County Council has confirmed the school will open on Monday.

Executive headteacher Nicola Davies said they have worked closely with the local authority to dry out, sterilise and clean-up the school.