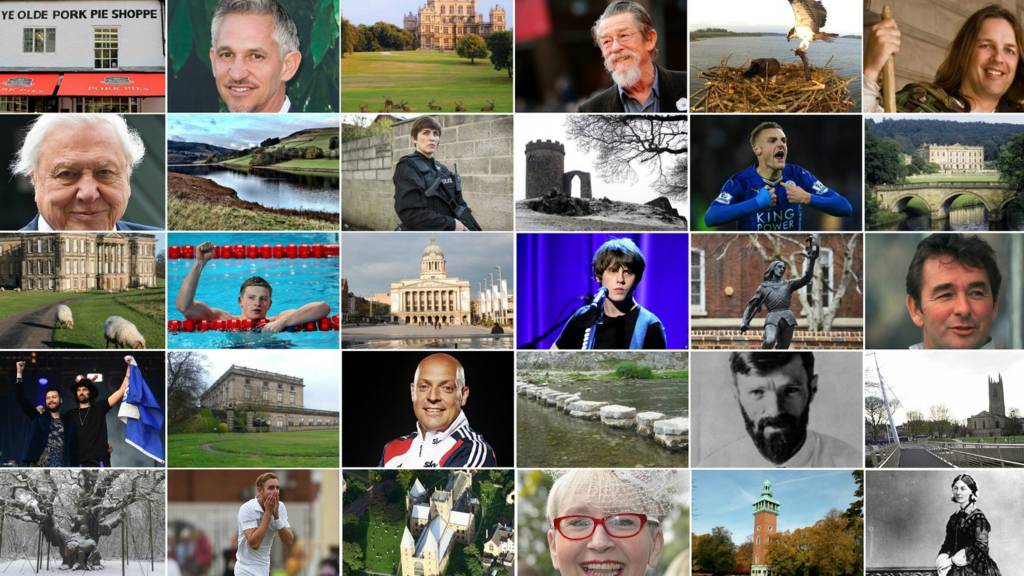 Our live coverage across the day

Our live updates have now ended and will return tomorrow from 08:00. 

East Midlands weather update: Potential for some frost overnight

Alexandra Hamilton

BBC weather presenter

Showers will steadily ease overnight leaving some clearer spells.    

There's the chance of frost – particularly in rural spots.

Snooker: Leicester's Selby trails Ding Junhui in Crucible last four

Owen Phillips

BBC Sport at the Crucible Theatre, Sheffield

Ding Junhui scored five half-centuries and a ton to lead Leicester's Mark Selby 5-3 after an intriguing start to their World Championship semi-final.

Both players demonstrated their potting prowess before the mini-break, scoring alternating fifties to share the opening four frames.

But China's Ding got the better of two of three scrappy frames to edge 4-3 ahead before taking frame eight with a brilliant 110.

The contest resumes on Friday morning, with the winner of the first-to-17 match playing either John Higgins or Barry Hawkins in the final.

BBC reporter meets 'Britain's biggest dog'

Calum McKenzie

BBC Local Live

Apparently this is how Balthazar greets all his friends... 

I'd hate to get on the wrong side of him... 

Supercar convoy travels through Nottingham

Calum McKenzie

BBC Local Live

Children from Rainbows Hospice have had a day to remember with a ride in some supercars through Nottingham. 

Copyright: Mike Pattinson

The cars travelled from Bestwood village to Old Market Square. 

The convoy was also used to promote the Luxury Motor Show at Goosedale in Nottingham next month.

Copyright: Mike Pattinson

Copyright: Mike Pattinson

Man sexually assaulted woman as she slept on coach

Calum McKenzie

BBC Local Live

A man has been jailed for four years for sexually assaulting a woman as she slept on a coach. 

Copyright: Leicestershire Police

Admir Senaj, 29, attacked the woman on a coach journey from Nottingham to London as they travelled down the M1. 

The woman, who was sat next to Senaj, woke up to find him assaulting her. 

Senaj was jailed today after being found guilty of assault by penetration at Leicester Crown Court. 

Dan Robberts, from Leicestershire Police, said: "Senaj preyed on a young woman while she was in a vulnerable state and was brazen enough to do so surrounded by other people on a busy coach. 

"He then fled the scene when he realised the police had been called.

"I hope the guilty verdict today will be some sort of closure for the victim." 

Cricket: Rain affecting Nottinghamshire's victory chances

Calum McKenzie

BBC Local Live

Michael Lumb hit 104 from 126 balls as Notts Outlaws posted 273-6 from their 50 overs against Worcestershire Rapids at New Road. 

Copyright: Gareth Copley/Getty Images

Unfortunately, rain has delayed the start of the home side's chase. 

If we get any more play in the West Midlands, you can follow it live here.

Boy injured after whisky bottle 'smashed' in attempted robbery

Khia Lewis-Todd

BBC Local Live

A 16-year-old boy has been left injured after an attempted robbery in which a whisky bottle was smashed.

The attempted robbery took place on Saturday, April 22 at about 17:30, when the victim was playing football with his friends on West Park in Long Eaton.

The friends were approached by a group of four youths, one of whom was drinking from a bottle of whisky. The drinking youth then threatened the victim to hand over his bike and when he didn't, he smashed the bottle causing cuts to the victim's hand.

The group then walked off empty-handed, Derbyshire Police said.

The youth with the bottle has been described as white, 15 to 16 years old, about 5ft 4ins with an average build. He was wearing a dark coloured padded jacket and all black Nike Air max trainers.

Police are appealing for any witnesses to come forward.   

Murdered woman was 'possessed' by ex-boyfriend, father says

Calum McKenzie

BBC Local Live

The father of a woman from Leicestershire murdered by her ex-boyfriend has said he never suspected she was in any danger. 

On Wednesday, Lance Corporal Trimaan "Harry" Dhillon was sentenced to 22 years in jail for stabbing Alice Ruggles to death.

Clive Ruggles said: "I felt that he [Dhillon] was telling me what I wanted to hear.

"He told me that he was going to look after her and she would not having any financial worries...of course, it's now chilling looking back on that that you see he wanted to possess her. 

"But that wasn't how it came across [at the time]." 

Tram services in Nottingham 'now running'

Khia Lewis-Todd

BBC Local Live

Delays to the service are expected though... 

CCTV released after elderly woman's home burgled

Khia Lewis-Todd

BBC Local Live

Do you know these two women? 

Derbyshire Police are keen to speak to both of them after an 83-year-old woman's house in Woodville was burgled.

The woman's handbag was stolen from her home on Ashby Road on Tuesday 4 April between 16:00 and 16:45.   

Several withdrawals and purchases were later made using the victim's card. 

East Midlands weather update: Cloudy with outbreaks of patchy rain

It will be fairly cloudy throughout the rest of this afternoon, with outbreaks of light and patchy rain. 

The odd brighter interval or sunny spell will be likely at times, particularly later in the day.

Snooker: Selby and Ding level at interval

Khia Lewis-Todd

BBC Local Live

Leicester cueman Mark Selby and Ding Junhui are all-square at the mid-session interval, winning two frames apiece.

Keep up to date with the match here.

Services stopped due to 'failed tram' in Nottingham

Khia Lewis-Todd

BBC Local Live

A heads-up for tram users...

If you have a tram ticket for today, then Nottingham City Transport (NCT) buses and East Midlands Trains are accepting tickets and passes, Nottingham Express Transit (NET) has said.  

Watch: CCTV captures mass brawl between fans outside Nottingham pub

Navtej Johal

East Midlands Today reporter

Two men have been jailed for their part in a pre-arranged mass brawl between Nottingham Forest and Notts County fans outside a city centre pub last year. 

CCTV footage of the fight at the Major Oak pub has been released.

In total, 10 men, all in their 20s from across Nottinghamshire and Derbyshire, were sentenced this afternoon for taking part in the fight after pleading guilty to affray.

The rest received a combination of suspended sentences and community orders. 

The judge, Gregory Dickinson QC, described the fight - in which punches and missiles, including chairs, were thrown - as "serious disorder". 

He said the behaviour of the group was "astonishing" and "stupid".

'New Derby bus station poorly designed'

Earlier on we told you about bus operators meeting with Derby City Council to discuss the bus station congestion.

Yvonne Kerry has tweeted us to give her take on the problem...