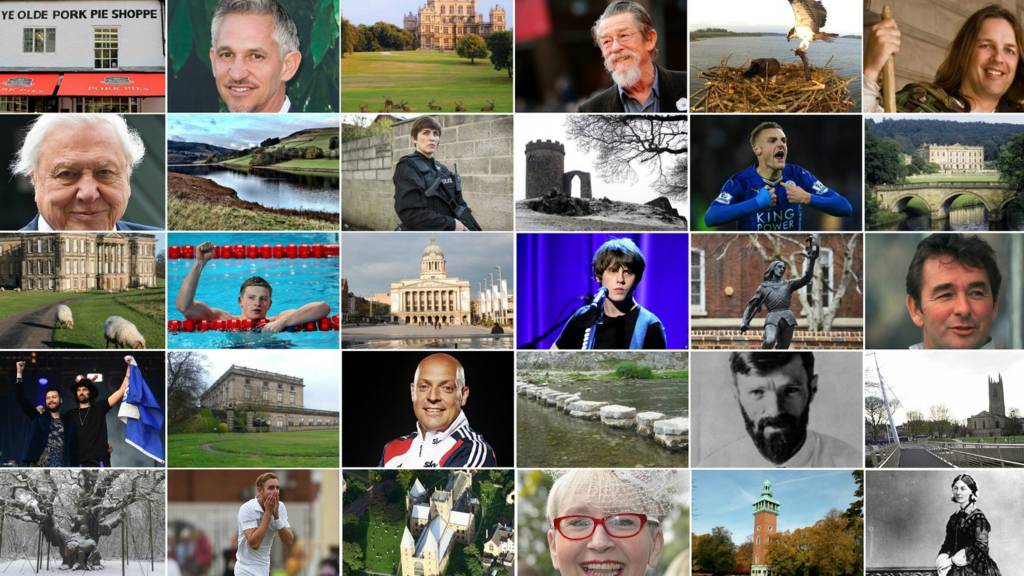 Summary
Updates for Wednesday 26 April 2017
Soldier sentenced for ex-girlfriend murder
Man dies in A52 collision
Gunpoint robbery in Hinckley
Man held on suspicion of murder in Leicester
MP 'breaks up fight' in Worksop
News, sport, travel and weather updates resume at 08:00
Our live coverage across the day
Our live coverage has now ended and will return tomorrow from 08:00.   
Listen: Alice Ruggles' friend's 999 call

Sonia Kataria
BBC News Online
A short clip from the 999 call made by Alice Ruggles' housemate.
WARNING: May be upsetting.   
Severe accident: M1 Leicestershire northbound
BBC News Travel
M1 Leicestershire northbound severe accident, at J21A for A46 Leicester North affecting J21 for M69.
M1 Leicestershire - One lane closed and very slow traffic on M1 northbound at J21a, A46 (Leicester North), because of an accident. Congestion to J21, M69 (Leicester).
To report traffic and travel incidents dial 0330 123 0184 at any time
Watch: The perfect free-throw

Two days before the start of the BBL Playoffs, Leicester Riders captain Tyler Bernardini explains the perfect free-throw... 
Weather: A chance of frost overnight

The showers will lessen and steadily clear overnight. Skies will clear which will leave the chance of a frost – particularly in rural spots, before cloud thickens again in the early hours. 
Lows of 1C (34F).
Tomorrow will be cloudy with spells of showery rain. Brighter spells will develop from the north later. 
Highs of 11C (52F).
Weather Watchers: A cloudy East Midlands

It's been a cloudy afternoon across the East Midlands... here's some shots of the fluffy fellas.
This is from Dave in Market Warsop...
Here's a great effort from LindafromBelper in, you guessed it, Belper...
And finally, here's Leigh984 with his cloudy contribution from Newbold Verdon.  
Road to close for tower crane removal

Alex Smith
BBC News Online
Motorists have been advised that Wollaton Street in Nottingham will close at its junction with Canning Circus from 08:00 on Saturday to 16:00 on Monday for the removal of a tower crane from student accommodation being built at Talbot House.
Diversions will be in place to direct traffic from Canning Circus, Talbot Street and Clarendon Street, Nottingham City Council said.
Robbery and attempted robbery at post offices 'linked'

Alex Smith
BBC News Online
Nottinghamshire Police now believe a robbery and an attempted robbery at two Mansfield Woodhouse post offices are linked.
Officers were called to reports of an attempted robbery in Brown Avenue on Monday, where it was reported two males wearing balaclavas, dark clothing and gloves entered the property just before 11:30. One of the men was armed with a knife, which police say he waved at a staff member after trying to grab the till from the kiosk.
It's understood a second male entered the building armed with a hammer and threatened a member of the public who tried to intervene and stop him leaving. No-one was injured following the two attempted raids and both men fled empty-handed.
Detectives are now linking the attempted robbery to a robbery at the post office on Station Street (above) at 11:50 on Saturday, April 22, in which two males wearing dark clothing and balaclavas threatened staff and attacked tills before leaving with a quantity of cash. 
They made off in a black Peugeot 207 S that had been recently stolen. It is believed the vehicle was used in both post office raids.
Watch: New use for old A&E

Rob Sissons
East Midlands Today Reporter
The old A&E department at Leicester Royal Infirmary will be turned into emergency assessment wards...
Transline was criticised by a Commons committee for giving testimony that "lacked credibility".
Read more
Family of Alice Ruggles to set up fundraising trust
The family of murdered Alice Ruggles have set up the Alice Ruggles Trust to raise money for good causes. 
The trust will also provide training and education about issues like stalking. Her family have released a statement encouraging other victims to speak out about stalking and harrassment. 
Miss Ruggle's mother,Dr Sue Hills, a teacher at a a girl's school in Leicester, will be running the Great North Run this year to raise money for Women's Aid. 
Armed robbery in Hinckley

Amy Woodfield
BBC Local Live
A convenience store in Hinckley was robbed at gunpoint last night.
Police have said a man wearing a balaclava went into One Stop, on the corner of Stoke Road, with a weapon believed to be a handgun.
He demanded money from the two members of staff and left with cash.
"I am keen to speak to anyone who may have seen a man matching the description, either before or after the robbery occurred. We believe after taking the money the man ran along Stoke Road in the direction of Tudor Road. If you were driving or walking in this area around 11.00pm you may have seen something that can help with our enquiries."
Alice Ruggles was 'life and soul of the party'
Alice Ruggles had an her infectious love of life, friends and colleagues said.
The 24-year-old was murdered by her ex-partner Lance Corporal Trimaan "Harry" Dhillon, 26, and he has today been jailed. 
Miss Ruggles studied at Northumbria University and afterwards took a job at Sky in Newcastle. 
Her boss Paul Lynch said she was "the life and soul of the party" and she was promoted from handling calls to the specially-created role of office co-ordinator. Colleagues remembered her for her for her smile, her friendliness and her wit.
But friends said a change came over her after she met Dhillon and the prosecution during the trial at Newcastle Crown Court  placed the blame firmly on her ex and his controlling ways. 
Alice Ruggles' family urge other victims to speak out
The family of Alice Ruggles released a statement after her ex-boyfriend Trimaan "Harry" Dhillon was convicted of her murder in which they said her loss would stay with them for the rest of their lives. 
In a statement made through the Suzy Lamplugh Trust, which helps people avoid becoming victims of violence, they urged other victims of stalking to speak out. 
He mother Dr Sue Hills said: "I just keep thinking I can't believe we didn't identify the signs of stalking but you just don't know when it's going on.
"I would like what happened to Alice to encourage others to seek support if they are worried about someone's behaviour."
Dhillon, 26, has been jailed for a minimum of 22 years after being found guilty of murdering Alice Ruggles.
Flat mate calls 999 after finding body

Amy Woodfield
BBC Local Live
Here's some of the 999 call made by Alice's flat mate when she found her.
WARNING: May be upsetting. 
Northumbria Police deny they could have prevented murder of Alice Ruggles
Following the conviction of Trimaan "Harry" Dhillon Northumbria Police have denied that they could have done more to prevent him from murdering ex-girlfriend Alice Ruggles. 
Ms Ruggles, 24, has previously reported to Northumbria Police that she felt "harrassed" by Dhillon making a police statement on 2 October in which she said he sounded "crazy" on voicemails, and described him as obsessed.
The court heard she felt  "palmed off" and was asked if she wanted Dhillon arrested but she decided not to take that step. 
Det Ch Insp Lisa Theaker, of Northumbria Police said: "Alice spoke to a number of police officers and she spoke to Victims First and we went through a risk assessment. And as a result of that we would not have been able to predict at that stage that he would go on to murder Alice." 
Following the murder the case was referred to the Independent Police Complaints Commission, who sent it back to the force for an internal investigation. 
Alice Ruggles murder was an act of 'utter barbarism'
A judge who jailed a soldier for a minimum of 22 years for the murder of his ex-girlfriend said it had been an act of "utter barbarism".
Lance Corporal Trimaan "Harry" Dhillon, 26, had denied the murder of Alice Ruggles, 24, in Gateshead in October but was found guilty after a trial at Newcastle Crown Court.
Judge Paul Sloan QC told Dhillon said: "Not a shred of remorse have you shown from first to last - indeed you were concentrating so hard on getting your story right when giving evidence you forgot even to shed a crocodile tear."
Miss Ruggles' family wept and hugged each other when a jury found him guilty.
There was no visible reaction from Dhillon.
Alice Ruggles murder: Soldier convicted of killing after 90-minute deliberation
The jury of eight women and four men took 90 minutes to reach a unanimous verdict - L/Cpl Trimaan "Harry" Dhillon murdered his ex-girlfriend, Alice Ruggles.
Dhillon, who was based at barracks in Edinburgh, broke into Miss Ruggles' Gateshead flat on 12 October last year and cut her throat.
The court heard Dhillon, who's 26, stalked Alice in the weeks before her death and had been aggressive, controlling and manipulative throughout their short relationship.  
Soldier jailed for ex-girlfriend's murder

Alison Freeman
BBC Look North
Lance Corporal Trimaan Dhillon has been jailed for life with a minimum of 22 years for the murder of Leicestershire's Alice Ruggles.
MP 'breaks up fight' in Worksop

Fists might be flying on the campaign trail right now but the Bassetlaw MP has apparently been keeping the peace on the streets of Nottinghamshire.
I particularly like that the Labour MP got recognised part way through his intervention...
Cash stolen in post office raid

Alex Smith
BBC News Online
Derbyshire Police said it was called to Crich Post Office at about 12:30 after two men are believed to have entered the shop and stolen money.
The force said the men are not thought to have been armed and there are no reports of anyone being injured.
Ed Sheeran and Rag'n'Bone Man hit the town

Looks like this pair were having a hoot in Nottingham last night...
Sheeran (the slightly less hairy one) had been playing at the Motorpoint Arena last night.
He's due to play a second night there tonight, while Rag'nBone Man plays Rock City.
The photo was taken in Hooters late last night.
Obviously we can't show their rather rude hand gestures on a family live feed...
Ten sentenced after armed robbery in Newark

Alex Smith
BBC News Online
Ten people have been sentenced for their part in an armed robbery in Newark, Nottinghamshire Police said.
Four men were seen to enter Andrew Michael's jewellers on Stodman Street armed with hammers and a shotgun. About £250,000 worth of watches and jewellery were stolen.
As the group were about to escape, they were confronted by two off-duty Lincolnshire Police officers who had heard the commotion. 
The force said they tried to stop the offenders even though they were threatened, one of them grabbed a man as he got into a getaway car and was dragged some feet down the road before the offenders got away. 
Nine defendants admitted their involvement at an earlier hearing. They are:
Nathan Clarke, 28, of Wrigsham Street in Coventry, who was sentenced to 15 years in prison for conspiracy to rob and converting criminal property. He was also given a further two years for an unrelated offence
Adil Yasin, 25, of Oakwood Road, Springfield in Birmingham; Imran Zamir, 24, of Gladstone Road in Sparbrook, Birmingham; Raju Miah, 25, from Birmingham and Tommy Walden, 28, of Peck Avenue in Boston, Lincolnshire, were each given 10 years, eight months for conspiracy to rob and possession of an imitation firearm
John Daly, 29, of Station Road in Kings Norton, Birmingham, received 15 years, six months for conspiracy to rob and possession of an imitation firearm
Michelle Bradley, 30, of Forbes Road in Boston, Lincolnshire, and Emma Porter, 35, of Allington Garden in Boston, Lincolnshire, each received four years for conspiracy to rob
Shah Alam, 39, of Floyer Road in Birmingham, was given 10 months for conspiracy to convert stolen property
Meanwhile, Abdul Khalique, 38, of Pickard Street, Islington in London, was found guilty of conspiracy to convert stolen property after a trial and sentenced to 12 months in prison. 
Soldier guilty of ex-girlfriend murder

Sonia Kataria
BBC News Online
A soldier has been convicted of breaking into his ex-girlfriend's flat and cutting her throat from ear to ear. 
Alice Ruggles, 24, originally from Leicestershire, was found fatally injured at her home in Rawling Road, Gateshead, in October.
Lance Corporal Trimaan "Harry" Dhillon, 26, denied murder, saying she had fallen on a carving knife while lunging at him during an argument. 
But the jury at Newcastle Crown Court rejected the claims of the Edinburgh-based signaller and found him guilty.
He is due to be sentenced later.
Sports Direct agency set for administration

Alex Smith
BBC News Online
An agency that has been employed by one of Europe's biggest retailers is set to go into administration.
Transline Group - one of the agencies used by Sports Direct to recruit warehouse workers - said it has suffered "as a result of a continued move to tighter margins in the recruitment industry".
A spokesman for the agency said it had lodged a Notice of Intention to "protect the business, our employees and our customers". 
"The welfare of our staff and our relationships with our customers are of paramount importance, and we are continuing our service and operations as normal. We expect to hear more regarding potential trading investments imminently," the spokesman added.
MPs had criticised the agency after it gave evidence in the Sports Direct inquiry, saying their testimony "lacked credibility". 
MPs also raised concerns about working conditions for agency staff at the Sports Direct headquarters in Shirebrook.  

Tim Parker
BBC Radio Leicester reporter
Sunshine and hail - simultaneously in Syston...
Copper stolen from church on Good Friday

Amy Woodfield
BBC Local Live
Metal thieves have broken into a village church near Lutterworth twice in two weeks, stripping copper from the roof and taking the pipes from the church organ.
St Leonard Church in the Hamlet of Misterton was struck on Good Friday and then again a week later. 
The church warden is now worried the thieves will come back for a third time.
Rebecca Jeffrey Cooper said: "Friday night I can't imagine we'll be sleeping very soundly in case they do come back."
School 'knife fight building' was 'on lockdown'

Dominic Johnson
BBC Radio Nottingham reporter
The building was locked down during the incident yesterday afternoon.
Pupils were kept inside the school for their safety.
Both arrested boys have been released on bail pending further inquiries. 
Police release images of four people after man left with broken jaw

Alex Smith
BBC News Online
Recognise this quartet?
Police want to speak to them after an assault in a Nottingham bar which left a man with a broken jaw.
The man was punched in the face in Cucamaras in Hurts Yard at about 01:00 on Saturday, February 18, Nottinghamshire Police said.
Taxi driver now makes Shepherds' huts

Peter Spencer
Reporter, BBC Radio Derby
You lose your job after 17 years... you left school with no qualifications.... what do you do? 
Well Allan Gagen-Hill started a new career building Shepherds' huts.
The former High Peak taxi driver has found his creations are proving popular as offices, spare rooms, weekend retreats - even as a temporary home for a vicar in Cornwall.
He told me it all started when he saw a Shepherds' hut online and decided to try making one himself. He really enjoyed it.
The hut then sold so he made another. Then a few more. He's now made 11 Shepherds' huts.
Planning permission needed for tree house

Amy Woodfield
BBC Local Live
How amazing is this tree house?
You can only imagine how excited Lindzy and Paul Bryan's three sons were when they decided to build it in their garden in Stonebroom.
However - the neighbours were not so happy. Just after it was built a complaint was made to the council and the family were told they needed to get proper planning permission.
Lindzy told BBC Radio Derby: "I was really mad, sad, disappointed. It's not like we built it as a decking for us to sit and look over people. It's for the children and it's hurting them not us."
The family had a good outcome though - they applied for planning permission and it was approved. 
Fundraising page set up after Notts County Ladies go into administration

Alex Smith
BBC News Online
Fans of Notts County Ladies are coming together to try to raise £10,000 to help the players who've all lost their jobs. 
The Lady Pies went into liquidation and were withdrawn from the FA Women's Super League when owner Alan Hardy said he couldn't afford to keep the club afloat because of huge debts.
Julie Roberts, from Newark, who ran the official Notts County Ladies supporters' club, has set up a fundraising page.
Ed Sheeran to play second Nottingham show tonight

Alex Smith
BBC News Online
Ed Sheeran will play his second show in two days at Nottingham arena tonight. 
The gigs caused controversy earlier in the year after some tickets were sold by touts for many times the face value online, just minutes after going on sale to the general public. 
Two fans who paid over the odds told BBC Radio Nottingham they did not regret their decision.
One fan said: "They should've been £70 a ticket and we paid £656 for three tickets. I wish I could've gone for £70 but I'm quite happy to pay what I've paid."
Another supporter added: "We should have paid £77 each but we ended up paying £180 each. 
"[It is] 100% worth it, I would go into debt for a year to do this."
!
Derby have taken up one-year options on the contracts of striker Darren Bent and defender Chris Baird.
Read more
Tiny hedgehogs released into woods

The lovely students and staff at Derby College have just released three hedgehogs back into the wild.
The poor things were too small to hibernate so they've been rehabilitated at the Broomfield Hall campus in Morley.
Watch them scamper off...
Severe disruption: M69 Leicestershire southbound
BBC News Travel
M69 Leicestershire southbound severe disruption, between J2 for B4669 and J1 for A5 Hinckley.
M69 Leicestershire - One lane closed on M69 southbound between J2, B4669 (Burbage) and J1, A5 (Hinckley), because of a broken down vehicle. Traffic is coping well.
To report traffic and travel incidents dial 0330 123 0184 at any time
Breaking
Man killed in A52 crash

Amy Woodfield
BBC Local Live
Police have confirmed a man has died in a car crash on the A52 this morning (see 11:00).
It happened at about 09:30 between the Nottingham Knight roundabout and the Wheatcroft Island.
The road is expected to remain closed until this afternoon while the serious collision team carry out an investigation.  
Kidnap accused due in court

Amy Woodfield
BBC Local Live
A 19-year-old man is due in court today charged with kidnap and five other offences.
Charles Thaimu Kamara, of Gainsborough Road, Leicester, is accused of kidnap, assault, grievous bodily harm, criminal damage, actual bodily harm and threatening with a bladed weapon.
The charges relate to incidents in Uppingham Road, Oxford Street and Bishop Street in the city last week, police said.
Brewers 'good vibe' ahead of Barnsley match

Jackson Irvine has been speaking to the media ahead of Burton Albion's match against Barnsley on Saturday...
The Brewers' midfielder, above, said: "Since February our form has turned around massively. Hopefully we can continue it on Saturday.
"People weren't expecting us to beat those who we have. The vibe is very good in he dressing room."
The Brewers are six points from the relegation zone with two more games to play.
Boss Nigel Clough said: "Let's not leave it to the final day. Let's go and win at Barnsley, we can't play for a draw."
Euromillions winner gives 'significant amount' to charity

Alex Smith
BBC News Online
A man who won £1m on the Euromillions has said six months on he has treated his family and friends as well as giving a "significant amount" to charities helping people in the developing world.
Retired sergeant major Ken Wedgeworth scooped his prize just before Christmas.
After buying himself a bungalow, Mr Wedgeworth said he is giving to a refugee charity in Derby, Sight Savers, and WaterAid. 
Good on you, Ken.