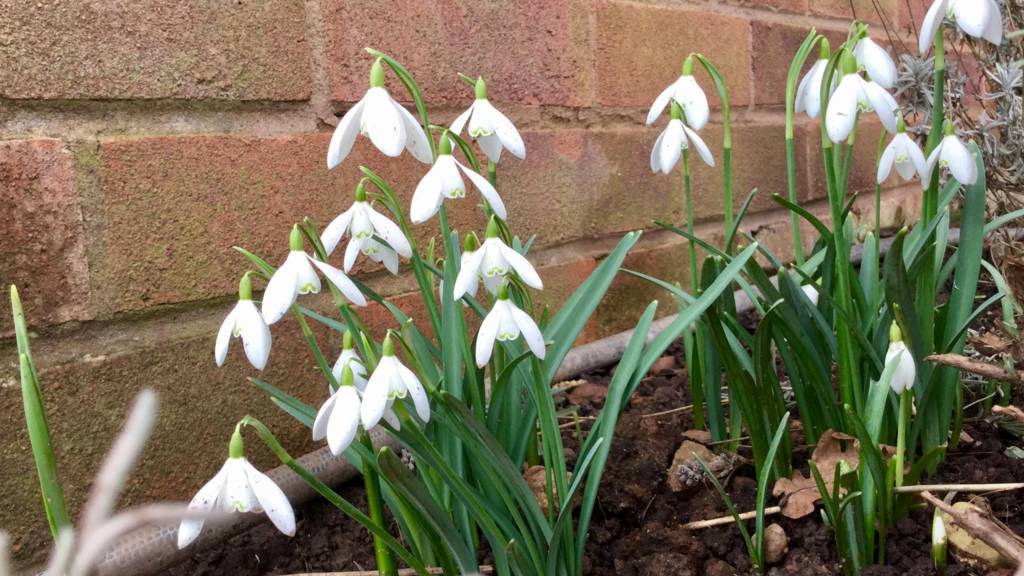 Latest updates: Leicestershire Live
Our live coverage across the day

That's all from Leicestershire Local Live - updates will start again on Tuesday at 08:00.

Cloudy with a few spots of light rain and drizzle in the first part of the night - outbreaks of rain becoming more widespread in the early hours. 

It'll be mild with lows of 7C (45F).

Patchy light rain will fizzle out through Tuesday morning becoming cloudy and largely dry through the early afternoon.

A maximum temperature of 12C (54F).

Your comments: Sentencing of murderers

On Facebook lots of you have been commenting on the sentencing of two men who murdered Brendan Mason.

Copyright: Leicestershire Police

Hayley Cox said: "I think it's so sad that he thought these people were his friends. He trusted them and now he's not here. Feel very sad every time I see this picture.

Anthony Robinson said: "I think the sentences r not long enough. They knew exactly what they were doing. Two evil lads."

Council appeal for information on waste

Amy Woodfield

BBC Local Live

The council wants to hear from anyone with information as to how this lot got here...

They've asked me to pass on this number to call them on 01455 238141.

Huge heap of rubbish fly-tipped

Amy Woodfield

BBC Local Live

This enormous pile of waste has been found dumped off Barwell Lane between Barwell and Hinckley...

Hinckley and Bosworth Borough Council told me it was discovered over the weekend and thought to be trade waste.

It's not yet known who owns the land but officers are investigating, as is Environment Agency.

Murdered Brendan 'easily led'

Amy Woodfield

BBC Local Live

Here's some more of that family statement by Brendan's aunt and uncle - Robert and Sarah Chambers...

Copyright: Family handout

They said: "Brendan was a lovely young man and he was so happy. He had numerous learning difficulties and very poor vision.

"Even though Brendan had numerous learning difficulties and was very easily led by others, he always knew right from wrong."

Watch: Brendan Mason family 'shocked and devastated'

Amy Woodfield

BBC Local Live

The family of Brendan Mason said his death will leave a "massive hole in our lives"...

Murderers' mugshots published

Amy Woodfield

BBC Local Live

Police have released these images of Hack and Lowe - the men who murdered Brendan Mason...

Copyright: Leicestershire Police

Player 'fine' after rugby injury

Amy Woodfield

BBC Local Live

In case any of you are wondering - I've spoken to Aylestone St James RFC about their injured player who was inside the ambulance and I've been reassured he's now "fine". 

I was told the flanker was taken to hospital as a precautionary measure to get checked out following a head and neck injury.

Video of park attack 'deeply disturbing'

Amy Harris

Reporter, BBC East Midlands Today

Hack admitted murder and Lowe had originally denied the attack but last week, just days into the trial, fresh phone footage emerged of Lowe landing blows on Mr Mason. 

He was forced to change his plea.

That video was described by the judge as "chilling and deeply disturbing".

A statement was read in court from Brendan's uncle saying he was the life and soul of their house and used to crack jokes and make everyone laugh. Speaking about his death he said: "Something's been ripped out of me".

Park murder filmed on phone

Amy Harris

Reporter, BBC East Midlands Today

Lowe and Hack lured 23-year-old Brendan Mason to Abbey park in the early hours of 5 July last year.

The judge described Brendan as a "vulnerable young man" with learning difficulties.

It was an organised and sustained attack filmed on a mobile phones. Police say Brendan knew them and considered them to be friends.

They inflicted 99 injuries - 32 of them to his head and neck. He was placed in a pond to avoid forensic tracing and left naked and barely alive.

Missing girl from Clay Cross

Khia Lewis-Todd

BBC Local Live

Lesharna Stafford was last seen on Friday at about 22:00 in Clay Cross. 

The 16-year-old has links to Leicestershire and police say they just want to make sure she is "safe and well". 

Copyright: Derbyshire police

She was last seen wearing a navy blue patterned blouse, a black short jacket, black skinny jeans and trainers.  

Former Birmingham head teacher charged with sex offences

A former head teacher of a Birmingham school has been charged with sexual offences against adults.

Copyright: Calthorpe Academy

Graham Hardy, who is retired from Birmingham's Calthorpe Academy, is accused of six historical sexual assaults and one count of rape, all against adults. 

It is alleged the offences took place between 2009 and 2016, police said.

Following investigations, police do not believe any offences were committed against former pupils at the school.

Hardy, 64, of Blackfriars Place, Market Harborough, Leicestershire, is due to appear before magistrates on 17 March.

Boy in court over attempted murder charge

Amy Woodfield

BBC Local Live

A 14-year-old boy - who can't be named because of his age - has appeared before city magistrates charged with attempting to murder a 27-year-old man in Aylestone.

He will next appear at Leicester Crown Court on 20 March.

Leicester make complaint over Millwall fans

Leicester City have complained to the FA about the treatment of their supporters at Millwall on Saturday.

The Premier League champions say they have received "numerous complaints" of "abuse, provocation and intimidation" of Leicester players, officials and supporters from the time they arrived at the New Den to their departure after their 1-0 FA Cup defeat.

The club say they "simply will not accept the safety of our supporters, players, and staff being compromised" and is awaiting the FA's response.

Fans ran onto the pitch to celebrate the League One side's shock victory, with mounted police needed to keep home fans away from the Leicester enclosure.

Background to Brendan Mason muder

Amy Harris

Reporter, BBC East Midlands Today

Brendan Mason was attacked by Hack and Lowe in Abbey Park last July - police said he was found to have 99 injuries spread across his whole body.

He was taken to hospital but died from his injuries.

Copyright: Leicestershire Police

During sentencing, the judge said: "It was an intention to cause extremely severe violence and injury."

Breaking

Life sentences for Brendan Mason murderers

Amy Harris

Reporter, BBC East Midlands Today

Keith Lowe and Joshua Hack have been give life sentences for the murder of Brendan Mason. 

Hack, 21, of St Helen's Drive, Leicester was given 20 years and six months and Lowe, 22, of Rockingham, was given a 21-year sentence.