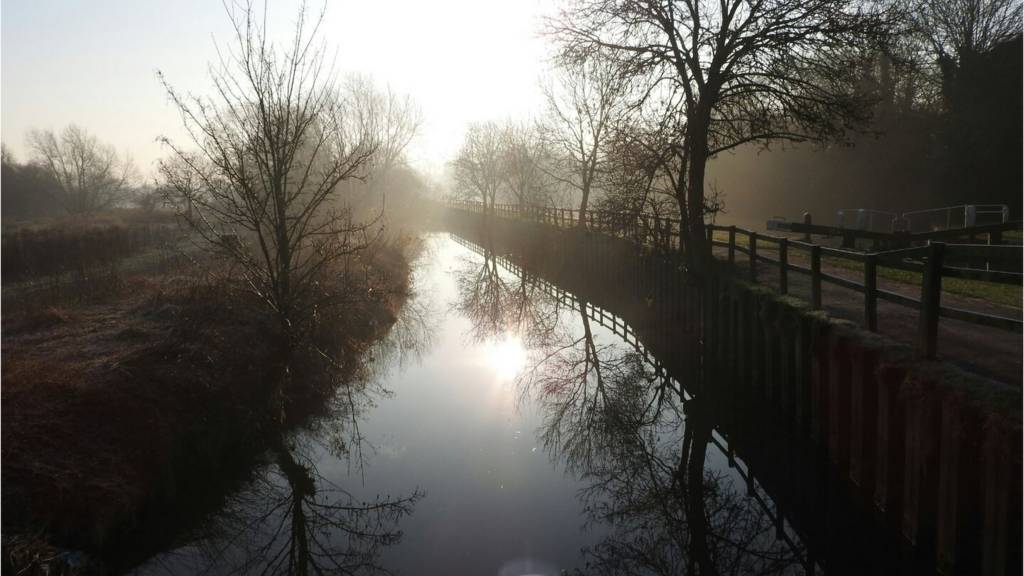 Latest updates: Leicestershire Live
Summary
Updates for Thursday 16 February 2017
Cockroaches found at Glenfield restaurant
Businesses named and shamed for underpaying
Housing plans for Ellis Park in Oadby
Sheep farmer concerned about dog attacks
Bus cafe closes after vandalism
Ranieri holding pre-Millwall press conference
News, sport, travel and weather updates resume at 08:00
Our live coverage across the day
Our live updates have now ended and will return tomorrow from 08:00.   
Weather: A dry and cloudy Friday

A fairly cloudy night with some patchy rain - rain will become lighter into the early hours. 
Min Temp: 7C (45F).
Any remaining patchy light rain/drizzle will fizzle out through the morning for a mostly dry and cloudy day with a few brighter intervals.
Your photos: Blue sky in Kegworth

The sun comes out and so do our lovely BBC Weather Watchers...
We've had lots of great photos so far - this is my favourite...
Taken by scrappy in Kegworth.
Watch: Ranieri responds to Teddy Sheringham's advice

Apparently the Leicester City players were told to "go and have a drink"...
Historic building up for grabs

Amy Woodfield
BBC Local Live
Fancy running a business at this place? The Settling Rooms in Market Harborough has been put on the market by the district council.
The Grade II listed building was historically used as part of the former livestock market.
It was where the "settling up" would take place after the auctioneer had completed the selling of stock.
Snooker: Selby out of Welsh Open

Leicester's Mark Selby is out of the Welsh Open - he's just lost his third round match 4-1 against Yan Bingtao. 

Amy Woodfield
BBC Local Live
The RSPCA has told us the owner of the dog has been in touch with them and they have been to visit the dog.
The charity said it was "satisfied" the dog was not injured and "there was no cause for concern". 
It's thought the anonymous call could have been malicious but the charity doesn't want this to discourage people reporting any genuine concern for an animal's welfare.

Amy Woodfield
BBC Local Live
Yesterday I told you a very upsetting story that had been sent to us by the animal charity the RSPCA.
The charity told us they'd had an anonymous call from a person claiming to have witnessed a French Bulldog being kicked and punched in a van on a building site in Cosby.
It turns out the claim was NOT true. I must admit I feel very relieved.
Coalville Post Office closing

Amy Woodfield
BBC Local Live
Coalville's "main" post office will close permanently next month despite a petition signed by 500 people to keep it open.
The Post Office has said they will be replacing the Marlborough Square branch with a modernised one at HKS Clock Tower. Â 
Government consulting on new council rules

Tim Parker
BBC Radio Leicester Political Reporter
The thing is - the government's now consulting on new statutory guidelines for councils that will prevent them from boycotting companies and countries if it is against the government's position.
What's always been unclear is whether the motion actually affects any of the council's purchases anyway.
Council might have to end West Bank boycott

Tim Parker
BBC Radio Leicester Political Reporter
Leicester City Council may be forced to withdraw a ban on produce from illegally held land claimed by Israel.
The authority agreed a motion in November 2014  saying "insofar as legal considerations allow" it would boycott any produce originating from illegal Israeli settlements in the West Bank until such time as it complies with international law and withdraws from Palestinian Occupied territories.
The decision survived a challenge in the High Court in June last year that it breached equality laws.
Lauric Lebato murder probe update

Amy Woodfield
BBC Local Live
Police have issued an update on their investigation into the murder of Lauric Lebato. 
They've told us the 20-year-old man arrested on suspicion of his murder is still in their custody.
Two other men aged 19 and 20 who were arrested on suspicion of being in possession of an offensive weapon and violent disorder are also still in custody.
The three were all arrested in Kent on 14 February.
Hunt for missing teenager

Gavin Bevis
BBC Local Live
Police are looking for a 13-year-old girl who's gone missing from the Chester Green area of Derby.
It's thought Amber Rose Henaire-Roberts may be in Loughborough.

Amy Woodfield
BBC Local Live
Watch: Sam Bailey sings at Rainbows

Amy Woodfield
BBC Local Live
This was the moment X Factor singer Sam Bailey sung to the children at Rainbows in Loughborough yesterday...
She's announced the children's charity is her "official charity partner" for her upcoming national tour.
Rugby: Mermoz to join Falcons

Newcastle Falcons have signed the French centre Maxime Mermoz.
The 30 year old will join the club this summer following his short-term deal at Leicester Tigers. 
He's providing cover at Welford Road becuase of injuries to Matt Toomua and Manu Tuilagi.
Your comments: Bus cafe closes after vandals attack

A few of you have been commenting on Facebook on the closure of the Peppercorn bus cafe at Bradgate Park...
Carl Adams said: "Kids and the generation of today wouldn't know respect. Such a shame."
Terry Ayres said: "It's about time people started to respect things instead of vandalising all the time."

The Foxes boss claimed Leicester City are the "underdogs" at Millwall following their wins over Bournemouth and Watford.
No Ulloa or Slimani for Millwall match

Claudio Ranieri has started his press conference with who is fit for the Millwall match.
The Leicester City boss said it's unclear when Leonardo Ulloa will be fit: "He's started to train but not properly. Today he didn't finish the training session." 
Islam Slimani also unavailable because of a groin problem.

Charlie Slater
BBC Weather presenter
Restaurant being refurbished

Amy Woodfield
BBC Local Live
We have tried to get hold of Sand's of Glenfield for a comment on the recent hygiene inspection but we've not been able to get through.
We have however been over there and seen this notice on their door... 
Council comments on restaurant findings

Amy Woodfield
BBC Local Live
"Environmental health officers visited the premises which revealed live adult and nymph German cockroaches and egg cases in multiple locations, including in the main food preparation area and food stores at the restaurant. A number of dead cockroaches were also found indicating extremely poor cleaning and disinfection practices. Officers found the food equipment and the food preparation area to be extremely dirty, with food left uncovered and at risk of cross contamination."
Inspectors critical of food debris and grease

Amy Woodfield
BBC Local Live
It wasn't just cockroaches that inspectors found at Sand's of Glenfield - there were many other examples of bad hygiene. 
This is a freezer top dirty with sticky tape, food debris and grease...

Jason Bourne
BBC Radio Leicester Sport
Lunchtime press conference means...
Who will Ranieri select for FA Cup match?

Jason Bourne
BBC Radio Leicester Sport
The FA Cup is almost upon us and Claudio Ranieri is due to speak to us at lunchtime. 
It'll be interesting to hear what he has to say about team selection ahead of the weekend's trip to Millwall knowing that a trip to Seville is on the horizon in the Champions League next Wednesday.
He's said in the past that maybe he's been too loyal to some of last season's champions.
Could the Tinkerman tinker in South London on Saturday?
Man charged with stealing defibrillator

Amy Woodfield
BBC Local Live
An 18-year-old man has been charged with the theft of a defibrillator and other medical equipment from Regent Street in Hinckley.
It was being used by paramedics in the early hours of Sunday 4 December when it was taken - it was later found damaged in a nearby car park.
He is due to appear at Leicester Magistrates' Court next month.
Restaurant immediately closed by inspectors

Amy Woodfield
BBC Local Live
The Indian restaurant in Glenfield was told by inspectors that they would not be able to continue serving customers following their discovery.
They said this was due to the "imminent risk of injury to health".
The restaurant was closed with immediate effect.
Public 'tip off' about insects

Amy Woodfield
BBC Local Live
Inspectors went to Sand's of Glenfield on 4 February after hearing from a concerned member of the public who saw a pest control van visiting the restaurant.
Here's more of what they found...
This is a live cockroach found on a trap in the ambient food store of the kitchen.
Cockroaches found in Glenfield restaurant

Amy Woodfield
BBC Local Live
Not that long ago we spoke on Leicestershire Local Live about food hygiene at restaurants - I confessed to always checking the rating before eating out.
It's because of reading stories like this...
These are cockroaches found at Sand's of Glenfield by food hygiene inspectors earlier this month.
Underpayed staff 'have been repaid'

Amy Woodfield
BBC Local Live
I've just heard back from Industria Personnel Services Ltd who were named on a government list of employers who were underpaying workers.
Here's that they've said...
"In 2015 we identified a technical error in our systems. All the underpayments were due to deductions from pay. Over three years, 1837 individual cases where workers were underpaid on average by £8. All underpayments have been repaid and Industria are fully compliant. With over 2,500 weekly paid employees. Industria Personnel Services take our obligations very seriously and remain fully committed to providing the best wages, opportunities and conditions for all our workers"
Future plans for big red bus

Amy Woodfield
BBC Local Live
The bus has now been packed up and it's off to get fixed before going off to storage for a while.
It currently has six smashed windows.
This might not be the last you see of Ella Louise though - Cathy hopes to keep it within the local community on a new business venture.
Community's 'goodbye' to Peppercorn bus

Amy Woodfield
BBC Local Live
In total the bus has been vandalised five times - most recently on 2 February.
It was then that with a heavy heart Cathy said she decided to call it a day.
On Sunday they opened for the final time and despite the wet weather - Cathy said hundreds of people come out to say farewell.
She sounded very flattered by the local support.

Amy Woodfield
BBC Local Live
I've been speaking to the owner of the bus this morning - Cathy Cliffe said she felt she had no choice but to close after becoming the target of vandals.
This is some of the damage caused...
The bus was first attacked in August last year but Cathy put it down to kids being on school holidays and thought the problem would soon stop - and it did for a while.
But in the New Year it started again.
Bradgate Park bus cafe closes

Amy Woodfield
BBC Local Live
Let me take you back to July 2016 when this big red bus opened as a cafe at Bradgate Park...
The owner of the bus and park management both said they were excited about the new cafe but just seven months on the Peppercorn bus (known as Ella Louise) has packed up.
Companies not paying minimum or living wage

Amy Woodfield
BBC Local Live
The four other local companies named and shamed by the Department for Business, Energy & Industrial Strategy were:
Istanbul Kebab House Limited on Narborough Road 
Collective Minds (London) Limited in Kibworth
H.K.S Retail Limited on Belgrave Gate
Dhadkan Bollywood Club Ltd on Melton Road 
Recruitment company shamed for underpaying workers

Amy Woodfield
BBC Local Live
The government has named and shamed 350 companies for underpaying their staff - including five in Leicestershire.
The worst is a local job recruitment company based within Rutland Centre near Curve...
Industria Personnel Services Ltd were named at 14th worst in the country for failing to pay £14,377 to 1,837 workers.
I have spoken to the company director this morning and requested a statement in response.
Watch: Farmer talks about sheep attacks

Giles Taylor
BBC East Midlands Today reporter
Nick Jones, a sheep farmer in Carlton Curlieu, said some dogs attacked sheep on his farm and on a neighbouring farm on Friday.
He said he was feeling increasingly worried as the lambing season approaches...
Sheep farmers take protective measures

Giles Taylor
BBC East Midlands Today reporter
The National Farmers' Union has said sheep farmers in Leicestershire are being forced to change the way they work because of the number of animals being killed on their land.
It said a sharp rise in attacks by dogs was forcing some farmers to keep their sheep inside for longer - and even stop using parts of their own land to avoid areas with "rights of way" access.
Watch: Weather for the East Midlands

Charlie Slater
BBC Weather presenter
Newspaper front pages: Leicester Mercury