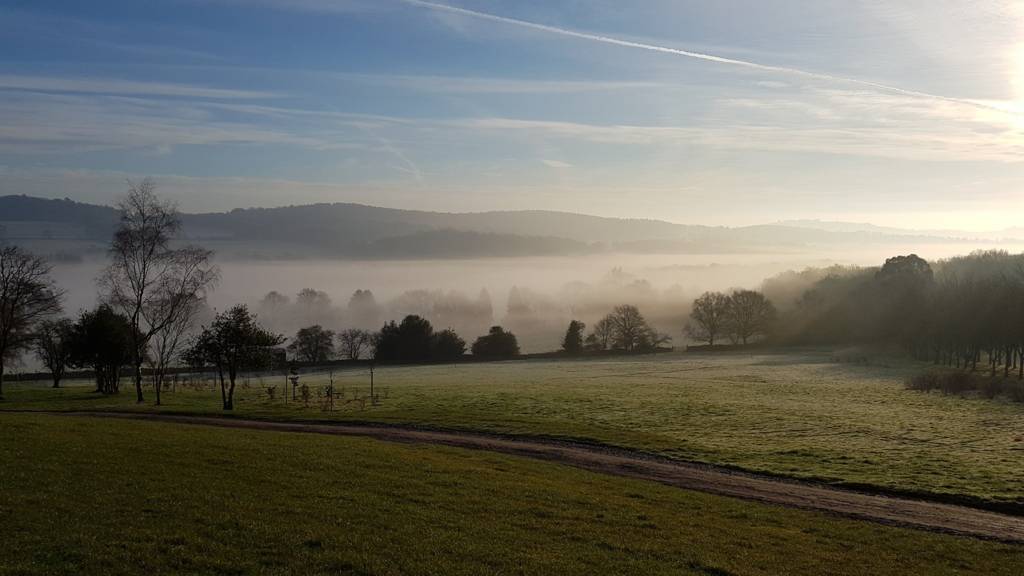 Latest updates: Leicestershire Live
Summary
Updates for Tuesday 7 February 2017
Man stabbed in city McDonald's
LCFC announce 'unwavering support' for Ranieri
School celebrates 300th birthday
Couple's struggle to fund IVF
Riders host Newcastle in BBL Trophy
News, sport, travel and weather updates will resume at 08:00 Wednesday
Our live coverage across the day

That's all from Leicestershire Local Live - update will start again on Wednesday at 08:00.

Weather: Rain and drizzle

Patchy cloud with the risk of an isolated shower this evening. Overnight cloud will thicken up with outbreaks of rain and drizzle. 

A minimum temperature of 3C (37F).

A cold start to Wednesday. It'll be mostly cloudy with chilly easterly winds and outbreaks of light rain and drizzle. 

A maximum temperate of 4C (39F).

Thanks to Weather Paul for uploading this brilliant photo of Beacon Hill in Woodhouse Eaves...

Watch: Marc Albrighton issues rallying call

Marc Albrighton said staff, players and fans need to "pull together"...

Watch: Pupils at Humphrey Perkins School

Amy Harris

Reporter, BBC East Midlands Today

School children describe what it's like to be a part of the 300th birthday celebrations...

How the school has changed

Amy Harris

Reporter, BBC East Midlands Today

The school moved to Cotes Road in 1902 with 33 pupils - just one of them a girl.

Copyright: Humphrey Perkins School

Today, as an academy, it educates 850 aged 11-16. 

History of Humphrey Perkins School

Amy Harris

Reporter, BBC East Midlands Today

Humphrey Perkins School was founded in 1717 as a free grammar School named after Reverend Humphrey Perkins.

It was then built near the village centre 18 years later...

Copyright: Humphrey Perkins School

Students celebrate school anniversary

Amy Harris

Reporter, BBC East Midlands Today

Celebrating a remarkable milestone - Humphrey Perkins School in Barrow-upon-Soar has been moulding young minds since the 1700s.

Today the school's current pupils have been marking its long and proud history...

Have Foxes players lost their determination?

Jason Bourne

BBC Radio Leicester Sport

Nigel Pearson initially struggled in his first season in the top-flight but the club backed him and he led them to the "greatest escape".

Here's my concern though - there was real evidence of fight then but I'm not so sure that steeliness and determination is as prevalent now.

I fear for the club this season, but they do have the capability to stay up. I hope they go out there and prove themselves once again.

Kasper Schmeichel has come out with some strong words and the rest of the players could do well to heed his advice.

Watch: No crisis at Leicester

Leicester City boss Claudio Ranieri insists there is no crisis at the club, despite the reigning Premier League champions being just one point above the relegation zone...

Severe accident: A42 Leicestershire southbound

BBC Travel

A42 Leicestershire southbound severe accident, between J13 A511 and J12 B5006 Measham Road Measham.

A42 Leicestershire - One lane closed and very slow traffic on A42 southbound between J13, A511 (Ashby-De-La-Zouch) and J12, B5006 (Measham), because of an accident involving a car.

Check local traffic and travel reports for:

Pressure not getting to Ranieri

Jason Bourne

BBC Radio Leicester Sport

Claudio was upbeat and thoroughly charming as he showed no signs of pressure during his news conference this afternoon.

Leicester City are struggling in the Premier League and haven't scored a goal in the competition since 31 December, but you wouldn't know it from speaking to him today.

He suggested the club's statement was for us in the media rather than for him - but what it does show is that the club are prepared to be patient with him.

Ranieri asks fans to stand by Foxes

Despite the FA Cup match being between "local rivals" Claudio Ranieri said it's not as important as the Premier League right now - "The Premier League is our priority".

He had a message for fans...

"We are close together. Last season was fantastic and this season we need to be more solid. We need you."

Amartey available for FA Cup clash

The conversation did eventually turned to football - Ranieri said he will be sticking to the 4-4-2 formation for now after doing a bit of experimenting.

He said Daniel Amartey will be available to play against Derby after his time away in the African Cup of Nations.

Islam Slimani and Leonardo Ulloa are "improving" with Slimani expected to return for the match against Swansea.

Ranieri not lost confidence

Ranieri said the club is not in "crisis" claiming " it's normal to lose confidence when you're not winning - he however does have confidence.

He said: "These players came from the bottom of the table to win the title. For this reason I am confident with my players".

Ranieri reacts to club statment

So what came from the Leicester City press conference today...

Well Claudio Ranieri started by talking about the statement made by the football club saying it has "unwavering support" for him.

He said: "I think this is for the media. I know the views of the chairman. Maybe the chairman wanted to stop all the speculation.

"I understand football. When you win three matches you are God, when you lose three you are not".

Police can 'stop and search' football fans

Amy Woodfield

BBC Local Live

Police will be using "stop and search" in the city tomorrow when Leicester City play Derby County in the FA Cup replay.

Officers will be able to search you if you are within the ring road between midday and 23:00 - they'll be looking for things like weapons.

There will also be a dispersal order in place during the same time.

This means police will be able to tell to anyone over the age of 10 to leave a public area.

Man wanted after missing court date

Amy Woodfield

BBC Local Live

Police are appealing for help to find this man...

Copyright: Leicestershire Police

Jamie Day is 28 years old and is originally from the Hinckley area.

He's wanted for failing to appear at court after being charged with burglary in September last year.

Leicester City back boss Ranieri

Leicester City stand by boss Claudio Ranieri despite the reigning Premier League champions being one point above the relegation zone.

Ford's 'desire is to join Leicester'

Sale director of rugby Steve Diamond suggests Bath and England fly-half George Ford has a will to return to Leicester.