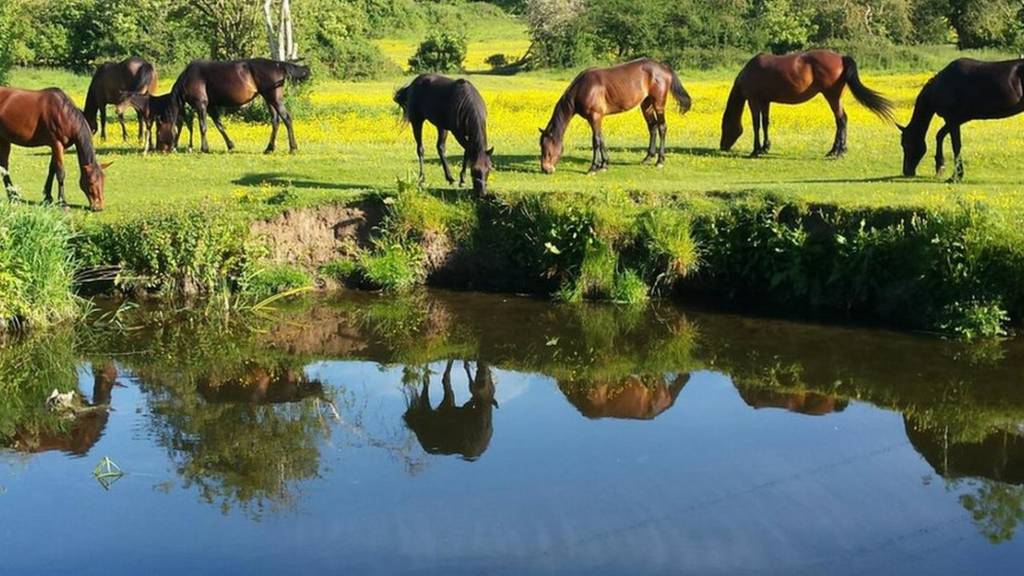 Latest updates: Leicestershire Live
Summary
Updates for Tuesday 31 January 2017
Hundreds protest over Trump's immigration ban
Queen to hold Maundy Service at Leicester Cathedral
Report finds 4,716 new homes needed every year
Ranieri not distracted by transfer window deadline
News, sport, travel and weather updates resume at 08:00 Wednesday
Our live coverage across the day

That's all from Leicestershire Local Live - updates will start again on Wednesday at 08:00.

Weather: Heavy rain overnight

Outbreaks of rain will turn more persistent and locally heavy through this evening and overnight, with mist and hill fog. 

A minimum temperature of 6C (43F).

A cloudy and wet start to Wednesday with some low cloud and mist about - rain will clear through the morning. 

A few brighter intervals into the afternoon before sunset. A high of 10C (50F).

Your photo: Out on the river

Not a lot of sunshine around today but that hasn't put off all our Weather Watchers - Pete has been out on the River Eye in Melton Mowbray...

Date correction on robbery CCTV

Amy Woodfield

BBC Local Live

We've had an email from Leicestershire Police about their CCTV video of a woman having her handbag taken in New Parks.

The date on the video is wrong - it actually happened on Tuesday 3 January (not 17 January like it says on the video).

McCanns lose Supreme Court battle

Portugal's Supreme Court has ruled that missing Leicestershire girl Madeleine McCann's parents can't sue a former Portuguese detective who published a book alleging they were involved in their daughter's disappearance.

A court official said the country's highest court ruled the allegations are protected by freedom of expression laws. 

Also, the judges decided his claims weren't abusive and "were within acceptable limits in an open and democratic society."

Clothes dumped by recycling bins

Amy Woodfield

BBC Local Live

BBC Radio Leicester went out in Ibstock with the new van - they saw all this rubbish and clothes left by the recycling bin...

Ian Toon, environmental crimes officer in the north-west of the county, thinks this van could now help to catch people doing this sort of thing.

Bin man suspended after video

Greig Watson

Reporter, BBC News Online

An update now on the bin man caught on camera using his phone while driving the truck - he's been suspended.

Operator FCC Environmental said the driver would remain suspended while a "full investigation" took place.

CCTV to catch fly tippers

Amy Woodfield

BBC Local Live

This new mobile CCTV van is travelling around North West Leicestershire to monitor environmental crimes like littering, fly tipping and dog fouling.

Copyright: North West Leicestershire District Council

The van has four cameras giving 360 degree coverage. The person inside the van can record everything the cameras pick up.

Amy Woodfield

BBC Local Live

Police have said the woman wasn't injured during the robbery but was "understandably left quite shocked".

Copyright: Leicestershire Police

They've managed to get a few details about the bike that might help to identify the people on it...

It was a 125cc off-road scrambler type vehicle. It had a white tank with a red lightning bolt sign on it, white mud guards front and back and no registration plates.

Watch: CCTV captures man stealing woman's handbag

Amy Woodfield

BBC Local Live

This CCTV footage from Battersbee Way in New Parks has captured the moment a man stole a woman's handbag...

The takings from New Parks Social Club were in the bag.

Police are now appealing to find the two men involved.

Council fixing collapsed gully

Amy Woodfield

BBC Local Live

Loughborough vigil to 'stand up against racism'

Leicester's old hospital beds arrive in Syria

Amy Woodfield

BBC Local Live

Some happy news for you now - the old hospital beds that left Leicester in December to go to Syria have arrived...

Copyright: National Police Aid Convoys

National Police Aid Convoys posted on their Facebook page to say they are helping patents in Edlib, near Aleppo.

Elder joins Barnsley from Leicester

Barnsley have signed defender Callum Elder on loan from Premier League champions Leicester City until the end of the season.

Bridgen defends Trump state visit invite

Amy Woodfield

BBC Local Live

Leicestershire MP Andrew Bridgen has spoken in defence of the Prime Minister who has invited Donald Trump to the UK on a state visit.

The Conservative MP said: "Given that Theresa May had the honour of being the first foreign leader to meet officially with President Trump it would be unusual if she didn't offer a state visit as a return compliment."  

Your comments: Bin lorry driver on the phone

On Facebook you've been commenting on the speedy bin man driving on the phone.

Luke Eggleston said: "I've got no time for people like this! I hope he gets then sack and loses his driving licence, he could of killed someone."

Sue Sprason said: "I agree it doesn't look safe but it's very mean that his work (so called) mate has filmed him. Couldn't he have just told the driver? Very wrong on both counts."

Leicester Cathedral is last to host Royal Maundy service

Amy Woodfield

BBC Local Live

With news earlier that the Queen will be visiting the city in April, we've been talking to the Dean of Leicester.

The Very Rev David Monteith said: "We're really, really pleased that the Queen is coming back to Leicester with the Duke of Edinburgh.

"During Her Majesty's reign she's now been to all of the English Cathedrals there was just one missing, which was Leicester. This completes that bit of Her Majesty's service to the community."

Speedway: Sheffield promoter takes over at Lions

Leicester Lions Speedway have been bought by Sheffield Tigers promoter Damien Bates.

Read the full story here.

Investigation into bin man caught on camera

Greig Watson

Reporter, BBC News Online

The waste truck was being driven through the Leicestershire countryside towards Market Harborough, with the driver admitting he was "daydreaming".

FCC Environmental, which operates the service, said a "full investigation" was under way.

Bin lorry driver filmed on mobile phone

Greig Watson

Reporter, BBC News Online

A bin man has been filmed using his mobile phone while driving down country lanes in Leicestershire at speed...

This footage was captured by a colleague who said he had raised the problem with employers without result.