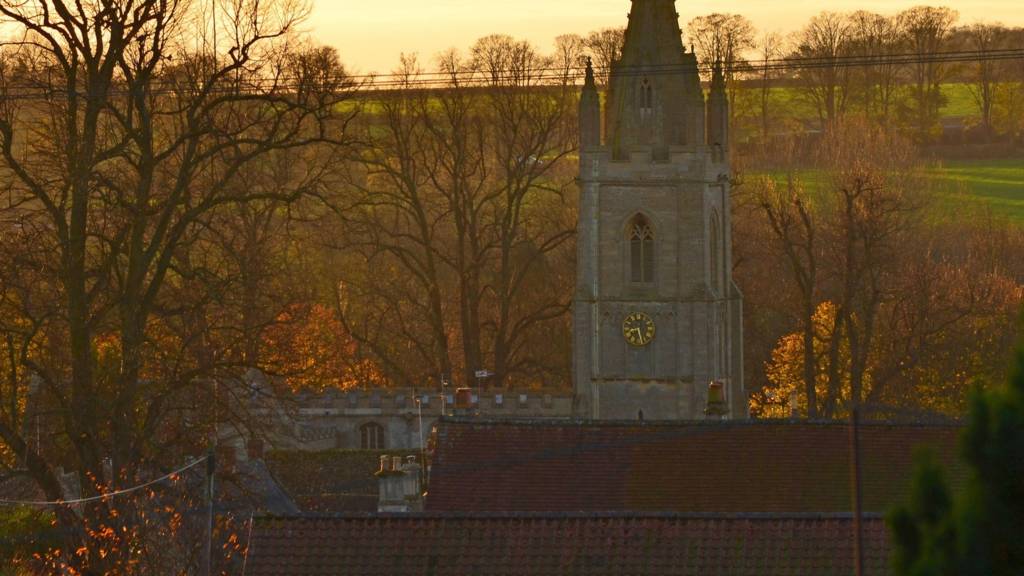 BBC Local Live: Leicestershire
Summary
Updates for Friday 7 October 2016
Leicester claim an easy bonus-point win over Worcester with four tries, including a solo effort by Telusa Veainu.
Read more
Our live coverage across the day
That's all from Leicestershire Local Live this week - updates will start again on Monday at 08:00.
Weather: A cloudy start tomorrow

Kay Crewdson
BBC weather presenter
A few drizzly showers possibly overnight but mainly staying dry. A lot of cloud so relatively mild, lows around 11C (52F).  
A cloudy start tomorrow and a little damp in places but it'll brighten up with some sunshine developing. 
A gentle north easterly breeze and highs again around 14C (57F).
Residents complain of parking issues

Amy Woodfield
BBC Local Live
The city council is spending more than £750,000 making 70 more parking spaces before April 2017.
Mayor Peter Soulsby says: "We're looking to make the most of the parking available in the city. Residents in many neighbourhoods have come to us with parking issues, and we've look at where changes can be made to create more parking spaces."
Council 'investing in better city parking'

Amy Woodfield
BBC Local Live
Not that long ago we spoke about how the city council was investing in better parking in the city.
The council say they've already implemented three schemes and are about to get started on more.
They're turning their attention to areas like St Matthews, Rushey Mead, Thurncourt, New Parks, North Evington, Eyres Monsell, and Aylestone.
Kayleigh's Love Story wins 'prestigious' award

Amy Woodfield
BBC Local Live
The film made by Leicestershire Police about the grooming and murder of Kayleigh Haywood has just won a national award.
Kayleigh's Love Story was awarded bronze in the Social Screen category in the annual Clarion Awards.
Most of you will know about what happened to the Leicestershire schoolgirl - if not there's more here.
Ashworth job on NEC unclear

Amy Woodfield
BBC Local Live
Leicester South MP Jon Ashworth has refused to confirm or deny whether or not he'll now give up his position on Labour's National Executive Committee.
He's just been promoted to Shadow Health Secretary by Jeremy Corbyn.
If like me you didn't really know what the NEC is, the Labour Party describe it as: "The governing body and administrative authority that oversees the overall direction of the party and the policy-making process."
Now you know.
Do you recognise this man?

Amy Woodfield
BBC Local Live
Police are appealing for help to identify this man in connection with an attempted robbery in Moore Road in Barwell...
Police crackdown after spate of thefts

Amy Woodfield
BBC Local Live
A second woman has also pleaded guilty to stealing in Market Harborough. 
Alison Geekie from St Mary's Road in the town stole from a shop on Adam and Eve Street on 6 October - she's still waiting to be sentenced.
Meanwhile a 24-year-old man has been arrested on suspicion of burgling a premises on High Street and St Mary's Place on 2 October - he's been released on bail.
Couple admit to stealing from shops

Amy Woodfield
BBC Local Live
Police say Parkes stole from a store on 6 October and handled goods that were taken in a burglary in St Mary's Road on 13 September. 
They say Panter pleaded guilty to stealing from shops on High Street, St Mary's Road and The Lane on 29 September.
Pair sentenced for Harborough thefts

Amy Woodfield
BBC Local Live
There's been a development in the Market Harborough burglaries story - Leicestershire Police say two people have been in court and sentenced to a total off 44 weeks in prison.
They say Paul Parkes and Danielle Panter from Andrew MacDonald Close in Market Harborough admitted to stealing and handling stolen goods from shops in the town.
Police chief welcomes Ashworth to new role

Amy Woodfield
BBC Local Live
Congratulations Jon - Leicestershire Police have your first job ready...
Pharmacy robbers caught on camera

Amy Woodfield
BBC Local Live
Here's the moment two people steal thousands of pounds worth of perfume from a chemist in Market Harborough...
MP hints at new shadow cabinet role

Amy Woodfield
BBC Local Live
Jonathan Ashworth dropped a hint about his new job on Twitter an hour ago...
Breaking
Leicester MP makes Corbyn cabinet

Stuart Thomas
Head of BBC East Midlands
Leicester South MP Jon Ashworth confirms to BBC Sunday Politics East Midlands he is the new Shadow Health Secretary.
Tip re-opens following break-in

Amy Woodfield
BBC Local Live
Just in time for some weekend DIY.
Snooker: Victory for Selby

Nice work Mark Selby!
The Leicester player is through to the European Masters semi-finals after a 4-0 win over Alfie Burden.
He'll face Judd Trump tomorrow.
Travel: Problems near Fosse Park
Latest Leicestershire headlines

Amy Woodfield
BBC Local Live
A Market Harborough councillor has called an "urgent meeting" after a significant spike in burglaries
Former RAF cargo nets have been donated to apes at Twycross Zoo
Leicester Tigers defence coach Scott Hansen has left the club after a bad defensive start to the season
Dad's appeal leads to thousands of birthday cards

Your photos: Feathers ruffled at Watermead Park

Amy Woodfield
BBC Local Live
It's going to take a lot to top this as my favourite photo of the day...
Poor Lulu only went in the lake to fetch her ball but got chased out by an angry swan!
Well done Janet Kendall for capturing the moment.
Rugby: Tigers squad to face Worcester

Leicester Tigers have made four changes to the side to face Worcester tomorrow. 
Ben Youngs is replaced by Jono Kitto at scrum-half, Greg Bateman replaces Dan Cole and Dom Barrow returns to the starting lineup.
Ellis Genge will start at Welford Road for the first time.
A new life for military nets

Amy Woodfield
BBC Local Live
"The RAF is delighted to donate cargo nets to Twycross Zoo to help provide enrichment for their apes. The nets were previously used for safely flying equipment around the world in RAF transport aircraft such as the Hercules C130."
Net provide more 'complicated environments' for the apes

Amy Woodfield
BBC Local Live
The 12 nets donated to Twycross Zoo are now in the chimpanzee, gorilla, orangutan and bonobo enclosures.
Simon Childs from the zoo says: "These nets have been fantastic in enriching the habitats for our apes, giving them more usable and complicated environments off the ground. We can now scatter some of their snacks on the nets, making them climb up and encouraging them to move as they would in the wild."
Military nets donated to zoo

Amy Woodfield
BBC Local Live
The RAF have donated some of their old cargo nets to some mischievous apes...
The nets were previously used to safely restrain military equipment in RAF transport aircraft on military exercises and operations all around the world.
Now they're for swinging on at Twycross Zoo!
Defence coach Hansen leaves Leicester

Scott Hansen leaves his job as Leicester Tigers' defence coach following their shaky start to the season.

Charlie Slater
BBC Weather presenter
Hansen and family will 'miss supporters'

Amy Woodfield
BBC Local Live
"My family and I will truly miss the energy and avid support from the Tigers supporters at Welford Road. The Leicester Tigers have given me great opportunities to learn and grow as a person and coach which I am grateful for."

Amy Woodfield
BBC Local Live
"We would like to thank Scott for his commitment and his hard work with the Tigers and we wish him all the best for the future."
Rugby: Tigers poor defensive start

Mikey Burrows
BBC Radio Leicester Sport
As the teams defence coach it's not been a good start to the season for Scott Hansen.
In their first five Premiership games Leicester Tigers have conceded 128 points - at the same stage last season they'd conceded just 81.
Rugby: Hansen leaves Tigers

Leicester Tigers have announced that Scott Hansen has left the club's coaching staff.
Hansen only arrived at Welford Road at the start of last season, working as defence and scrum-half coach.
Police tweet update on 'Operation Lakeside'

Amy Woodfield
BBC Local Live
Yesterday police tweeted this video about the burglaries in Market Harborough...
Man arrested over burglaries

Amy Woodfield
BBC Local Live
The MP then says on his website that the public meeting will take place on 28 October at 9:30 at The Cube Youth and Community Centre.
So far one man has been arrested and bailed in connection with some of the burglaries.

Amy Woodfield
BBC Local Live
Market Harborough MP Sir Edward Garnier has sent a letter to the Police and Crime Commissioner Lord Bach - here's a section from it...
"Of course it is not possible for even twenty police officers on duty in the town to be sure of catching these burglars red handed but I would appreciate your confirming that you have this situation very much in mind and that you will provide Simon Cole and the local police as a matter of urgency with all necessary resources to deter crime and catch those responsible for burglaries at retail premises in Market Harborough."
Thousands of pounds worth of perfume stolen

Amy Woodfield
BBC Local Live
This well known chemist in the town has been burgled not once but TWICE in the last week...
About £10,000 worth of perfumes have been stolen - stock the owner had got in for Christmas.
Harborough hit with burglaries

Amy Woodfield
BBC Local Live
There have been more than 20 break-ins in Market Harborough during the last six weeks - including at a community centre, an art dealer, and even a charity shops.
Now a local councillor has called an urgent meeting to discuss the problem. The local MP Edward Garnier and the Police and Crime Commissioner Lord Willy Bach will be there.  
What makes you feel better?

Amy Woodfield
BBC Local Live
Let me start you off... 
"I feel better when I'm baking cakes for my colleagues."
Competition launched for mental health awareness day

Amy Woodfield
BBC Local Live
The flashmob at the station involved a local band and health workers - they were launching a competition in the run up to World Mental Health Day. 
What they want people to do is send in a piece of art, photography or poetry inspired by the phrase "I feel better when I am..." 
Mental health flashmob at Leicester Railway Station

Amy Woodfield
BBC Local Live
So this happened at Leicester Railway Station this morning...
If you ask me, I think Helen McCarthy is having far too much fun for that time of the morning!
Are faith schools the answer?

Amy Woodfield
BBC Local Live
This week the Prime Minister suggested one way of accommodating all these extra pupils is through more faith schools. 
Something we already have a few of here in Leicester.
The headteacher of two Muslim faith schools in Evington has told BBC Radio Leicester his school is over-subscribed and they have plans to open up two new school sites to accommodate more pupils.