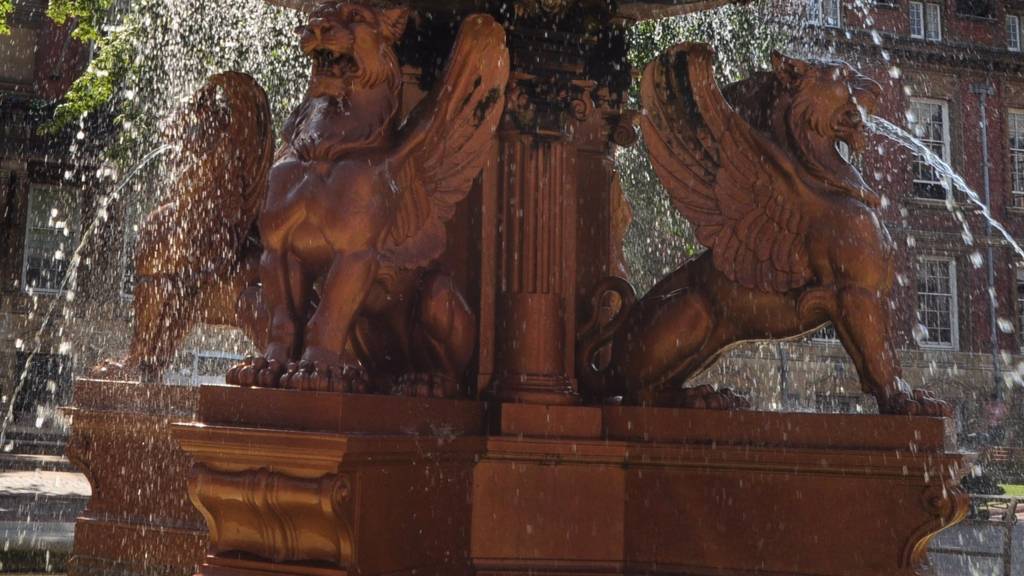 BBC Local Live: Leicestershire
Summary
Updates for Friday 16 September 2016
More news, sport, travel and weather from 08:00 on Monday
Our live coverage across the day

That's all from Local Live today.

Join us again on Monday from 08:00.

Kay Crewdson

BBC weather presenter

Continuing to brighten from the west with blue skies developing.

Rain in the east mostly clearing. 

Feeling fresher with a moderate northwesterly wind and afternoon temperatures around 18C (64F).

Leopards 'should be called Claudio and Ranieri'

Over on Facebook, you've been making your own suggestions as to what these two cute little leopard cubs should be called...

Sharon Hudson suggested: "Lalasa & Freya"

While Paul Watchorn thinks "Claudio and Raneri" are good names...

City purse theft CCTV issued

Officers want to speak to this man in connection with the theft of a purse from an elderly woman in Leicester.

It happened on Thursday 8 September at about 13:30 on the corner of Bassett Street and Woodgate.

Copyright: Leicestershire Police

The purse contained cash. The victim wasn't hurt, police said.

Sex assault meeting chance for public questions

Det Con Insp Starbuck said the meeting is a chance for Leicestershire Police "to answer any questions the public may have."

A man was arrested earlier this week but was released with no further action.

The assault happened on a footpath off Green Lane.

New information about sex assault suspect to be released

Police are holding a public meeting in Market Harborough after a 17-year-old girl was seriously sexually assaulted there last month.

It happened shortly after midnight on Monday 22 August on a footpath in the town.

Copyright: Leicestershire Police

New information about the suspect will be released at the meeting at 19:00 on Monday at Welland Park Academy, in Welland Park Road  

Det Con Insp Johnny Starbuck said: "This was an extremely serious attack on a child and has left her deeply shocked as a result. I continue to ask for the community's help to catch the man who has done this."

Hinckley special school 'outstanding'

A special educational needs school in Hinckley has been rated "outstanding" by Ofsted for two consecutive inspections.

Copyright: Hinckley Times

Mosque signs its support for forces

Leicester's Central Mosque, where the head Imam Muhammad Shaid Raz has signed the Armed Forces Covenant.

The document pledges support for the armed forces - a first for a UK mosque.

The signing was witnessed by Lt Col Andrew Parker, the commanding officer of 158 Regiment RLC and the deputy commander of 7 Infantry Brigade, Col Stuart Williams.    

Lt Col Andrew Parker said: "It is a sign of the commitment they have chosen to make to the armed forces which is part of the fabric of this nation."

Mosque to become first to pledge forces support

Leicester's Central Mosque has become the first in the country to pledge its support to Britain's armed forces. 

Its head Imam signed the Armed Forces Covenant, a pledge to recognise the sacrifice made by service personnel.

It's hoped the move will help strengthen relations between Muslim communities and the army.

An investigation into Leicester East MP Keith Vaz has been launched by the Parliamentary Commissioner for Standards. 

Mr Vaz resigned from the Commons Home Affairs Committee following newspaper reports he paid two male escorts for their services. 

The probe will determine whether the MP was guilty of a conflict of interest as he headed a review of vice laws at the time of the allegations. 

Mr Vaz has said he welcomes the inquiry.  

Rob Sissons

East Midlands Today Reporter

NHS England officials are touring the Leicester children's heart surgery unit controversially earmarked for closure.

Pre-Burnley press conference: Summary

Foxes: Simpson available for Burnley game

Claudio Ranieri says defender Danny Simpson is available for tomorrow's Premier League clash at home to Burnley.

Simpson missed Wednesday night's Champions League win at Brugge due to an injury he picked up at Liverpool last weekend. 

Speaking to the media this lunchtime, the Leicester City manager said Jeff Schlupp is also available - but Nampalys Mendy "needs another week" after missing the last two weeks through injury.  

Picture: Market Harborough flooding

Here's how it was looking in the town after the downpours this morning...

Severe roadworks: A14 Leicestershire eastbound

BBC Travel

A14 Leicestershire eastbound severe roadworks, between M1 and J1 A5199.

Your pictures: Before the flood?

Weather Watcher, Andy's Rutland, sent this in just ahead of a downpour in Empingham, Rutland.

"No rain yet! but the sounds of thunder in the distance over Rutland are telling me it is on it's way!" he said.

Copyright: Andy's Rutland

Rugby: Tigers name side for Newcastle game

Leicester Tigers have named their starting XV for Sunday's Premiership clash away at Newcastle...