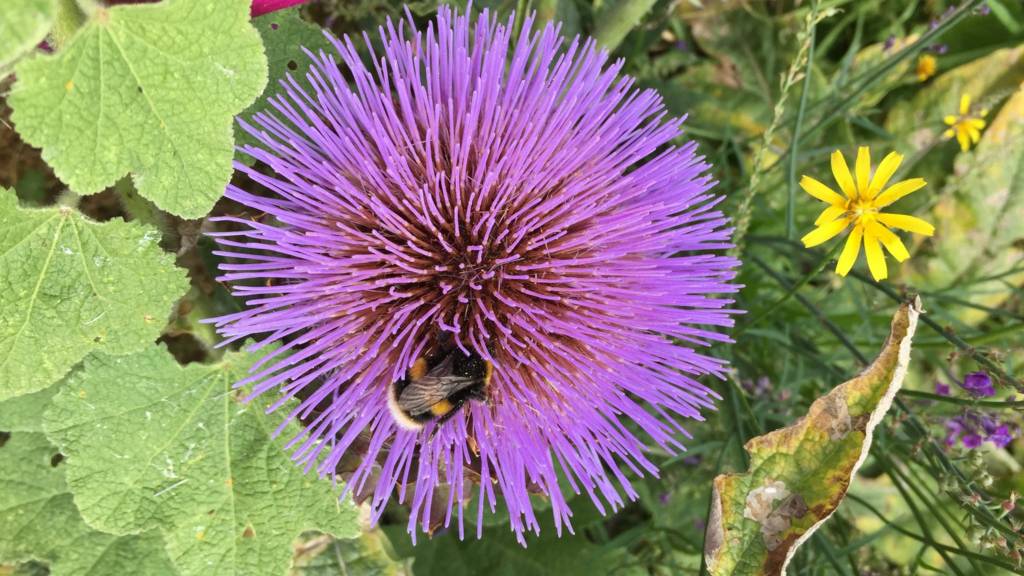 BBC Local Live: Leicestershire
Summary
Updates for Monday 15 August 2016
News, sport, travel and weather updates resume at 08:00 Tuesday
Our live coverage across the day

That's all from Leicestershire Local Live - updates will start again on Tuesday at 08:00.

Weather: A warm and sunny day tomorrow

Kaye Forster

Weather Presenter

Staying dry with some sunshine for the rest of the day. Remaining dry overnight and the cloud will melt away giving clear skies.

Minimum temperature 10C (50F).

A dry and sunny start tomorrow with clear blue skies. Temperatures will peak at 22C (72F).

Harvesting under way in Rutland

Thank you to "Andy Rutland" for uploading this photo on Saturday - the view from your living room.

It looks like the harvest season has begun in Rutland.

Copyright: Andy's Rutland

'A new perspective' for Leicester Somalis

Amy Woodfield

BBC Local Live

Quote Message: "As a city Leicester is rightly proud of its waterways and so we think getting out onto the towpath - or even onto the water - is a must for anyone living here. It's a great way of seeing the city from a new perspective and will give the families the chance to perhaps try something new or even just show them some of the best spots to get away from it all." from Liz Fleuty Canal & River Trust

Opportunity for thousands of Somalis

Amy Woodfield

BBC Local Live

The Canal & River Trust is working with the Somali Community Parents' Association so families can go on boat trips, walks along the canal and spend an evening canoe paddling.

SOCOPA is a charity that helps families from a range of nationalities settle in Leicester.

Chief executive Abdikayf Farah said: "It will be a really good opportunity for our community to access and explore the environment and waterways surrounding Leicester and to take part in these activities. We are delighted to be the first organisation to offer this to over 15,000 Somalis living in Leicester."

'The Tinkerman' expected to make some changes

The former Leicester City captain Matt Elliot expects Claudio Ranieri to "tinker" with the squad for Saturday's Premier League fixture against Arsenal...

Somali community take to the water

Amy Woodfield

BBC Local Live

How well do you know Leicester's waterways? I must admit I've not really explored them in the time I've been here.

This week the city's Somali community are getting the chance to learn about our canals and rivers by exploring the city by water.

Not bad in weather like this.  

Travel: Crash causing delays

Medal-winning throw for GB

Amy Woodfield

BBC Local Live

I bet she has been "train-ing" hard in her event...

Maybe they could award her with a free railcard as well... worth asking Sophie.

Latest Leicestershire headlines

Amy Woodfield

BBC Local Live

Olympic medal in hammer throw

Amy Woodfield

BBC Local Live

Well done to Loughborough-based Sophie Hitchon - I've just saw her win a bronze in the women's hammer throw.

She threw 74.54 metres on her final attempt.

Fair play - I'd struggle just to pick it up!

Three months of road works begin

Amy Woodfield

BBC Local Live

Highways England starts resurfacing the A42 tonight - from J13 in Ashby-de-la-Zouch to where it meets the M1 at J23a. 

Work will be between 21:00 and 06:00 on weeknight, going through till midday at the weekends. It'll take until early November to complete.

Definitely worth bearing in mind if you're flying from East Midlands Airport soon... or picking up someone that is.

This guy will be playing in a different kind of blue shirt tonight...

It's N'Golo Kante's debut for Chelsea.

They spent about £30m on the former Leicester City midfielder this summer.

Teen killed in crash named

Amy Woodfield

BBC Local Live

The 19-year-old man who died in a crash in Ashby on Sunday has been named as Daniel Hope from Woodville near Swadlincote in Derbyshire, 

He was driving in the direction of Ashby in the early hours when the car left the road.

There were no other vehicles involved.

Your comments: Diving facilities

On our Facebook page you've been discussing the lack of diving facilities in Leicestershire.

Bob Wilson says: "To be fair there are only 93 pools with diving facilities in the entire country and only 12 of those have 10m platforms. If it's a sport you're seriously considering the chances are you're going to have to travel to do it whatever part of the country you live in."

Tracy Hunt says: "There used to be an amazing board in South Wigston pool."

New war memorial for Long Clawson

Taggart: 'His heart's not in it'

The former Leicester City player Gerry Taggart thinks Riyad Mahrez should be sold...

Could we have the next Olympic diver?

Amy Woodfield

BBC Local Live

Quote Message: "In Leicestershire there is no swimming pool with diving facilities since they closed St Margaret's Swimming Baths about 20 years ago. We may have the next Tom Daley sitting somewhere in our county and they're not able to shine because there are no facilities. from Judy Leader Amateur Swimming Association

Inspired divers would 'struggle' in Leicestershire

Amy Woodfield

BBC Local Live

Quote Message: "You don't get youngsters coming here and seeing people diving so where they're meant to get their inspiration from once Tom Daley's finished his event at the Olympics I have no idea. If we had aspiring divers we wouldn't know and they really would struggle to do anything about it." from Alison Boland Chair of Melton Mowbray Swimming Club

Amy Woodfield

BBC Local Live

Alison Boland also says she feels the club has been "let down" by the councils and institutions who promised an Olympic legacy from London 2012.