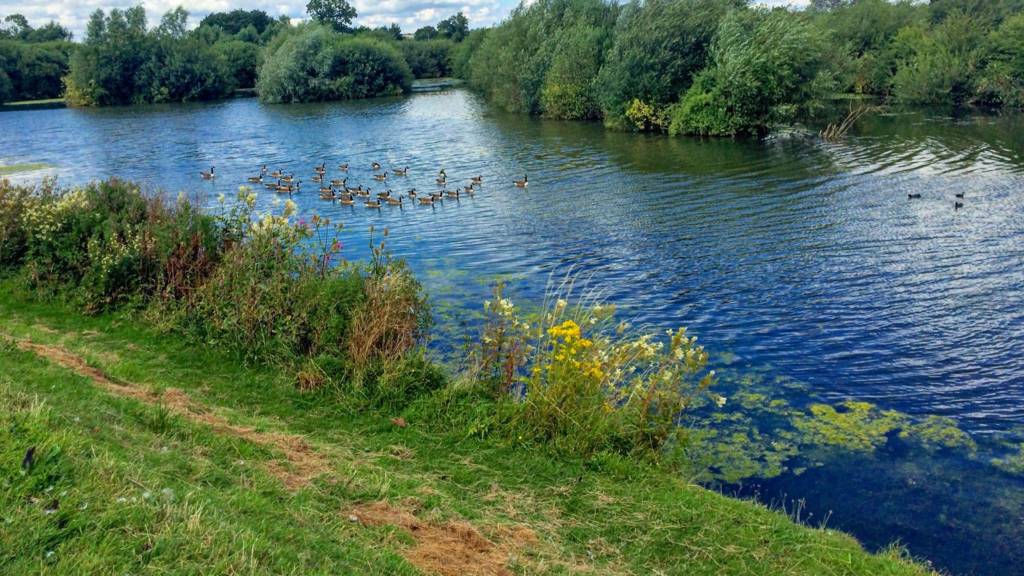 BBC Local Live: Leicestershire
Summary
Updates for Friday 29 July 2016
More news, sport, travel and weather from 08:00 on Monday
Our live coverage across the day

That's all from us today - updates will resume at 08:00 on Monday.

Weather: Some sunny spells tomorrow

Alexandra Hamilton

BBC Weather

Cloudy overnight with some clearer spells. Lows of 12C (54F).

Tomorrow there'll be scattered cloud with some bright and at times sunny spells.

Ben completes river journey

Amy Woodfield

BBC Local Live

Well he did it...

After five days in a boat on the River Soar, BBC Radio Leicester's Ben Jackson has arrived at his final destination - Redhill Marina.

He's presenting his radio show from there now - you can listen here.

Pitch looking greener ahead of Foxes friendly

Ian Stringer

BBC Radio Leicester City commentator in Los Angeles

Given how bare it looked on Monday, it's pleasing to see some grass on the pitch at The Stub Hub Arena where Leicester City face Paris St Germain on Saturday night...

Having been laid so recently it's going to be a test for it to settle down in time, even with the Californian sun.

The view from the commentary box is probably the sunniest I've ever had. Beats Newcastle in January.

Listen: Kapustka to join Leicester

Bartosz Kapustka has told TVP Sport in Poland he's to join Leicester City.

His interview is in Polish so we've translated it for you...

Judge calls protest a 'childish response' to police

Amy Woodfield

BBC Local Live

So what did the judge had to say to Muton? 

Well, while sentencing him to two years in prison, Judge Lucking described his actions as "catastrophic" and said they caused "significant personal distress" to other people.

She also said he knew full well what the consequences of his actions were.

Muton wants to put M1 protest 'behind him'

Amy Woodfield

BBC Local Live

Muton had made 34 complaints to police in the past plus appeals to the IPCC. None of them resolved in his favour.

In defence Muton's lawyer said he knows what he did was wrong and apologises. 

He wants to now put it behind him.

King signs new deal with Foxes

Foxes midfielder Andy King has signed a new four-year contract with Leicester City.

The 27-year-old has been at the club for nearly ten years and helped them get promoted from League One, the Championship and win the Premier League.

Ranieri 'been interested' in Kapustka before

When asked what influenced his decision to come to Leicester, Kapustka said: "I think that for me, it was really important to be noticed by the coach, Mr Ranieri. 

"He has been interested in me before, asked about me before and this made me consider choosing the club. 

"I am not going there just because the club sounds good and because they won the championship last year, but I am being realistic about my chances to play."

Nuisance behaviour was protest over 'police corruption'

Muton told police that he wanted to commit suicide by starvation and had chosen to do it in the M1 gantry "to attract attention".

He claims "police closed the motorway to wind him up".

He says his actions were a protest at police corruption with regards to the 2007 arrest.

He also claims he was abused as a child, but the court confirmed they had no detail about this or if any charges had ever been brought.

Amy Woodfield

BBC Local Live

Police tried to talk Muton down from the gantry but he was abusive and threatened to jump. Dozens of officers and other emergency services were at the scene.

It wasn't until the following day, when the Independent Police Complaints Commission arrived and talked to him, that he came down.

Police warned in advance about protest

Amy Woodfield

BBC Local Live

Days before this latest protest, police received an anonymous call from Muton saying he was going to hold a demo but he didn't say where and exactly when.

Then on Sunday 12 June, just after midday, a member of the public reported a man in a gantry between Coalville and Loughborough.

Polish midfielder heading to Leicester

The Polish footballer Bartosz Kapustka has said in an interview with Polish television that he's coming to Leicester City.

He says: "I am going to Leicester. I think that out of all of the clubs which have noticed me as a player and expressed their interest, Leicester was the club that provided the most concrete offer and therefore my decision."

Amy Woodfield

BBC Local Live

In 2003 Nicholas Muton was jailed for 18 months for a similar protest on the M1. 

This also caused traffic chaos, with a baby having to be airlifted to hospital and a woman missing out on saying goodbye to her dying mother, the court heard.

Then in 2007 he was arrested for attempting to jump off a bridge.

Olympic volunteer hopes to use his badminton knowledge

Amy Woodfield

BBC Local Live

John Sleath is heading off to Brazil on Monday because he's a games maker - or a "Rio Sole" as they're being described this time around.

He says: "I'm still playing Badminton for Leicestershire, I have done for many years. 

"I'm lucky that my role in Rio is a field of play member in the badminton team so hopefully I'll bring my expertise and my knowledge I've got about the game to the situation there and be an asset to the team hopefully."

M1 protester had a history of nuisance behaviour

Amy Woodfield

BBC Local Live

We've now got a photo of Nicholas Muton - the man who held up the M1 by standing in a gantry above the motorway last month...

Copyright: Leicestershire Police

He didn't actually appear in Leicester Crown Court today - he was there via video link from Leicester Prison.

The court heard it was this was the third time he'd done something like this.

Loughborough man heading for Rio

Amy Woodfield

BBC Local Live

In just a week's time it's the opening ceremony of the world's biggest sporting event - the Rio 2016 Olympics.

I still can't believe it's been four years since the Games were in London... I must be getting old.

Well BBC Radio Leicester have been to meet a man from Loughborough who's flying out Brazil to lend a helping hand.

Amy Woodfield

BBC Local Live

Well he did say he was going to give it a try later today and here is Ben Jackson is sailing up the River Soar...

Council approve centre for autism

Rugby: Yawayawa joins Nottingham from Tigers

Leicester Tigers winger Sam Yawayawa joins Nottingham on a year-long dual-registration deal.