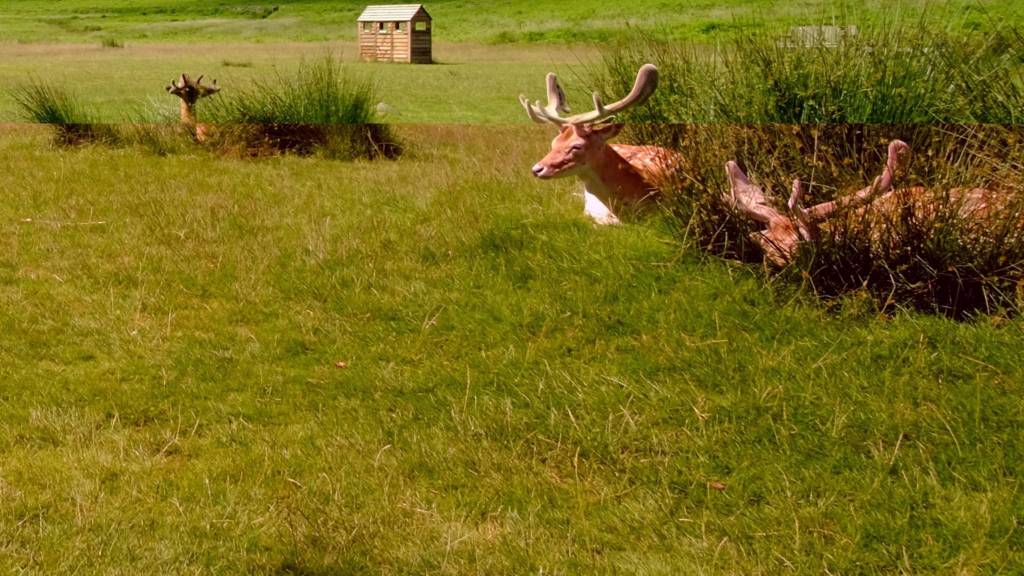 BBC Local Live: Leicestershire
Summary
Updates for Monday 11 July 2016
More news, sport, travel and weather from 08:00 on Tuesday
Our live coverage across the day

Updates on Leicestershire Local Live will continue on Tuesday at 08:00.

Weather: A dry evening with some rain overnight

Kaye Forster

Weather Presenter

Showers continuing this afternoon but fading away this evening. It will be dry for most of the night with some clear spells but there will be a few further showers pushing in by the end of the night. 

It will be cooler and fresher than recent nights with a minimum of 10C (50F).

Latest Leicestershire headlines

Amy Woodfield

BBC Local Live

Local MPs have congratulated Theresa May who is to replace David Cameron as prime minister
Four war memorials in Leicestershire are to become Grade II-listed
Loughborough high-jumper Isobel Pooley confirms she is out of Olympics selection due to an ankle injury

War memorials get extra protection

Amy Woodfield

BBC Local Live

Four of Leicester's war memorials have become Grade II-listed as part of a national scheme to mark the centenary of the First World War.

Historic England granted the status to memorials in Aylestone Village, Evington Village, Wyggeston & Queen Elizabeth College and the Seventh Day Adventist Church on University Road.

Kanté thanks fans for Euro 2016 support

Leicester City and France midfielder N'Golo Kante says it took a "beautiful" goal for Portugal to win Euro 2016 last night and he doesn't think there was much to choose between the sides.

He also tweeted this after the game...

If you can't read French, he's thanking everyone for their support during the competition.

Sister's death keeps Pooley positive

Isobel Pooley has also spoken out for the first time about the death of her sister.

She says it is the reason she is able to remain so positive after finding out her 2016 Olympic dream is over.

She says: "Through this loss I have learned to value every moment and every small pleasure since you never know what the next moment may hold. 

"I feel truly privileged to have the talent, attributes and support to pursue Olympic-level performance and will do everything in my power to nurture these gifts long into the future."

Council punishes nuisance neighbour

Amy Woodfield

BBC Local Live

A 76-year-old woman from Castle Donington has been given an anti-social behaviour injunction (previously known as an asbo) for making her neighbour's live a misery.

The district council said the pensioner trespassed on her neighbour's property, deliberately lit thick smoky bonfires in her garden, and sprayed weed killer over the fence, damaging her neighbour's garden.

Her neighbour has also been receiving silent phone calls made from an unregistered 'pay as you go' mobile phone for a number of years.

Hundreds watch film about teens murder

Amy Woodfield

BBC Local Live

Last week more than 500 people in North West Leicestershire watched the full version of Kayleigh's Love Story.

Copyright: Leicestershire Police

It's a five-minute film about how Kayleigh Haywood from Measham was groomed and murdered last year.

From this week police will start taking the film into schools to show pupils aged 14 and above.

Loughborough high jumper to miss Rio 2016

Isobel Pooley has bowed out of the 2016 Rio Olympic selection process because of an ankle injury.

The Loughborough-based athlete is the British high jump record holder and a 2014 Commonwealth silver medallist.

She says: "I'm absolutely gutted that I won't be becoming an Olympian this time around.

"Competing at the Games is one of the highest honours in sport and it is a real blow to have to wait four years until my next opportunity. However, I'm in good company - some of the best athletes in the world have missed out on the Olympics but gone on to dominate in subsequent years."

Alexandra Hamilton

BBC Weather

The difference between rain and showers is nothing to do with duration or intensity... but you'll probably get wet!  

MPs tweet to congratulate Theresa May

Amy Woodfield

BBC Local Live

Other local MPs tweeted their congratulations to Theresa May who is now the lone candidate running to be prime minister.

Leadsom decision praised by Rutland MP

Amy Woodfield

BBC Local Live

Healthwatch: Shock at Glenfield decision

Amy Woodfield

BBC Local Live

Quote Message: "Healthwatch Leicestershire is shocked at the decision by NHS England to shut down the Children's Heart Service Unit at Glenfield Hospital. A commissioning model that best suits the needs of the population is vital and NHS England Commissioners need to work with UHL in a co-commissioning model to join up commissioning not just for paediatric cardiac services but also that for congenital heart disease, fetal medicine, paediatric surgery and other related specialist services. We strongly oppose the decision and have concerns about the impact this could have for patients, parents and carers in Leicestershire" from Rick Moore Chair of Healthwatch Leicestershire

Patients' Panel: Glenfield decision 'a bit of a mystery'

Amy Woodfield

BBC Local Live

Quote Message: "It appears to me that the basis for closure can be questioned on several levels as UHL have asserted they are meeting the aims of the review and are only three months into the five year trajectory to full compliance. The reason for the failure therefore remains a bit of a mystery and it could mean that, if it goes ahead, closure would not improve quality or reduce variation but would negatively impact patients and family experience if they have to travel further to unfamiliar locations." from Sally Ruane Chairwoman of the Leicester Mercury Patients' Panel

Glenfield decision angers patient groups

Amy Woodfield

BBC Local Live

Healthwatch Leicester, Healthwatch Leicestershire and the Leicester Mercury Patients' Panel say they're supporting patients and public after the shock news last week that children's heart surgery was going to stop at Glenfield Hospital.

Quote Message: "Healthwatch Leicester City cannot stand by and let this happen, this stated intention from NHSE betrays the evidence of meeting all the standards set by them for the congenital heart centre, as John Adler (Chief Executive UHL) has indicated. He also said closure would mean decades of experience lost, innovation lost and knowledge lost. In terms of quality, patient satisfaction and financially this decision does not stack up." from Karen Chouhan Chair of Healthwatch Leicester City

Charity cash row: Crematorium cash sent to India

Amy Woodfield

BBC Local Live

In a statement, Bhaarat Welfare Trust says its trustees decided the Shantidham crematorium project was no longer feasible and had no prospect of completion.

As a result, the £96,000 raised for Shantidham was donated to charitable projects in India.

Gossip: Foxes keen on Portuguese midfielder

Rumour has it Leicester City are watching the Sporting Lisbon defensive midfielder William Carvalho.

The Sun reports the 24-year-old is also being tracked by Everton and Southampton.

Charity advised to consider legal advice

Amy Woodfield

BBC Local Live

The Charities Commission, which regulates charities in England, has been informed of the crematorium cash dispute between Shantidham and the Bharaat Welfare Trust.

In a statement, it said: "The Charity Commission can only act in limited circumstances in disputes between charities.

"If the charity believes that their funds are being withheld contrary to an agreement between the parties it would be for the trustees to consider what action is required to recover the funds including seeking legal advice as appropriate."

Charity row: 'People are aggrieved'

Amy Woodfield

BBC Local Live

Shantidham managed to raise nearly £100,000 but because it was yet to become a registered charity Bhaarat Welfare Trust offered to hold the money until it was needed.

No suitable location for a crematorium has been found in the last 10 years so the group that raised the money asked the charity for the cash back.

Vinod Popat from Shantidham says: "BWT refused to meet up with us or reply to our letters.

"The money belongs to the people of Leicester and Leicestershire. Yes it's a lot of money and a lot of people are aggrieved."

Row over crematorium cash

Amy Woodfield

BBC Local Live

People who donated tens of thousands of pounds to help build a crematorium in Leicester say they want their money back.

Back in the early 2000s a community group called Shantidham in Belgrave raised money to build Leicester's first ever dedicated crematorium for Hindus, Sikhs and Jains. 

A charity called the Bhaarat Welfare Trust offered to look after the cash for them but is now being accused of refusing to give the money back.