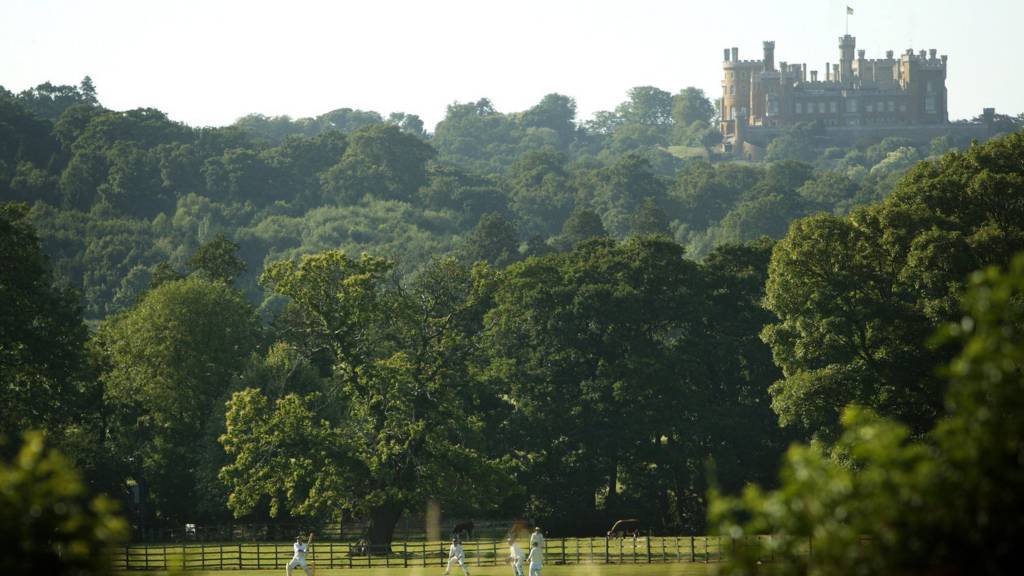 BBC Local Live: Leicestershire
Summary
Updates for Tuesday 5 July 2016
More news, sport, travel and weather from 08:00 on Wednesday
Our live coverage across the day

That's all from Leicestershire Local Live today. Updates will start again on Wednesday at 08:00.

Weather: Dry night and bright start to Wednesday

A mostly fine and dry end to the day with some decent sunny spells. 

Highs of 19C (66F).

It'll be a dry night with clear spells and scattered cloud. Lows of 11C (52F).A bright start to the tomorrow with plenty of sunshine.

Basketball: Gamble staying with Riders

Leicester Riders have re-signed Harrison Gamble for next season, making it his fourth campaign with the club. 

Gamble becomes the third signing of the summer for the Riders following previous announcements that Drew Sullivan and Tyler Bernardini will also be back next year.

Leicester near bottom of drug baby chart

Amy Woodfield

BBC Local Live

We've managed to get our hands on some hospital figures that show say how many babies born in 2015 were addicted to substances their mother took while pregnant.

Leicester actually has one of the lowest rates - one in every 5,000 babies born at Leicester General Hospital was addicted to a harmful substance.

Latest Leicestershire headlines

Amy Woodfield

BBC Local Live

Abbey Park in Leicester is closed after a man was found with fatal injuries
A motorcyclist has been airlifted to hospital after a crash in Ab Kettleby
Nigel Pearson is speaking to the Leicester City's U16 coach about a move to Derby County

Boy's sadness after Disco disappears

Motorcyclist airlifted to hospital

Amy Woodfield

BBC Local Live

The police have just issued some more information on that crash in Ab Kettleby earlier that closed the A606 for hours.

There was a car and a motorbike involved. The 56-year-old motorcyclist has "serious" injuries and was taken to hospital in Nottingham by air ambulance.

Police have arrested a 24-year-old man in connection with the crash and he's been released on bail.

Pearson after Foxes coach

Derby County manager Nigel Pearson has confirmed the Rams have been given permission to speak to Leicester City coach Inigo Idiakez. 

Idiakez is currently in charge of the Foxes' U16 side but Pearson wants the Spaniard to coach his first team.

Statue creator visits on anniversary

Amy Woodfield

BBC Local Live

The artist behind the Thomas Cook statue has been back in the city today for the 175th anniversary of the travel agent's first excursion.

Copyright: Leicester City Council

James Butler also created the city's Seamstress and Richard III statues.  

Man found in park has died

Amy Woodfield

BBC Local Live

Abbey Park in Leicester has been closed to the public since about 08:10 this morning after a man was found injured by the boating lake.

The man was taken to hospital in Coventry but has since died from his injuries.

Police say they are treating his death as "unexplained".

Travel: Road reopens after crash

The A606 in Ab Kettleby is open again after a serious collision earlier this afternoon.

University to study Jupiter

Amy Woodfield

BBC Local Live

Juno will spend the next 18 months orbiting Jupiter. During this time scientists and astronomers in Leicester will study the planet's magnetosphere, dynamic atmosphere and its beautiful polar auroras throughout.

Copyright: European Photopress Agency

Jupiter mission solar winds monitored in Leicester

Amy Woodfield

BBC Local Live

The University of Leicester is the only UK science lead for this Jupiter mission.

Juno has taken five years to get there and during its final cruise toward the planet, scientists and astronomers in Leicester observed the effect of the solar wind on Jupiter's auroras.

Leicester scientists involved in Juno experiment

Amy Woodfield

BBC Local Live

There's been a lot of talk about Jupiter today because a NASA spacecraft has travelled all the way to the planet and managed to start orbiting around it.

Copyright: NASA/JPL-Caltech

A team of international scientists were involved in the development of Juno including a team from the University of Leicester's Department of Physics and Astronomy.

Drug dealer 'ashamed and embarrassed'

A serving prisoner who arranged a drugs transaction, for almost a kilo of cocaine to be delivered on the outside, has been jailed for seven-and-a-half years.

What are you doing this Olympics?

Amy Harris

Reporter, BBC East Midlands Today

The Rio Olympics are just around the corner and we want to know how you're getting involved...

Amy Woodfield

BBC Local Live

This shiny new cycle hub has just opened at Loughborough Railway Station with space for 130 bikes...

It cost £180,000, paid for by East Midlands Trains and the Association of Train Operating Companies.

Guide dog row: 'No religious justification' for refusal

Amy Woodfield

BBC Local Live

Suleman Nagdi from the Federation Of Muslim Organisations in Leicester says taxi drivers using religion as a reason not to allow assistance dogs into their vehicles are wrong.

Copyright: De Montfort University

He says: "What I think often happens is a crossover between culture and faith. People who come from a certain cultural background confuse that cultural practice with faith and this is totally unacceptable.

"There is absolutely no reason why this driver should refuse this individual to board the taxi."

Steam train arrives in Loughborough

Amy Woodfield

BBC Local Live

Confusion over dogs and religion

Amy Woodfield

BBC Local Live

Yesterday I showed you this video for the first time of a Leicester taxi driver refusing to allow a blind student with a guide-dog in his car...

The taxi driver was a Muslim man and claimed he couldn't take the dog as a passenger for religious reasons.  

We've been speaking to the Federation of Muslim organisations in Leicester who say some people are confusing cultural practices with faith.