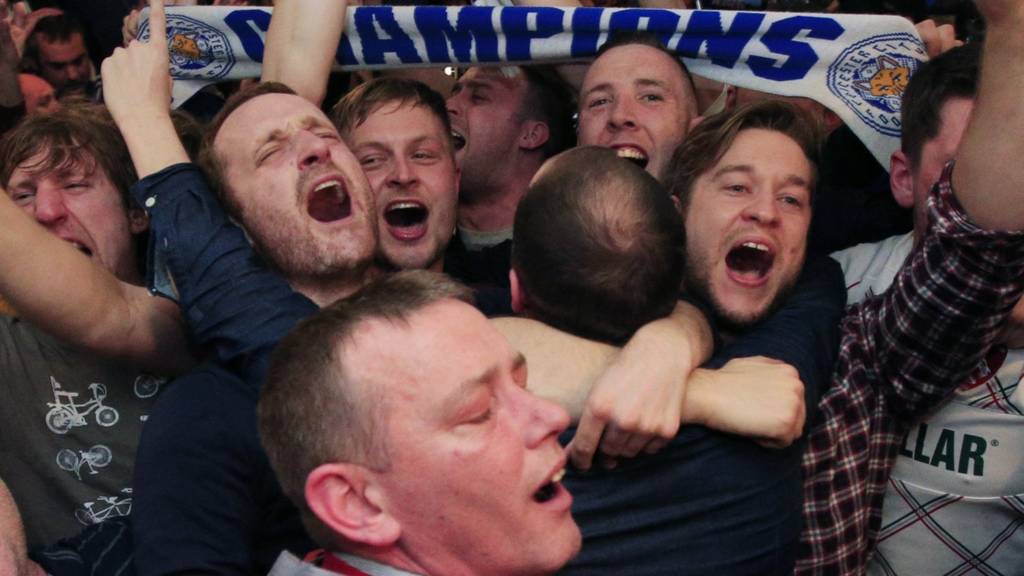 BBC Local Live: Leicestershire
Summary
Updates for Tuesday 17 May 2016
More news, sport, travel and weather from 08:00 on Wednesday
Our live coverage across the day

That's all from Leicestershire Local Live today. Updates will start again tomorrow from 08:00.

Weather: A wet day tomorrow

Charlie Slater

BBC Weather presenter

Staying fine and mainly dry this evening with cloud increasing from the west bringing outbreaks of rain by dawn.

A minimum temperature of 10C (50F).

It will be a wet start to Wednesday with heavy rain at times.

Brighter spells should develop through the afternoon along with a scattering of heavy showers and a risk of thunder. Highs of 13C (55F).

Latest Leicestershire headlines

Amy Woodfield

BBC Local Live

Leicester City special on BBC One

Amy Woodfield

BBC Local Live

There's a special program on BBC One this evening all about Leicester City's miraculous season.

It starts at 22:45 and is hosted by Gary Lineker.

I'll be watching as a way of keeping last night's excitement going.  

Tigers squad possibilities

Leicester Tigers will have Manu Tuilagi, Brendon O'Connor and Mike Fitzgerald fit and available for this weekend's Premiership semi-final.

Tigers play away to Saracens on Saturday.

New faith room will help during Ramadan

Amy Woodfield

BBC Local Live

Earlier I told you about Leicestershire County Cricket Club getting a multi-faith area at Grace Road.

If you'd like to know more, here's an interview with the chief exec Wasim Khan...

Victim 'feared for her life'

Amy Woodfield

BBC Local Live

Det Sgt Sarah Walker led the investigation into the attack.

She said: "This was an incredibly distressing experience for the victim who at the time feared for her life. She has shown immense bravery and courage throughout the investigation.

"In order to help officers piece together the events of that night, the victim has had to relive the horrific attack, and I hope that today's result will help her move forward and put the ordeal behind her."

Both men will be sentenced on 17 June.

Accomplice hid blood-stained clothes

Amy Woodfield

BBC Local Live

Another man was also convicted by a jury - 50-year-old Balbir Singh from Thurcaston Road in Leicester.

He'd been waiting outside the property and took Vijay Singh home after the attack.

He gave him a change of clothes and hid Singh's bloodied clothing inside a shed.

Balbir Singh was found guilty of assisting an offender.

Woman was 'left for dead' in brutal sex assault

Amy Woodfield

BBC Local Live

A pretty nasty bit of news now...

A jury has found a man guilty of sexually assaulting a woman in Leicester and leaving her for dead.

Vijay Singh attacked the woman last year in a property on King Street. The attack was so horrific, the woman had to spend a long time in hospital recovering.

The 43-year-old from Oxford Street in Leicester was found guilty of attempted murder and sexual assault by penetration.

Two cars crash on Hungarton Boulevard

Amy Woodfield

BBC Local Live

The fire service has released a few details about the crash on Hungarton Boulevard...

There are two cars involved with four people hurt. They're getting help from the ambulance service.

Does Gary regret making the pants promise?

Amy Woodfield

BBC Local Live

Travel: Crash closes road

Opportunist steals ITV equipment

Amy Woodfield

BBC Local Live

Camera equipment belonging to ITV was stolen from a car parked in Leicester yesterday.

A camcorder, laptop, drone and some flat panel lights were taken from a car at the Holiday Inn on St Nicholas Circle.

Copyright: Leicestershire Police

Charity 'very concerned' about shooting

Amy Woodfield

BBC Local Live

Animal welfare charity, the RSPCA, are investigating after a cat was shot in Hinckley.

Inspector Alison North said: "This is a very concerning incident and is extremely traumatic for both the cat and his owner.

"At the moment, we know very little about when and why this has happened, and who shot the poor cat. It is a shocking incident and one which would have left the cat in a lot of pain."

They want to hear from anyone with information about the shooting.

Hamilton 'looking forward to joining' Tigers

Melton veteran campaigns for memorial

Travel: Slow traffic from parked cars

Amy Woodfield

BBC Local Live

A cat has been left with a broken leg after it was shot with an air rifle in Hinckley.

The RSPCA told us the male cat was found by his owner with the injuries in Strathmore Road, on Tuesday 26 April.

An x-ray showed that a pellet from an air rifle had fractured his leg.

Amy Woodfield

BBC Local Live

An elderly man who died after a crash in North-West Leicestershire has been named as Frank Cadle, 84, from Coalville.

The collision happened at about 14:10 on Tuesday 10 May. Mr Cadle was taken to hospital in Nottingham but later died. His female passenger was also taken to hospital and underwent treatment.

The driver of the other car involved in the crash wasn't seriously hurt.

Drinkwater unsure on England Euros spot

Leicester City's Danny Drinkwater says he is not certain to make Roy Hodgson's final 23-man England squad for Euro 2016.