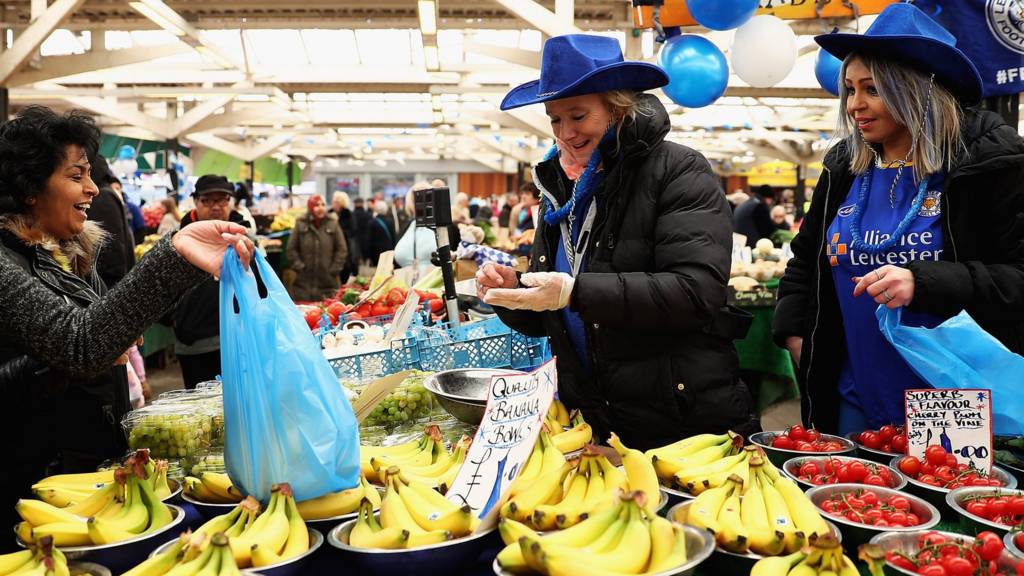 BBC Local Live: Leicestershire
Our live coverage across the day

Our live updates have now ended and will return tomorrow from 08:00. 

Weather: Fine end to the day

Kaye Forster

Weather Presenter

A dry and sunny end to the day.  

It will stay dry overnight with some clear spells and light winds. 

We will be frost free again with lows of 3C (37F).

Basketball: Riders star wins annual award

Calum McKenzie

BBC Local Live

Leicester Riders forward Drew Sullivan has been named British Basketball League player of the year. 

This city really is rubbish at sport...

Man arrested on suspicion of death by dangerous driving

Calum McKenzie

BBC Local Live

A 54-year-old man has been arrested on suspicion of causing death by dangerous driving after a lorry struck a van parked on the hard shoulder of the M69 in Leicestershire.

The 55-year-old van driver died of his injuries at Coventry's University Hospital after the crash at about 15:15 yesterday. 

Business feeling flush because of 'Leicester effect'

Calum McKenzie

BBC Local Live

It's not just the city's economy that appears to be benefiting from Leicester's success. 

Takings have tripled at The Bulls Head in Cosby ever since the Foxes topped the league. 

Latest headlines for Leicestershire

Calum McKenzie

BBC Local Live

Here's what's happening across Leicestershire: 

First PCC votes being counted

Calum McKenzie

BBC Local Live

Excitement starting to build at City Hall...

Claudio's 'King of England,' says mum

Calum McKenzie

BBC Local Live

Claudio Ranieri's triumph with Leicester has more than made amends for his unsuccessful time at Roma, according to the Italian's 96-year-old mother. 

"I'm sorry about how it finished for him at Roma: we've always been a big Roma-supporting family," Renata Ranieri told La Repubblica newspaper.

"He took over (at Roma) when the season had already started. He didn't earn the respect of his own city... and I'm disappointed it finished like that for him. 

"But now, he's the king of England and he's getting compliments from all around the world."

PM asks Lineker to honour pants pledge

David Cameron has called for Gary Lineker to keep his promise that he would present Match of the Day in his underwear if his former team Leicester City won the Premier League.

EA investigating Wigston diesel spill

Calum McKenzie

BBC Local Live

Environment Agency's Paul Reeves tweets... 

McCanns: There will always be hope

Calum McKenzie

BBC Local Live

The McCanns also released this statement to mark the anniversary. 

Quote Message: As yet another anniversary comes around, we'd like to thank all our supporters for your continued help and commitment in the search for Madeleine, and the hope for her safe return. It has been a very long time but the investigation continues, information is still forthcoming and our hope and resolve continue. Until we have answers, until there is news (real news!), there will always be hope and we will continue to do everything we can to help find Madeleine." from Kate and Gerry McCann

Stubborn Sussex digging in for Foxes draw

Calum McKenzie

BBC Local Live

Leicestershire's victory charge at Sussex has been halted by Chris Nash's (pictured) unbeaten century. 

A draw for the Foxes today would complete a fairly ordinary sporting week for the region...

McCann parents mark anniversary 'at prayer meeting'

Calum McKenzie

BBC Local Live

The parents of missing Madeleine McCann have said "there will always be hope" in the hunt for their daughter despite doubt over the future of the British police investigation into her disappearance.

Copyright: Niall Carson/PA Wire

Kate and Gerry McCann marked the ninth anniversary of their daughter's disappearance with a prayer meeting in Rothley, according to reports in the Daily Mirror.

Teen killed in crash was 'was gentle and popular'

Calum McKenzie

BBC Local Live

A head teacher has paid tribute to teenager Samuel Garner who died after being hit by a stolen car in Leicester. 

Copyright: Leicestershire Police

Tony Pinnock, the principal at Samuel's old school, Wreake Valley Academy, says he was gentle and popular. 

Sutton: Foxes need Vardy 'version II'

Calum McKenzie

BBC Local Live

They've only been champions for a matter of hours, but after the euphoria, here comes a dose of realism for Leicester City. 

It's supplied by Blackburn's Premier League winning striker Chris Sutton. 

"They are certainly going to need a better quality of player squad-wise so people can come in and do the same job as the first-choice side. 

"In particular, they need another striker with Vardy's pace."

More images released to promote Foxes programme

Calum McKenzie

BBC Local Live

Here is a sneaky peak at tonight's "5,000 to 1: How Leicester City Beat the Odds" documentary presented by Alan Birchenall, in the form of a couple more promo images. 

It's on BBC One (East Midlands) at 22:45 tonight and will be available to everyone else via BBC iPlayer shortly after. 

PM to start supporting Leicester?

Calum McKenzie

BBC Local Live

Labour leader Jeremy Corbyn has mocked David Cameron's credibility as a football fan after the PM congratulated Leicester on their title win. 

Mr Corbyn seized on Mr Cameron's confusion during last year's general election over which team he supports, when he mixed up Aston Villa and West Ham, who wear similar colours. 

"I hope it's not an indication you are going to support another football team, or are you going to stick with the two you have got already?"