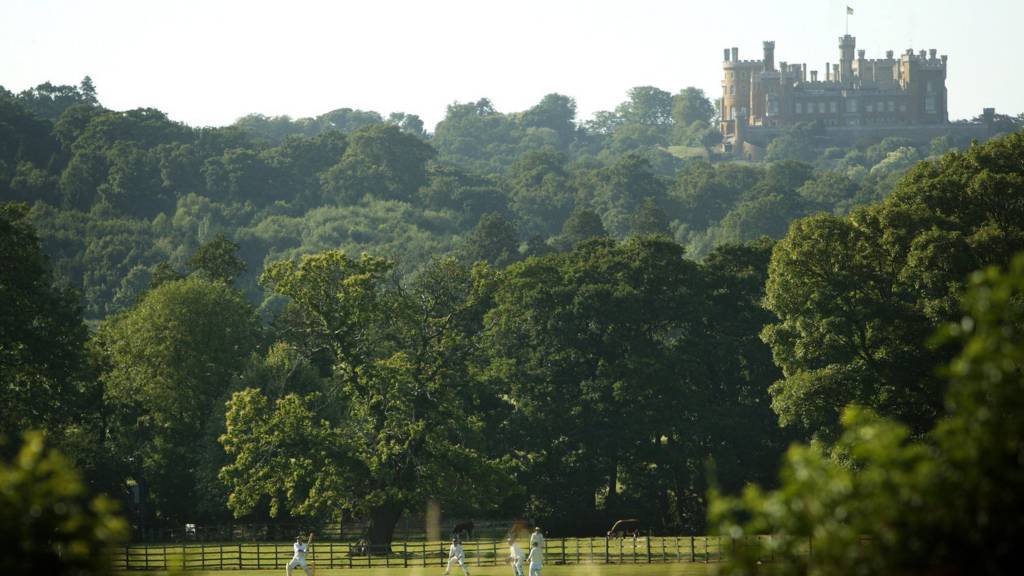 BBC Local Live: Leicestershire
Summary
Updates for Thursday 31 March 2016
News, sport, travel and weather updates resume at 08:00 Friday
Our live coverage across the day

That's all from Leicestershire Local Live today. Updates will start again at 08:00 on Friday.

Weather: More sunny spells tomorrow

Charlie Slater

BBC Weather presenter

There'll be the odd shower in the early evening. Later any scattered cloud will disperse leaving a clear night with a frost expected, especially in rural areas. 

Lows of 3C (37F) in towns and cities but it'll be cooler in rural spots.

Cloud will increase over the course of tomorrow, interspersed with some sunny spells. Highs of 11C (52F).

Venues announced for European Champions Cup

Leicester Tigers could play a European Champions Cup semi-final in Nottingham or Nice. 

The locations of the semi-finals have been announced today, but the venue will depend on who wins the quarter-final ties.

If Tigers beat Stade Français in the quarter-final, and play Racing 92 in the semi-final, the match will be at Nottingham Forest's City Ground. 

But if Toulon beat Racing 92 they would get a home country advantage meaning a semi-final involving Tigers and Toulon would be at Nice's Allianz Riviera stadium.

How leaving the EU could affect football

There's a lot of talk about the upcoming EU Referendum but you might not have heard how it could impact on football.

Some fear leaving the EU could lead to more than 400 players losing the right to play in the UK.

The list of players potentially at risk of being able to play includes Leicester City's N'Golo Kante who played and scored for France this week.

You can read more about this here.

Arrests made after crash and fight

Amy Woodfield

BBC Local Live

I told you yesterday about a crash in Loughborough that then led to a fight breaking out...

Well, police have now arrested five people.

It happened on Gladstone Avenue on Tuesday afternoon, two people inside one of the vehicles involved picked up some minor injuries.

A 54-year-old man has been arrested on suspicion of attempted grievous bodily harm and possession with intent to supply Class A drugs. 

A 60-year-old woman and three men, two aged 19, and one 18, have also been arrested on suspicion of possession with intent to supply Class A drugs.

Latest Leicestershire headlines

Amy Woodfield

BBC Local Live

A paedophile from Market Harborough has been jailed for more than 14 years
Leicestershire fire service has had its website hacked by a person or group claiming to be "Arabic Hackers"
If Leicester Tigers make the European Champions Cup semi-finals they'll play in either Nottingham or Nice

Robin Maughan jailed: Police plea for more victims to speak out

Amy Woodfield

BBC Local Live

Police believe there may be more victims of Robin Maughan.

Det Con Rob Waddington, the investigating officer, said: "We have specially trained officers here to help, who will speak sensitively to any victim of this type of crime.

"If you have been a victim, please come forward. Officers are here to help and will take all reports seriously, no matter how long ago the offences took place."

No-one owning up to hacking website

Amy Woodfield

BBC Local Live

The fire service says it hasn't received any messages from a person or group claiming to be behind the website hack.

Right now, a company used by the fire service to look after their website is figuring out how the hack happened so they can improve security and get the website back online again.

Copyright: Leicestershire Fire and Rescue Service

Harborough paedophile jailed

Amy Woodfield

BBC Local Live

A paedophile from Market Harborough has been sentenced to more than 14 years in prison.

Robin Maughan, from Western Avenue, pleaded guilty to possession, distribution and taking of indecent images of children.

The 34 year old also pleaded guilty to 11 counts of sexual activity with children.

Copyright: Leicestershire Police

Other offences he admitted were grooming and inciting others to send images to him.

Hacker replaced images with cartoons

Amy Woodfield

BBC Local Live

Another update now from the fire service about their website being hacked...

Last night the hacker removed some of the images on the website and replaced them with cartoon images.

One was of a hooded figure with an eye showing. The others were emoji images of a laughing face.

They had also written abuse about the security of the website.

Council pays price over land fight

Amy Woodfield

BBC Local Live

Not only will the council now have to pay the price of losing their green land, but they also have to pick up the bill from court.

Appealing against the Planning Inspectorate's decision and applying for a judicial review will cost them more than £6,000.

Walkers: 'Public opinion doesn't seem to matter'

Amy Woodfield

BBC Local Live

It's not just people living in the area that are upset by the news of more development. The area is also very popular with walkers.

One family just getting back from a walk at Bardon Hill yesterday said: "I think it's a shame because it's quite a beauty spot. To build on somewhere as pretty as this is just the last straw - they can build anywhere they like now, public opinion doesn't seem to matter. Where does it stop?"

Fire service 'working to restore' hijacked website

Amy Woodfield

BBC Local Live

We've just had this update from the fire service after their website was hijacked last night...

Quote Message: Our official website was compromised at approximately 11.30pm yesterday and has been taken down whilst our website team investigate what happened and how this can be resolved and a reoccurrence prevented. We are working to restore the working site as quickly as possible and appreciate your patience during this time. This incident involving our website does not compromise our operational activities." from Steve Ballinger Leicestershire Fire and Rescue Service

Travel: Slow on M1 in Leicester

Council leader 'understands' fight for field

Amy Woodfield

BBC Local Live

Richard Blunt, leader of North West Leicestershire District Council, says they are serious about protecting the countryside.

He says: "Houses do have to go somewhere, our job is to decide where they go.

"I drive along this road many times a week and when you come up the hill and you see that field on the right and you feel like you're hitting the forest and it feels really special so for me personally I understand why people wanted to fight for that field.

"It doesn't mean we won't fight other applications coming up. We're at the mercy of these inspectors and they have a power far greater than us."

Fear of flooding from more building

People living in that part of Coalville say they're devastated by the news they'll get more development in the town.

One person said: "I'm disgusted by it because I've been fighting this development for a long time now. We do get flooding here and that's been one of my major concerns. There are traffic problems as well but flooding has been an extreme problem for us."

Several people told BBC Radio Leicester the council should never have approved the Abbots View Estate currently under development saying they set a precedent that any free land can be built on.

Houses will add to existing development

Amy Woodfield

BBC Local Live

So this is where it gets complicated...

The development will be on Greenhill Road, close to Charnwood Forest. If you know the area you'll know houses are already being built there.

This application relates to a separate piece of land (on the right of the photo) that's opposite the development already going up.

Council fail at blocking new housing development

Amy Woodfield

BBC Local Live

Next up, one of our district councils has lost a battle to stop developers building new homes on some of its green land.

An application for up to 180 properties, a retail store and associated works on land in Coalville was blocked by the Northwest Leicestershire District Council in 2014.

Gladman Developments appealed and the Planning Inspectorate overturned the council's decision.

NWLDC then applied for a Judicial Review but it's now been rejected.

London Irish have signed Sebastian De Chaves from Leicester Tigers on a two-year deal.

The capped South African has played 43 times for the Tigers since joining them from the French club Mont de Marsan in 2013.

Riders continue Leicester's sporting success

Well done Leicester Riders.

They beat Surrey Scorchers last night putting them top of the BBL Championship for the first time this season.

The win has put them level on points with Newcastle, but top of the table because they've lost fewer games and have a game in hand.