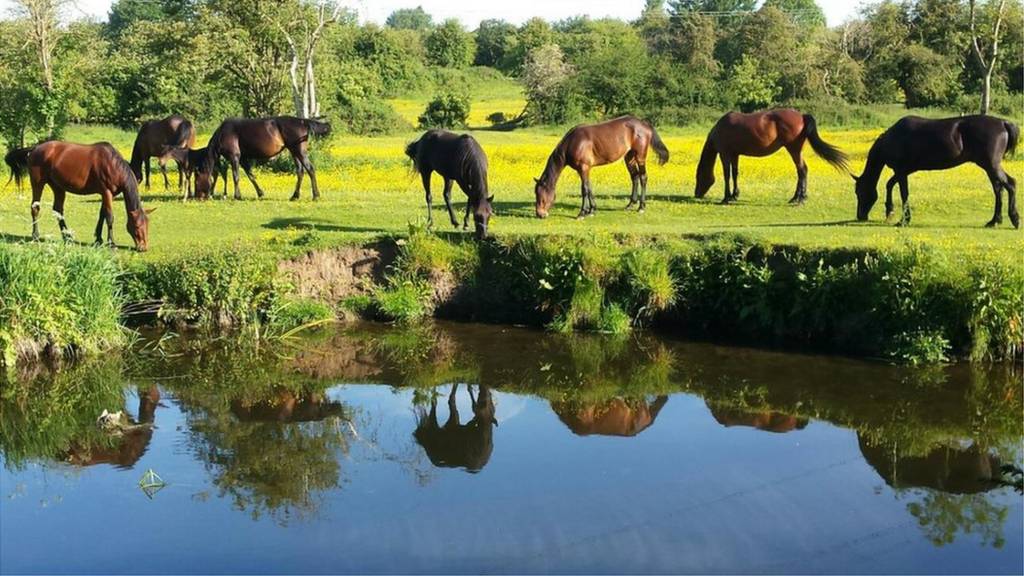 BBC Local Live: Leicestershire
Summary
Updates for Tuesday 9 February 2016
News, sport, travel and weather updates resume at 08:00 Wednesday
Our live coverage across the day

That's all from Leicestershire Local Live today. Updates will start again tomorrow from 08:00.

Weather: Some rain tonight

Alexandra Hamilton

BBC Weather

There will be a few showers creeping in this evening, so it will cloud over with some rain for the end of the day. 

This will clear later to leave a mostly dry night but we will keep the cloud so the temperatures will remain above freezing for most. 

Lows of 1C (34F).

A mostly dry but fairly cloudy start tomorrow morning. The cloud will break up and clear through the morning giving a dry and sunny afternoon. 

It will be breezy and temperatures will peak at 7C (45F).

City inspiring other local sports

Is sounds like Leicester City's success is setting an example for the county's other sporting teams.

Leicestershire director of cricket, Andrew McDonald, says the manner in which City have gone from fighting relegation to title contenders in the Premier League shows the importance of the right mental approach.  

Concern over treatment for mental health

Amy Woodfield

BBC Local Live

You might have heard the national story today on the concerns about the distance some mental health patients are having to travel for treatment.

An inquiry has found that about 500 people a month are forced to travel for care.

In Leicestershire, the Care Quality Commission's latest report found that 19 mental health patients were being treated in out-of-area beds.

Latest Leicestershire headlines

Amy Woodfield

BBC Local Live

Concerns about Leicester's A&E have been raised in Parliament
A life-long Leicester City fan is raising money to buy a "thank you" gift for the owners of the club
Manu Tuilagi and Jean De Villers will miss Friday's game against Newcastle

Amy Woodfield

BBC Local Live

Eyres Monsell Primary School in Leicester has been in touch to say it will be open tomorrow.

The school was closed today and yesterday because of a water leak.

Your comments: Hospital ends catering and cleaning contract early

You've been commenting on our Facebook page about the contract coming to an end between Interserve and Leicester's Hospitals Trust.

Victoria Price says: "Thank goodness for that, its never properly clean!!"

Michael Holmes says: "That's great news as the food is horrible and the cleaners leave the wards dirty."

Vaz wants the A&E to follow the success of Leicester City

Amy Woodfield

BBC Local Live

Keith Vaz also spoke about Leicester's struggling A&E in the Commons. 

He said he wants the service to be as successful as the city's football team: "Leicester's hospitals are in need of urgent assistance and the worry for Leicester is that they may slip into special measures, especially with regard to A&E.

"What steps can he take to insure our hospitals are performing as well as Leicester City Football Club?"

'Incident' outside police HQ causes delays

Police appeal as fishing kit stolen

Amy Woodfield

BBC Local Live

Suspended sentence for man who blackmailed former friend

Tigers without key players against Newcastle

Some Leicester Tigers news for you now...

Manu Tuilagi and Jean De Villiers will not be fit enough to face Newcastle in the Premiership on Friday. 

Richard Cockerill is hopeful the pair will be back for the game against Harlequins next Friday.

Tigers captain, Ed Slater, is also expected to return to fitness in time to face Harlequins.

Health minister declines to 'look into' A&E handover delays

Amy Woodfield

BBC Local Live

Leicester Royal Infirmary's missed targets on admitting ambulance patients to A and E has been raised in Parliament again today.

The Conservative MP for Bosworth, David Tredinnick, highlighted problems with queues building up outside the hospital and delayed handovers to emergency staff over Christmas. 

He asked the health minister whether he'd looked into the matter but Alistair Burt said it was a local NHS matter.

The 'life-saving equipment' is for the local community

Amy Woodfield

BBC Local Live

Local councillor Teresa Aldred came up with the idea of installing the defibrillator. She's at risk of Sudden Arrythmic Death Syndrome, as is her 10-year-old daughter.

She said: "We are delighted to have been able to get this vital piece of life-saving equipment installed for the local community.

"If people are reached within eight minutes of a cardiac arrest, they have a good chance of surviving."The community building is central to local people and is therefore a prime location for the defibrillator to be placed."

Thurnby Lodge gets first heart defibrillator

Amy Woodfield

BBC Local Live

A life-saving heart defibrillator has been unveiled at Thurnby Lodge Youth and Community Centre.

The centre has many elderly residents and is near a park, football clubs, schools and a shopping precinct. 

It is the first defibrillator in the Thurncourt ward.

Youngs and Veainu fit for Friday

Tom Youngs and Telusa Veainuis are fit to return for Leicester Tigers away to Newcastle on Friday.  

Best in fancy dress winner

Amy Woodfield

BBC Local Live

And best in fancy dress was Chris and baby Jasmine... awww!

Amy Woodfield

BBC Local Live

The winner of the race was Aiden Brown from Steaming Billy Pub.

Well done.

Hinckley's Pancake Day race

Amy Woodfield

BBC Local Live

Union criticises Interserve

More on that story about Leicestershire Hospitals Trust ending their contract with the cleaning and catering company Interserve.

Colin Whyatt is the Regional Organiser for the GMB union and spoke to BBC Radio Leicester this morning. 

He said: "This runs a lot deeper than what we see on the face value.

"Interserve as a company are poor, not just for their performance, but the way they treat their staff.

"For three years they have paid staff incorrectly, that doesn't bode well for staff morale."