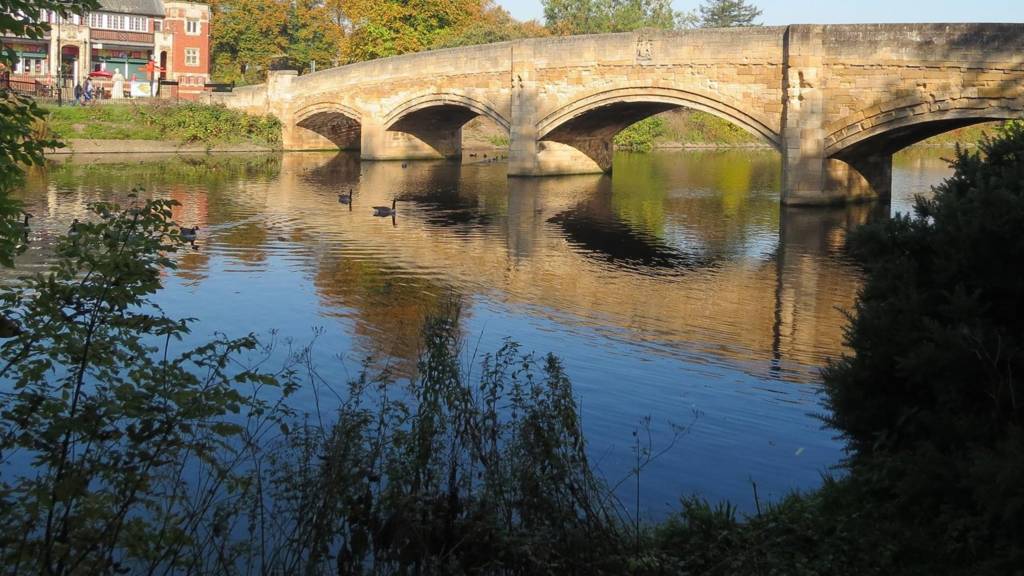 BBC Local Live: Leicestershire
Summary
Updates for 5 February 2016
More news, sport, travel and weather from 08:00 on Monday
Our live coverage across the day

Our live updates have now ended and will return on Monday morning at 08:00. 

Weather: Wet night across Leicestershire

It'll be cloudy with outbreaks of rain spreading southwards during the evening and overnight.

The rain will become heavy towards dawn and there will be a strengthening southwesterly wind.

Minimum temperatures of 6C (43F).

Ranieri unbeaten against Man City in Premier League

Calum McKenzie

BBC Local Live

How about this for a positive omen ahead of tomorrow lunchtime? 

Claudio Ranieri is unbeaten in all seven Premier League matches he has played against Man City. 

Six wins and a draw. 

Drivers caught in covert HGV sting

Council not 'totally sure' of government funding

Calum McKenzie

BBC Local Live

Blaby District Council leader Terry Richardson says the delay to the funding deal announcement is also affecting his authority.

"We wouldn't expect it to be too different to the figures we've already been given," he said. 

"But until we actually receive confirmation of that figure we won't be totally sure."

Government delay affecting council budget decisions

Calum McKenzie

BBC Local Live

Leading members of Leicestershire County Council are having to postpone discussions about next year's budget because of a delay in getting information from central government.

Budget details were due yesterday for all local authorities but no new date for the information's release has been given by the Department for Communities and Local Government.  

Latest headlines for Leicestershire

Calum McKenzie

BBC Local Live

Here's what's happening in Leicestershire: 

Diamond: We need a plan to turn over 'unbeatable' Tigers

Calum McKenzie

BBC Local Live

Sale Sharks director of rugby Steve Diamond has been speaking about how his side will have to raise their game to beat Leicester Tigers tomorrow.

"They (Leicester) know they're unbeatable at home most times, so sides have to go and play out of their skins to win" Diamond said. 

"If we go and turn up and Leicester turn up, they will just win. We need to go and play and do what we've been doing and pick a plan that can beat them hopefully."

More than 500 turn out to say goodbye to stabbed 16-year-old

In e-fits of laughter: Farcical faces from the police

Calum McKenzie

BBC Local Live

I'd like to draw your attention to this feature about farcical police e-fits. 

This effort from Leicestershire Police had people comparing the e-fit to Voldemort from the Harry Potter movies. 

Although, as someone on the BBC Leicester Facebook page suggested, Karl Pilkington is also a pretty good shout too. 

CQC publishes report on region's out of hours care

Calum McKenzie

BBC Local Live

If you want to read the full report following the inspection of out of hours care in Leicester, Leicestershire and Rutland then here it is. 

It is 23 pages, so if you have already had your lunch break, you might have to save it until after work. 

Pellegrini: City could lose to Foxes

Calum McKenzie

BBC Local Live

Interesting to note in those quotes that Manuel Pellegrini has contemplated losing tomorrow. 

You're not throwing in the towel already, Manuel? 

Pellegrini: Foxes test 'not decisive' to title bid

Calum McKenzie

BBC Local Live

Manchester City boss Manuel Pellegrini has been speaking to the media ahead of their game against Leicester City tomorrow lunchtime. 

"It's not the biggest game of the season so far - we can win or lose this game and the Premier League will not end here," said Pellegrini.

"We have 39 more points to fight for. You cannot think you're champion if you win and if you lose, there are lots more points.

"It's a good game, a big game but not decisive."

Your photos: February across Leicestershire

Calum McKenzie

BBC Local Live

Thank you to BBC Weather Watcher Billie's View for sending in the picture of Market Harborough. 

It looks particularly peaceful. 

Dad's Army stars expecting Foxes to lose

Calum McKenzie

BBC Local Live

Actors Blake Harrison and Daniel Mays reckon Leicester City are heading for defeat against Manchester City this weekend. 

See their Premier League predictions here.

Warning after schoolgirl approached by van driver in village

A warning has been issued for parents and children to be vigilant after a schoolgirl was approached in suspicious circumstances in a Leicestershire village.  

Copyright: Hinckley Times

Area needs free school, vice principle says

Calum McKenzie

BBC Local Live

Beauchamp College's vice principle Jenny Piper Gale has been speaking about its new free school. 

"We believe there are enough people in the area, we believe there is a need for this and we did a lot of research before we put this bid in," she said.

The school will specialise in science, technology and maths. 

Listen: Jeremy Vine reads his letter to Foxes fans

Finalists to be chosen for this year's Miss and Mr Leicestershire contests

Leicester duo lose in Germany

There's not going to be a local winner in the latest event on the snooker tour.

Mark Selby and Ben Woollaston have both bowed out of the German Masters at the second round stage.  

Former world champion Selby lost 5-3 to Scotland's Graeme Dott, while Woollaston - who saw off Shaun Murphy in the first round - was beaten 5-0 by Martin Gould.