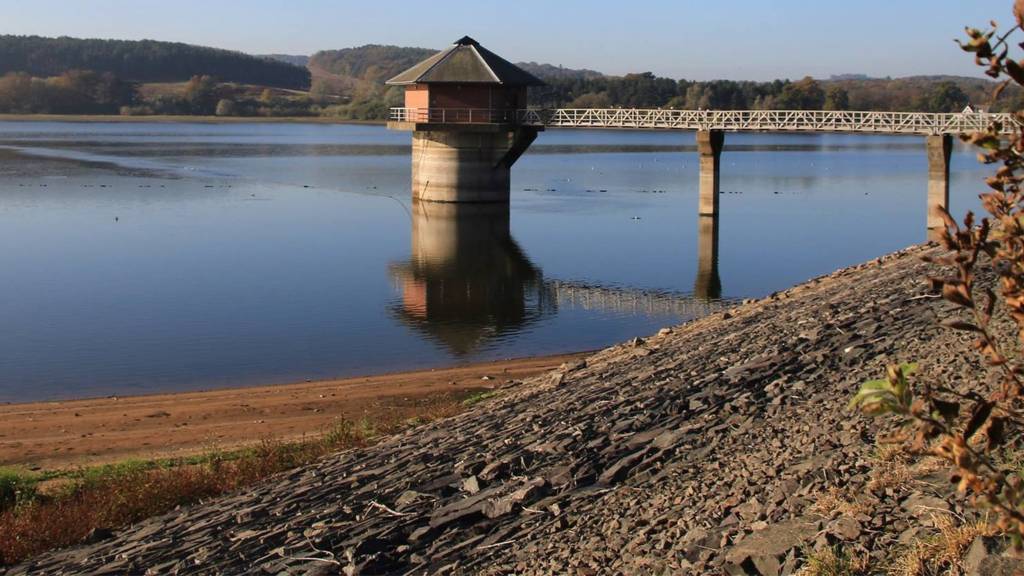 BBC Local Live: Leicestershire
Summary
Updates for Wednesday 11 November 2015
More news, sport, travel and weather from 08:00 on Thursday
Our live coverage across the day

Thanks for following our live coverage today. We'll be back again tomorrow from 08:00.

Weather: Cool with a chance of light rain

Charlie Slater

BBC Weather presenter

There may be a spot or two of light rain this evening but this will clear away to leave a dry night. 

It will be cooler than recent nights with a minimum of 6C (43F).

Latest Leicestershire headlines

Amy Woodfield

BBC Local Live

Leicester Hospitals Trust admits failings that led to the death of a baby girl
A Leicester-led research program into blood cancer treatment has had life-changing results
Rugby: Tigers boss Richard Cockerill says he's delighted to have Marcos Ayerza back

Council goes red for Armistice Day

Amy Woodfield

BBC Local Live

I love this! Well done Charnwood Borough Council.

Mother speaks out about 'heartbreaking' daughter's death

Delilah Hubbard's mother Clara has said: "I am still trying to come to terms with losing my little girl and now to find out that there were a number of failings by the staff caring for me and Delilah and that this could have been prevented is heartbreaking". 

Copyright: Irwin Mitchell Solicitors

The hospital trust has admitted there was a delay in taking Clara for a caesarean section and had it been done sooner, Delilah would have survived.

Man killed in Manton crash named

Amy Woodfield

BBC Local Live

A man that died in a crash in Manton yesterday has been named by police as 69-year-old Clifford Knapp, from Lyddington in Rutand.

Officers would like to speak to anyone who saw what happened.

Rugby: Cockerill cuts Balmain some slack

Leicester Tigers boss Richard Cockerill says they're delighted to have Marcos Ayerza back. He also thinks his early season replacements deserve some slack.

While Ayerza was out, tight-head Fraser Balmain had to play on the loose-head side of the scrum.

Hospital admits failings in baby's death

Amy Woodfield

BBC Local Live

Another story to tell you about this afternoon is about the death of a baby girl at Leicester Royal Infirmary.

Delilah Hubbard was born at 32 weeks with no heartbeat and staff at Leicester General Hospital resuscitated her. She was then transferred to Leicester Royal Infirmary's Neonatal Unit but died two days later.

Copyright: Irwin Mitchell solicitors

Hospital bosses have now admitted liability for "failings in their care".  

Drug trial was like 'turning the lights on'

Amy Woodfield

BBC Local Live

One of the patients involved with a Leicestershire-led blood cancer drug trial said: "After just 48 hours of taking this tablet it was like turning the lights on".

The study looked at the efficacy of a new inhibitor to treat Chronic Lymphocytic Leukaemia and Non-Hodgkin Lymphoma.

Patients with Chronic Lymphocytic Leukaemia showed the best response and most of them are still on the study after three years without notable toxicities.

Blood cancer trial 'hugely rewarding'

Amy Woodfield

BBC Local Live

Some more now on that blood cancer drug trial in Leicester that's being hailed a huge success.

Dr Harriet Walter, University of Leicester says: "This drug has changed patients' lives; from desperate and tired they are now leading a normal and really active life. This is hugely rewarding and encouraging."

Ninety patients took part in the study, including 28 from Leicester.

Part-time council worker earning big bucks

The senior official overseeing Leicestershire County Council's multi-million savings programme is beingpaid £86,000-a-year to work a three day week.

Copyright: Leicester Mercury

Blood cancer breakthrough

An exciting story now about a study carried out at the University of Leicester and Leicester Hospitals.

Researchers have had a breakthrough in the treatment of blood cancers.

They say patients with lymphocytic leukaemia and other blood cancers have responded well to a new drug during clinical trials.

Melon tribute to Indian PM

Amy Woodfield

BBC Local Live

Here's something a bit... different.

With the Indian prime minister Narendra Modi coming to the UK this week a local man has created an image of his face on a melon.

It was created by 74-year-old melon artist Amrat Parvar, from Thurmaston.

Your comments: Should the Loughborough Lego men stay or go?

Onour Facebook pageyou've been telling us what you think of these yellow chaps, painted on a wall in Loughborough.

Most of you have said you like them and want them to stay.

Sue Sharp says: "Stay - they are beautiful x"

Michael Batchelor says: "Stay looks good."

Diwali: Preparations under way for rangoli exhibition

BBC Radio Leicester has been to Belgave Neighbourhood Centre to see how they're getting ready for Diwali celebrations tonight.

This is one of the large pieces of rangoli artwork that will feature at an exhibition tonight.

The director of the exhibition says making rangoli patterns is supposed to be a fun family or community activity.

Cabbies to protest rule change

Amy Woodfield

BBC Local Live

I told you a bit yesterday about taxi drivers in Leicester organising a protest on Friday against a new rule being brought in by the city council.

The rule states that if cabbies receive 12 points in three years for poor conduct they could have their licenses revoked.

Representatives from transport union RMT told BBC Radio Leicester this morning they hope the public will understand why the drivers are protesting.

The plan is for cabbies to slowly drive in convoy from Oadby to the city at 16:00 on Friday.

Weather: Mostly dry but showers are possible

Charlie Slater

BBC Weather presenter

This afternoon should be mainly cloudy with plenty of dry weather.

However, a couple of light showers are possible in the mid-afternoon. Highs of 15C (59F).

Council ultimatum on Lego men 'not so awesome'

Amy Woodfield

BBC Local Live

Remember the story about the Lego men in Loughborough? Well the artist who painted them has been given an ultimatum by the council.

He's been told he either has to apply for permission properly or remove the artwork. Otherwise he'll be prosecuted.

Latest headlines for Leicestershire

Amy Woodfield

BBC Local Live

Young offenders involved in disorder

An investigation has been launched into a a disturbance at a young offenders institute at the weekend.

Copyright: Leicester Mercury

Travel reminder ahead of Diwali celebrations

Amy Woodfield

BBC Local Live

It's confirmed - Leicester Tigers have signed loose-head prop Matías Agüero.

Man arrested after crashing into a tree

Tigers in talks with Italian prop

Amy Woodfield

BBC Local Live

The sports team here at BBC Leicester have told me Leicester Tigers are lining up loose-head prop Matías Agüero as potential cover for injured Michele Rizzo and Logovi'i Mulipola.

Agüero is an Italian international and played 46 times for Saracens between 2007-2010.

Tigers' director of rugby Richard Cockerill has already said he wants to strengthen the loose-head side of the scrum before the start of the European campaign on Friday.

Amy Woodfield

BBC Local Live

The latest job figures have been released and they show the number of unemployed in the East Midlands fell by 4,000 to 105,000 between July and September.

Nationally, unemployment has fallen to its lowest level for seven years.

Armistice Day: Leicester falls silent for war dead

Overturned trailer on A42 causes delays

Travel: Overturned trailer on A42

Diwali in Leicester: Ballet performance in shop window

Rupal Rajani

BBC Radio Leicester Presenter

Diwali celebrations will take place along Belgrave Road tonight as you've been hearing.

Apart from events on the park and the main stage, one saree shop owner on the Golden Mile is hosting something slightly unusual in his window.

Karan Modha, from Anokhi House of Sarees, said: "What we have done is bring east meets west and will have two live ballet performers in our shop window."

Thousands of people along the road will be able to watch the Swan Lake performance.

Your photos: Cropston Reservoir

Amy Woodfield

BBC Local Live

Travel: Slow traffic on the M6 in Leicestershire

Two minutes of silence for Armistice Day

Amy Woodfield

BBC Local Live

Here at BBC Leicester we're about to fall silent for two minutes for Armistice Day.

It follows similar ceremonies at the weekend on Remembrance Sunday paying tribute to all those who died in the two world wars and every conflict since.

Fake email cost man his children's inheritance

A couple involved in conning a man out of more than £43,000 in a £1.5 million competition scam have been jailed.

Copyright: Leicester Mercury

Silence for war dead at 11:00

A two-minute silence will be observed in Leicestershire and across the UK in just over half an hour to remember the nation's war dead.  

The silence will be held at the 11th hour of the 11th day of the 11th month - the time in 1918 when the guns finally fell silent along the Western Front.  

Rugby: New prop for Tigers?

Leicester Tigers are looking at recruiting a new loose-head prop.

Marcos Ayerza (pictured) is now fit but Michele Rizzo and Logovi'i Mulipola are still out injured.

Fraser Balmain had to play on the opposite side of the scrum last Saturday at Exeter.

Leicester celebrates Diwali

Tributes to mum 'crushed' at scrap yard

Tributes have been paid to a Barwell mum who died during an incident at a Hinckley scrap and recycling yard.  

Copyright: Hinckley Times

Accident closes Welford Road

Council already planning for next year's Diwali

Amy Woodfield

BBC Local Live

This year's Diwali celebrations may still be going on but preparations for next year's festival are already under way.

The city council has been given a £45,000 Heritage Lottery Fund grant to look at the history of the festival outside India.  

Care home in special measures following 'abuse'

Inspectors have said incidents of abuse have taken place at a care home which is at the centre of allegations of neglect.

Copyright: Leicester Mercury

Latest headlines for Leicestershire

Amy Woodfield

BBC Local Live

Jim's phone-in: policing cuts

Amy Woodfield

BBC Local Live

Diwali to light up Leicester this evening

Amy Woodfield

BBC Local Live

More now on Leicester's Diwali celebrations.

The main event takes place tonight with live music and dance on the stage on Cossington Recreation Ground. There will also be a performance of Ram Lila on Belgrave Road.

The big firework display starts at 20.30.

Travel: Broken down vehicle causing delays

There's queuing traffic on A563 Asquith Way westbound in Aylestone between the A5199 Welford Road junction and Pork Pie Roundabout.  

Also, the A594 Oxford Street in Leicester is partially blocked and there's slow traffic at the Carlton Street junction because of a broken down vehicle.

Council proud of revamped Diwali celebrations

Amy Woodfield

BBC Local Live

A nice story to tell you all about today, Diwali in Leicestershire.

I'm sure you'll have already seen the lights on Belgrave Road and this year's new addition to the festival - the big wheel.

Well city councillors are feeling quite proud of themselves, saying they're confident this year's Diwali celebrations have been improved.

Last year there was a lot of criticism claiming the festival had become boring and repetitive.

Weather: Dry start but turning cloudy

Charlie Slater

BBC Weather presenter

Dry and occasionally bright to start the day however things will cloud over this afternoon with some outbreaks of light rain. 

Breezy with highs of 15C (59F).

This evening will start cloudy but into the night the clouds will clear to leave a colder night with lows of 8C (46F).

Travel: City centre traffic light failure

Good morning: Join us for today's live news coverage

Amy Woodfield

BBC Local Live

Hello Leicestershire and a very happy Diwali.

I do love this time of the morning when the sun is still rising and the city still has a sleepy peacefulness about it.

I'll be looking after Local Live today and I'd love to hear from you. 

Whether it's a contribution to the day's news, sport, travel and weather, or maybe you just want to send me a pretty photo.