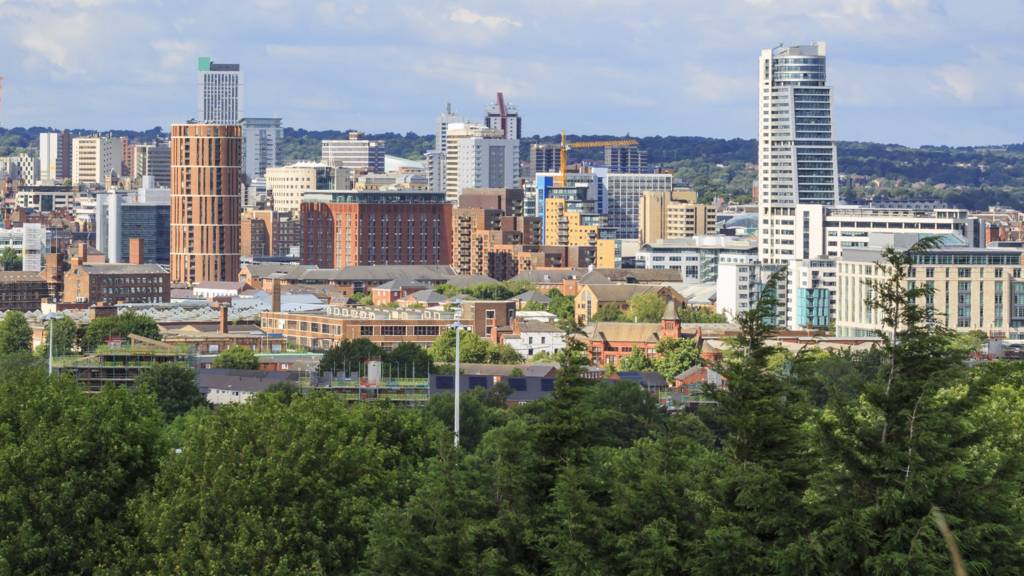 Election 2019: Leeds in focus
The spotlight's been on Leeds today with people telling us what they want from the election and from politicians in general.

We heard plenty about Leeds North West - one of the biggest student constituencies in the UK - and how key that could be on 12 December.

And more broadly, business leaders spoke about plans both Labour and the Conservatives have for moving power and focusing more spending on the north of England.

That was something on the minds of plenty of voters too, with several people talking of a need to improve transport in and around the city.

Better transport? More investment in your local area? Sound familiar? It could well be a familiar topic in the weeks to come.

Leeds 'an island in the north' when it comes to Brexit

Christian Fraser

BBC Journalist

A key fact about Leeds heading into this general election is that in the 2016 EU referendum the city delivered a near 50/50 split.

Copyright: Rui Vieira/PA Wire

It just shaded towards remain by 50.3%.

Leeds really is an island, or an oasis, here in the north when it comes to Brexit.

All other parts of West Yorkshire followed the national trend and backed leave.

Will students stick with Labour in Leeds North West?

James Vincent

Political Editor BBC Look North

Leeds North West is a really huge student area and I was there in 2017 when Labour leader Jeremy Corbyn made a bit of a surprise visit - students were hanging out of windows, up lampposts and up trees singing his name.

It's going to be really interesting to see what those students, obviously different students but students nonetheless, have to say this time.

Are they going to stick with Labour or is that Lib Dem message in the student area getting through?

In an area like Leeds North West, the Labour message is going to have to be very clear about what their policy is to get those students to vote for them again.

When are postal votes counted?

Jennifer Meierhans

BBC News Online

John Worker, 75, from Greater London used Your Questions Answered to ask: "When are postal votes counted, before or after the polling stations have closed?"

All votes are counted after the polling stations close at 22:00 GMT.

Staff deliver the ballot boxes containing postal votes and the ballot boxes from the polling stations to the count venue.

The returning officer must take reasonable steps to begin counting the votes before 02:00 GMT.

You can read about the counting process here.

People in Leeds have their say on transport in the city

Adam Smith

BBC Local Live, Yorkshire

I asked shoppers in Leeds what one thing which could change at the general election would improve life in the city.

Transport was a popular choice with Leeds' roads, rails and buses all coming in for criticism from potential voters.

Joshua Ritchie, 18, called for improvements to the city's roads.

He said: "I'm on my parents' car insurance and I can barely use it because the roads are so difficult.

"The other day, a 15-minute journey took me an hour, I was late for work and it was only my third day."

Brenda Nicholas, 75, was critical of the way the buses are ran in Leeds.

She said: "They don't turn up when they're supposed to or they get suddenly cancelled.

"You get the impression the people who are running them don't even know the city."

Harminder Chana, 27, called for improvements for both train passengers and car drivers.

"The trains are too infrequent and there needs to be better transport links for commuters.

"I'd like to see some cheaper parking in the city centre too – sometimes I pay £13 for three hours."

'Leaders don't just come for the tea and nice welcome'

Amy Garcia

Presenter, BBC Look North

Here in Leeds there are eight constituencies, five of which are held by the Labour Party and three by the Conservatives.

We're here in Leeds Central which has been held by Labour MP Hilary Benn since 1999, but the two neighboring seats of Morley & Outwood and Pudsey are key battlegrounds for the Tories and Labour.

In terms of the demographics there are huge differences across the city.

Here in Leeds Central for example, 80.7% of the population are under the age of 50, thanks of course to a large student population.

But if you head south to Morley & Outwood that number drops to 61.6%.

Because of those key battlegrounds, it's no coincidence that in past elections party leaders have come to Leeds to launch their manifestos.

They don't come just for the nice tea and the nice friendly welcome.

Leeds North West 'one of UK's biggest' student areas

Christian Fraser

BBC Journalist

With winter coats, brollies and sensible shoes, the volunteers are mustering here in the West Yorkshire drizzle as the ground war is under way.

Leeds North West is one of the key Labour marginals - they face a sizeable challenge here from the Lib Dems.

This constituency has one of the biggest student populations in the country.

Any student or former student from Leeds knows about the notorious pub crawl, the so called Otley Run, 16 pubs into the city centre.

It's a bit like the election campaign - it's long, it requires great stamina and no-one really knows where it's going to end, or at least I didn't.

But there's a serious point here. Student turnout, the final Thursday of term, in the run-up to Christmas, you better get 'em early.

Can someone look into how I voted?

Jennifer Meierhans

BBC News Online

Keith Wood Smith, 53, from Hemel Hempstead used Your Questions Answered to ask: "Why do election officials note the number of my voting slip against my name or vice versa? Can someone somewhere look into how I voted?"

Copyright: Keith Wood Smith

To prevent fraud and ensure that every person votes only once, each ballot paper carries a unique identification number as well as a unique official mark. At the polling station, each voter's voter registration number is checked off against the unique number on the ballot paper.

So, although UK elections are supposed to be secret, it is theoretically possible to link each vote to the person who cast it. However, it is illegal to do so.

After an election all ballot papers and connected paperwork are sealed and stored for a year, before being destroyed. They can only be opened by order of the House of Commons or the High Court.

'What one change would improve your life in Leeds?'

Adam Smith

BBC Local Live, Yorkshire

I asked shoppers in Leeds about the one thing which could change at the general election which they thought would improve life in the city.

Here's what they said:

Kada Bendaha, 47, said there should be better support for independent businesses.

He said: "It seems like there's more help for massive companies like Starbucks and Uber than for local businesses and it's a real struggle for them.

"Look at the market, that makes Leeds what it is but you see Sainsbury's opening just outside - that says it all really."

Jo Ramsden, 48, wanted something to be done about homelessness.

She said: "I just walked past a homeless guy and, while it's not as much of a problem in Leeds as in some other cities, it's still really shocking.

"I just hope something changes to make things more equal for everybody."

Umair Shaikh, 26, works in property, he said he was concerned about rental prices in the city.

"It's getting ridiculous - the prices are increasing and they need to do something about it.

"A lot of the property developments are for students but that doesn't help working professionals."

Chi Chi Izundu stops for a cup of tea with students in Leeds as she answers their general election 2019 questions.

'I'm getting my student friends to register to vote'

With the election looming, there has unsurprisingly been an upsurge in the amount of people registering to vote.

But for many students, polling day falls at a tricky time where their university term ends and their Christmas holiday begins.

One University of Leeds student says she's been "a keen friend" encouraging fellow students to sign up to vote.

Emma Jacobs said: "I think it's incredibly important that they get involved and I think they shouldn't waste their opportunity.

"It's super easy to register and only takes four or five minutes.

"You only need a few bits of information including your name, your national insurance number, your nationality, your address and your date of birth."

Leeds flood delays may cost politicians more than money

Kevin Larkin

Political reporter, BBC Radio Leeds

It's raining heavily in Leeds today.

That causes a lot of people to look nervously at the River Aire which runs through our city.

Leeds was badly affected by the Boxing Day floods in 2015 caused by Storm Eva with businesses and homes in the Kirkstall area seeing a lot of damage which it has taken them years to recover from.

At the time, the then Environment Secretary Liz Truss said the government was "committed" to giving Leeds the defences it needs.

New flood defences are being built but they wouldn't have prevented the 2015 floods and local politicians have been calling on the government to help the council fund a higher level of protection.

A year ago, in a rare show of cross-party unity - all of the city's then MPs and party leaders on the city council went to London to try and convince then Flooding Minister Therese Coffey to provide government help fund the better scheme.

So far they have failed.

If the heavy rain causes Leeds to flood again, the government is likely to find itself trying to answer awkward questions about why the city wasn't better protected.

Why is Leeds so key in this election?

James Vincent

Political Editor BBC Look North

As part of the BBC's election coverage, a number of key towns and cities have been selected that could decide who wins the upcoming general election.

In Leeds, we have some constituencies where if you win them, invariably you win the election.

Some of those key seats like Pudsey where there is a majority of just 331.

If you go out along the M62 corridor towards Keighley, 249 votes were the difference leading to Labour gaining from the Conservatives last time out.

Seats like that hold the key to the national election result - it's no surprise that we've seen parties launch their manifestos in West Yorkshire.

I'm an EU National - can I vote?

Chris Carter, 27, from Bradford used Your Questions Answered to ask:

"I am an EU national and I have been granted settled status under the EU Settlement Scheme. Can I vote?"

The answer is no. EU citizens cannot vote in a general election unless they have dual nationality.

Opposition parties failed in a bid to allow EU citizens with settled statuses to vote in the election.

Live from Leeds: Tales from the doorstep

BBC Radio 5 Live tweets...