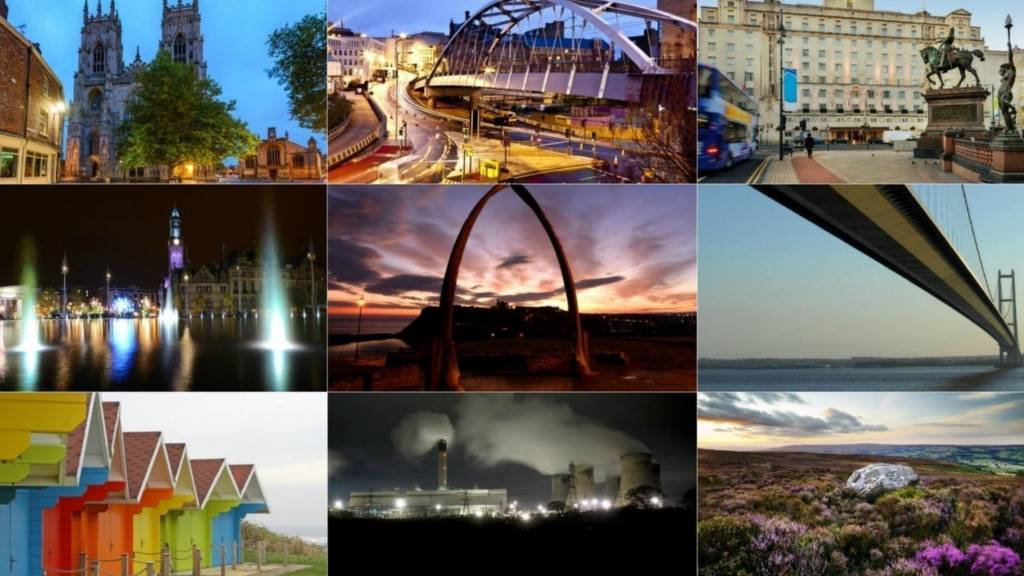 Summary
Ex-education boss from Sheffield jailed over sex assaults
Two charged with attempted murder after firearms discharge in Bradford
Joey Barton "emphatically denies" allegations he assaulted Barnsley boss
Car's occupants flee scene following Bradford minibus crash
Five arrests after suspected drugs and £150k seized in Sheffield
Hull river search for body ends in 'BFG' dummy discovery
No more strikes at Sheffield school after dispute resolved
Teenager treated in hospital for leg injuries after shooting in Sheffield
'Piranhas' found in Doncaster fishing lake
Beavers are focus for new anti-flooding trial near Pickering
Click on 'Related Stories' for county-specific updates
Live updates on Thursday 18 April 2019
Man jailed for M62 wrong-way death crash

A man who drove the wrong way up a sliproad on the M62, killing two men when their vehicles collided, has been jailed.

Taryl Moxam, 23, from Barlborough, was driving in the wrong direction when he smashed into another vehicle on the exit slip at Chain Bar, Bradford on 3 April 2018.

Adam Afsar and Jason Wilby from Dewsbury were killed at the scene.

Bradford Crown Court heard how Moxam was sentenced to nine years and four months in jail.

Judge David Hatton QC said it was "a grotesque piece of driving".

Hull river search for body ends in 'BFG' dummy discovery

A major search operation for a body reported to have been seen in the River Hull ended with a giant "BFG" dummy being pulled out of the water.

Copyright: HULL COASTGUARD RESCUE TEAM

Police said they had received reports of a body in the river, close to North Bridge in Hull, on Wednesday lunchtime.

A helicopter scoured the area for hours and an "object matching the casualty's description" was located, the Hull Coastguard Rescue Team said.

"On recovery it turned out to be a dummy," the coastguard said.

"All teams were stood down and returned to their respective stations."

Severe disruption: M18 South Yorkshire northbound

BBC News Travel

M18 South Yorkshire northbound severe disruption, from J1 for A631 Bawtry Road to J2 for A1.

M18 South Yorkshire - One lane closed and slow traffic on M18 northbound from J1, A631 (Bramley) to J2 A1(M) Doncaster By Pass J35, because of a broken down vehicle.

To report traffic and travel incidents dial 0330 123 0184 at any time

Local election voter ID trial held in Craven

Voters in part of North Yorkshire will have to bring identity documents to the polling station in next month's council elections as part of a trial scheme to combat potential voter fraud.

Craven is one of 10 areas of England taking part in the pilot, with voters required to show either one piece of photo ID or two forms of non-photo ID.

The government says it's part of an ongoing process to ensure vote security, but a similar trial last year saw hundreds of people refused a ballot paper.

'Piranhas' found in Doncaster fishing lake

Tests are being carried out on two suspected piranhas found dead in a South Yorkshire fishing lake.

The razor-toothed fish were found by local anglers at Martinwells Lake at Edlington, near Doncaster, a popular walking and fishing spot.

Experts said it was virtually impossible for piranhas to survive in cold English open water.

Doncaster Council, which owns the lake, said the fish may have been pets which had been dumped in the water.

A spokesman for the authority said the dead fish have been taken for examination.

Roger Dodds abuse: Ex-council manager sentenced

An ex-council education boss from South Yorkshire who sexually assaulted seven teenage boys in his office has been jailed for seven years.

Copyright: South Yorkshire Police

Roger Dodds, 83, forced young students to engage in sex acts in order to secure grant payments while working for Sheffield City Council between 1974 and 1980.

Sheffield Crown Court heard many of the victims felt "powerless" to stop Dodds for fear they would not get the funding.

Dodds, formerly of Cotswold Road, Sheffield, was jailed after admitting 14 counts of indecent assault.

He was previously jailed for 16 years in February 2017 for similar offences against five other individuals.

Judge Sarah Wright ordered that the sentences would run consecutively.

She said: "The impact of you offending on these men, their families and their loved ones has been devastating. Each has clearly suffered psychological harm and will continue to suffer throughout their lives as a result of what you did.

"You targeted and abused them at a time of their lives when they were just setting out on adulthood and at a time of great opportunity in their lives, but what you did has blighted that forever.

"You have left a trail of sadness and devastation in very many people's lives."

Car occupants flee scene following Bradford minibus crash

Police are searching for two men who fled the scene of a crash involving a minibus in Bradford.

A blue Ford Focus and a Mercedes minibus collided on Upper Castle Street at about 15:30 on Thursday 11 April.

Two men who were in the Ford ran towards the nearby children's park.

No-one was injured in the incident.

PC Jon Moss said: "This could easily have been more serious as the impact between the vehicles was significant.

"I am appealing for anyone who witnessed the collision, or anyone with dash cam footage, to make contact with me."

Have you seen missing Barnsley man Kevin Parton?

Police officers are trying to find a missing 31-year-old man from Barnsley.

Copyright: South Yorkshire Police

Kevin Parton, from Royston, was last seen at his mother's address in Cudworth in the early hours of Monday morning.

He was later caught on CCTV at 01:13 in Goldthorpe.

His family is growing "increasingly concerned" for his welfare, police say.

Mr Parton is described as being about 5ft 4ins with blonde hair.

Snooker Championship: O'Sullivan draws amateur Cahill

Five-time snooker world champion Ronnie O'Sullivan will face amateur James Cahill in the first round of the World Championship at the Crucible in Sheffield.

Blackpool's Cahill, 23, came through three rounds of qualifying to become the first non-professional to appear in Sheffield.

His reward is a plum tie against the world number one.

The Sheffield-based tournament begins on Saturday, live across BBC TV, radio and online, with the winner collecting a record £500,000 in prize money.

Leeds peddles idea of hire bike scheme

Local Democracy Reporting Service

A fleet of public hire bikes could soon be on the streets of Leeds as the city council looks for a company to run the sharing service.

Attempts to reach a partnership with Chinese company ofo failed at the 11th hour.

The authority says it is now speaking to a number of other companies to kick-start the scheme.

Bikes are rented with card payment and then left at the nearest "docking station" to the rider's destination.

Approval has now been given to formally tender the scheme and seek a company to run the service.

York bridge re-opens after multi-million pound refurb

A bridge crossing the River Ouse in York is due to re-open to the public later after major work on it was carried out.

Copyright: City of York Council

It's been closed since January while more than £4m was spent widening it for pedestrians and cyclists and making it accessible when the river is in flood.

The previous bridge carried more than 3,000 pedestrians every day, City of York Council said.

The re-opening had previously been delayed due to poor weather.

Bells to ring out in Hull in Notre-Dame solidarity

Hull Minster's bells are to toll this evening in solidarity with France, following the fire which ripped through the Notre-Dame cathedral in Paris on Monday.

The Archbishop of York, John Sentamu, has asked all cathedrals and churches across England to toll their bells for seven minutes at 19:00.

Bells from a Roman Catholic cathedral in Sheffield rang yesterday with the hope Notre-Dame's bells "will one day ring out over Paris and a fully restored cathedral".

Five arrests after suspected drugs and £150k seized

Five men have been arrested after suspected Class A drugs and £150,000 in cash were seized in a police raid in Sheffield.

Copyright: SOUTH YORKSHIRE POLICE

The search was carried out in two properties on Sharrow Lane on Tuesday.

Three men in their twenties were arrested on suspicion of possessing Class A drugs.

Tests are being done to establish what the drugs are.

Two men, aged 29 and 34, were arrested on suspicion of money laundering.

Sgt Ross Greenwood said: "We want to be clear, to our communities and to those involved in organised crime, that our efforts are going to be relentless in disrupting criminal activity."

Scarborough tops holiday booking boom list

Holiday rental company Airbnb says it's seen a 300% increase in bookings for Scarborough this year compared to last Easter.

Airbnb allows homeowners to rent out their properties to willing holidaymakers.

It's the biggest jump of anywhere in the UK, with Sheffield sixth on the list.

Airbnb says it thinks the rise is down to a later than usual bank holiday weekend and some better weather.

Luddenden Foot crash: Road closed

The A646 in Luddenden Foot will be closed for most of this morning following a collision.

Police are currently at the junction of Burnley Road and Warley Wood Avenue:

Joey Barton 'emphatically denies' Barnsley allegations

Fleetwood Town manager Joey Barton says he "emphatically denies" allegations that he assaulted Barnsley boss Daniel Stendel at Oakwell.

Police are investigating an alleged altercation which took place when the two sides met on Saturday.

A man has been arrested on suspicion of a racially aggravated public order offence and racially aggravated assault and released on bail.

Bradford shooting: Two men charged with attempted murder

Two men have been charged with attempted murder after a man was seriously injured when a firearm was discharged in Bradford.

The incident happened on 14 April at Grayswood Cresent.

Nicholas Beck, 30, of Dawnay Road, is also charged with possession of an offensive weapon.

Meanwhile, John Wilkinson, 28, of Grange Terrace, Allerton, is also charged with possession of a shotgun.

Both men are due to appear before Bradford Magistrates' Court later.