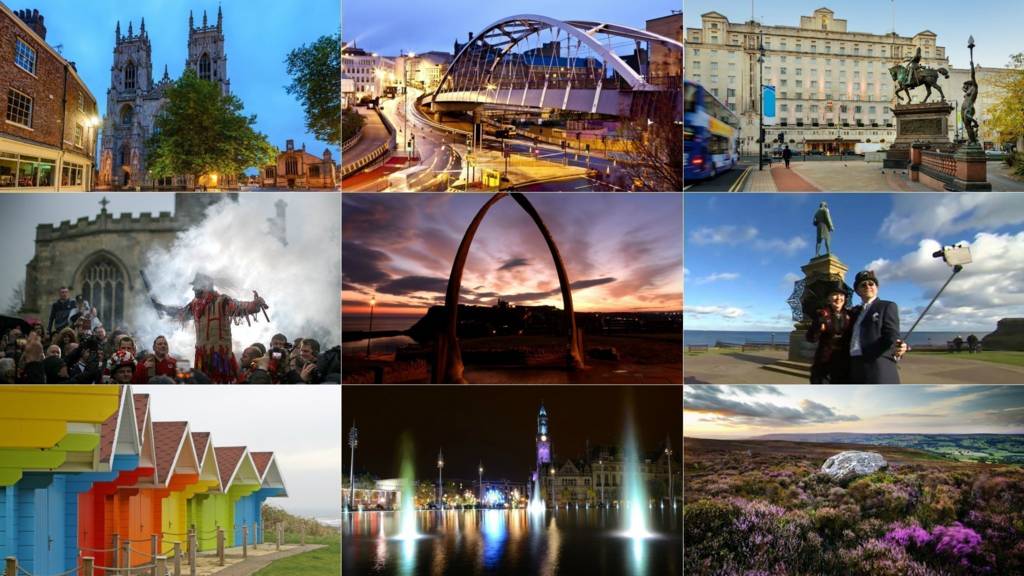 That's all from Tuesday...

Those are all our updates from across Yorkshire on Tuesday 12 December 2017.

Want to find out what's happening where you live on Wednesday 13 December? Just click here.

By Thomas Mackintosh

BBC News, London

By Neil Johnston

BBC Sport

Severe disruption: M1 West Yorkshire southbound

BBC News Travel

M1 West Yorkshire southbound severe disruption, at J45 for A63 Pontefract Lane.

M1 West Yorkshire - M1 entry slip road closed southbound at J45, A63 (Leeds Cross Green), because of emergency repairs.

To report traffic and travel incidents dial 0330 123 0184 at any time

Severe accident: M1 Derbyshire northbound

BBC News Travel

M1 Derbyshire northbound severe accident, between J30 for A616 and J31 for A57 Sheffield.

M1 Derbyshire - One lane closed and heavy traffic on M1 northbound between J30, A616 (Worksop) and J31, A57 (Sheffield), because of an accident.

To report traffic and travel incidents dial 0330 123 0184 at any time

Our five top stories today

That's all from us for today, we'll be back tomorrow from 06:30 with all the latest news, sport, weather and travel for Yorkshire.

Updates on breaking news will continue throughout the night, but before we go, let's look back at some of our top stories from today:

See you tomorrow.

Children create Dearne Valley artwork

Children from Barnburgh Primary School in Doncaster have taken up hammers and chisels to help carve a stone seat sculpture which will sit alongside the River Dearne.

They've been taking part in an major project where artists have teamed up with the local community to create a series of artworks that say something about the area.

The sculpture will reflect the changing biodiversity of the River Dearne and will depict the effect that industrialisation has had on the river both physically and biologically.

The carved stone will include cast glass and ceramic elements developed through community workshops.

Sheffield primary school strike called off

Strike action planned at a primary school in Sheffield tomorrow has been called off.

Teachers in the National Education Union at Westways primary in Crookes had proposed a fourth day of action in protest at changes to the curriculum and working practices following the introduction of an executive headteacher.

After a meeting last night - they say good progress was made - they've now called off tomorrow's strike.

'More choice and competition' good for York taxi customers

A decision is due later on whether the taxi hailing service, Uber, can have it's license in York renewed.

The city's taxi drivers have been holding a demonstration this afternoon, because they're unhappy Uber drivers who work in other areas are coming into York at busy times.

In a statement Uber says: "Thousands of people in York have used the Uber app over the last year to travel safely from A to B.

"More choice and competition is good for both consumers and drivers, as it raises service levels across the board."

The demonstration is taking place outside West Offices, where councillors are meeting to discuss Uber's licence to operate in York.

It comes after Sheffield City Council decided to suspend Uber's licence, a move the company says it will appeal against.

Motorway service station plan for Doncaster farmland rejected

A new motorway service station for the A1(M) near Marr in South Yorkshire has been turned down by Doncaster Council.

The proposed development, on an area which is currently farmland, would have been built at Junction 37 and would have space for about 560 cars, according to motorway services provider Moto.

It's claimed that when fully open, a service station could bring about 200 new full-time jobs to the area.

Objectors to the scheme from local villages of Marr, Barnburgh and surrounding areas attended the meeting and welcomed the decision to refuse planning permission.

Listen: If the Shoe Fits - Bradford's first Muslim panto

The curtain goes up on Bradford's first ever Muslim panto today.

Comedian, Abdullah Afzal, from the BBC sitcom, Citizen Khan, is starring alongside a family of seven in "If the Shoe Fits: The Great Muslim Panto."

Abdullah says the festive season is very much part of everyone's culture and a great way of showing Muslim integration:

Man jailed for 15 years for robbery at elderly woman's home

A convicted criminal who was out of jail on life licence has been sent back to prison for 15-and-a-half years after pleading guilty to robbery at an elderly woman's home in Sheffield.

Copyright: South Yorkshire Police

David Tomlinson, 40, of HMP Marshgate, appeared before Sheffield Crown Court today for sentencing after pleading guilty to robbery last week.

In June 2017, Tomlinson threatened an 89-year-old woman with a brick at her home on Lees Hall Road, Norton and demanded money from her.

DC Yvonne Fairbrother, from Sheffield's Performance Crime Team, said: "Tomlinson subjected this elderly woman to a terrifying ordeal and she genuinely believed she would come to serious harm if she didn't comply with his demands for money.

"Tomlinson is a prolific, dangerous individual who was on life licence after serving previous sentences for similar offences, so I'm pleased he is now behind bars for a significant period of time."

University of Leeds students get early Christmas presents

Christmas has come early for music students at the University of Leeds - a load of new pianos:

Twenty-seven brand new top quality Steinways have been delivered this morning.

The prestigious instruments mean Leeds has become the only Russell Group university to achieve the All-Steinway School status.

The head of the School of Music even went to the factory in Germany, to see them being built!

Child rapist from Leeds sent boy Facebook messages and made him 'feel like he wanted to kill himself'

A pervert who raped and committed a series of sex offences against a boy over a period of five years has been given a 15-year sentence.

Copyright: Yorkshire Evening Post

Travel update: Ice warning

Light Fantastic - Bagby bulb bonanza

Sarah Urwin

Political Reporter, BBC Radio York

At this time of year your senses can occasionally be overcome by a twinkling sight, set up by people who love the festive season so much, they cover their entire houses in thousands of Christmas lights.

I spotted these this morning at the Marshall household in Bagby, near Thirsk, in North Yorkshire.

It took me a while to actually make out where the house is among all the sparkle!