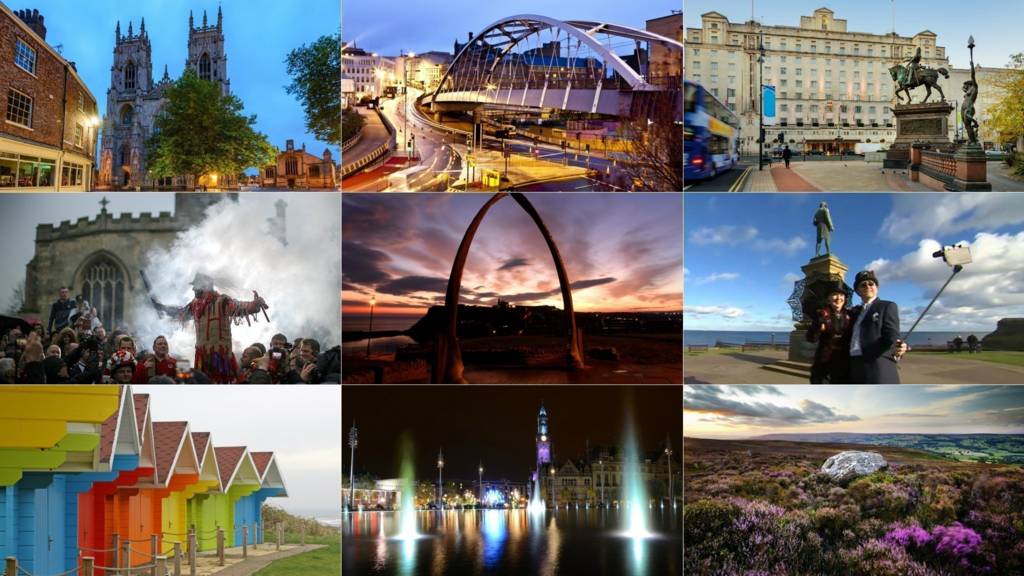 Severe disruption: M1 West Yorkshire southbound

BBC News Travel

M1 West Yorkshire southbound severe disruption, at J45 for A63 Pontefract Lane.

M1 West Yorkshire - M1 exit slip road closed southbound at J45, A63 (Leeds Cross Green), because of resurfacing work.

To report traffic and travel incidents dial 0330 123 0184 at any time

Severe accident: M1 West Yorkshire southbound

BBC News Travel

M1 West Yorkshire southbound severe accident, between J41 for A650 and J40 for A638 Ossett.

M1 West Yorkshire - Stationary traffic on M1 southbound between J41, A650 (Carrgate) and J40, A638 (Ossett), because of a rolling road-block and an accident involving one car.

To report traffic and travel incidents dial 0330 123 0184 at any time

Severe accident: A58 West Yorkshire both ways

BBC News Travel

A58 West Yorkshire both ways severe accident, between A659 Wattle Syke and A661 Boston Road.

A58 West Yorkshire - A58 Wetherby Road in Wetherby closed and heavy traffic in both directions between the A659 Wattle Syke junction and the A661 Boston Road junction, because of an accident.

To report traffic and travel incidents dial 0330 123 0184 at any time

Our top five stories today

That's all from us for today, we'll be back tomorrow from 06:30 with all the latest news, sport, weather and travel for Yorkshire.

Updates on breaking news will continue throughout the night, but before we go, let's look back at some of our top stories from today:

See you tomorrow.

Yorkshire MP asks questions about rail funding

Yorkshire and the Humber isn't getting its fair share of funding for train services, according to the MP for Bradford South.

In the Commons, Labour's Judith Cummins questioned why more money hadn't been allocated in last month's Budget.

She said: "The Yorkshire and Humber region was not allocated any more funding in the autumn budget as part of the Northern Powerhouse and there is clear evidence of under funding on the network across this region."

However the Northern Powerhouse Minister Jake Berry insisted the government is investing in infrastructure in the North of England.

Occupants cut free from car after crash with lorry on M1 near Sheffield

The occupants of a car had to be cut free by firefighters after a collision with a lorry on the M1, near Sheffield.

Copyright: Sheffield Star

Watch: Hotel plans for Sheffield Central Library site

Tom Ingall

Journalist, BBC Look North

The BBC has seen a draft document of plans to build a 30-storey tower block next to Sheffield's Central Library.

A year ago, Sheffield City Council told us it was working with a Chinese developer who wanted to convert the central library into a five star hotel.

I've seen the plans:

Severe accident: M62 West Yorkshire eastbound

BBC News Travel

M62 West Yorkshire eastbound severe accident, at J29 for M1 affecting J27 for M621.

M62 West Yorkshire - One lane closed and very slow traffic on M62 eastbound at J29, M1 (Lofthouse), because of an accident involving single vehicle. Congestion to J27, M621 (Gildersome).

To report traffic and travel incidents dial 0330 123 0184 at any time

Woman dies after lorry crash

An elderly woman has died after she was hit by a lorry in a part of Sheffield.

It happened at 10:25 this morning on Ringinglow Road to the west of the city.

Ambulance crews pronounced the woman dead at the scene and she has not been formally identified by police.

The road was closed for about five hours. The lorry driver was not injured.

Priest 'tried to control' abuse inquiry

Police raised concerns that the head of a Roman Catholic boarding school tried to "control" a child sex abuse investigation, an inquiry has heard.

A former North Yorkshire detective said officers were "excluded" from inquiries at Ampleforth College in 1995 and 2002.

But former head teacher Father Leo Chamberlain denied influencing a boy's parents during a phone call in 1995.

He told the Independent Inquiry into Child Sexual Abuse there had been "no skulduggery".

The Catholic Church is one of 13 public organisations being scrutinised by the inquiry, which is being headed by Prof Alexis Jay.

Travel update: Lorry causing problems on Leeds ring road

This will be causing some problems in the north-east of the city, and it's only set to get busier as we head into the rush hour:

Leeds woman knocked to the ground and robbed by masked men

Do you know this man?

Police want to speak to him after a woman was robbed of a watch and her handbag.

Copyright: West Yorkshire Police

It happened in Roundhay on 18 November when the 57-year-old woman was walking to her car.

A grey Audi A5 pulled up and two masked men came up to her on Street Lane and kncoked her to the ground.

They tried to take rings from her fingers but couldn't, so they took a Rolex watch from her wrist and her handbag before getting back in the car and leaving.

The woman was left with injuries on her face and wrist.

People needed to check on police custody in North Yorkshire

Allan Watkiss

BBC Radio York, News

There's a call for volunteers to become Independent Custody Visitors.

As well as prisoner welfare, they also check on custody conditions and police behaviour.

Copyright: North Yorkshire Police

The Police and Crime Commissioner is recruiting volunteers for the Scarborough, Harrogate and York areas.

Find out more about what's involved and how to apply.

Quote Message: Independent Custody Visitors are an important part of holding policing to account locally. If you are interested in helping your community and want to volunteer, please consider this unique role." from Julia Mulligan Police and Crime Commissioner for North Yorkshire

UK Snooker Championship 2017: Graeme Dott knocks out Judd Trump

World number two Judd Trump's UK Championship run ended in round three as Graeme Dott won six frames in a row to earn a shock 6-2 win.

The 28-year-old's exit means the world's top three are out, following defeats for Mark Selby and Ding Junhui.

Dott, the world number 30, responded magnificently after a blistering start saw Trump knock in breaks of 93 and 78.

The Scot, 40, rattled in five breaks of more than 50 to get over the line and barely missed a ball.

Loud 'roaring' heard across north west Leeds

Nick Wilmshurst

BBC Yorkshire Live

Last night a very mysterious and loud roaring sound could be heard across parts of north-west Leeds.

As always people took to social media:

It did sound very much like a plane landing at the airport, but went on for more than a minute - which is very long for that type of noise.

So what was it? I called Leeds Bradford Airport to find out.

This is the response I got - "it was just a routine engine test."

So now you know!

People in Barnsley and Doncaster vote on devolution

Kevin Larkin

Political reporter, BBC Radio Sheffield

Voting slips have been going through doors in Barnsley and Doncaster as the two areas decide which devolution deal to accept.

Copyright: GEOGRAPH/JTHOMAS

People will be asked to choose whether decision making powers should be transferred locally to the South Yorkshire based Sheffield City Region or to a wider Yorkshire proposal known as One Yorkshire.

While not legally binding, the councils say they will respect the result.

The government has repeatedly stated that a wider Yorkshire option cannot progress until the South Yorkshire deal is completed and that a Mayor for South Yorkshire will be elected next year.

The result of the community poll will be announced on the 21st December.

You can get a look at the Barnsley and Doncaster leaflets as well as more information about the Sheffield City Region deal here.