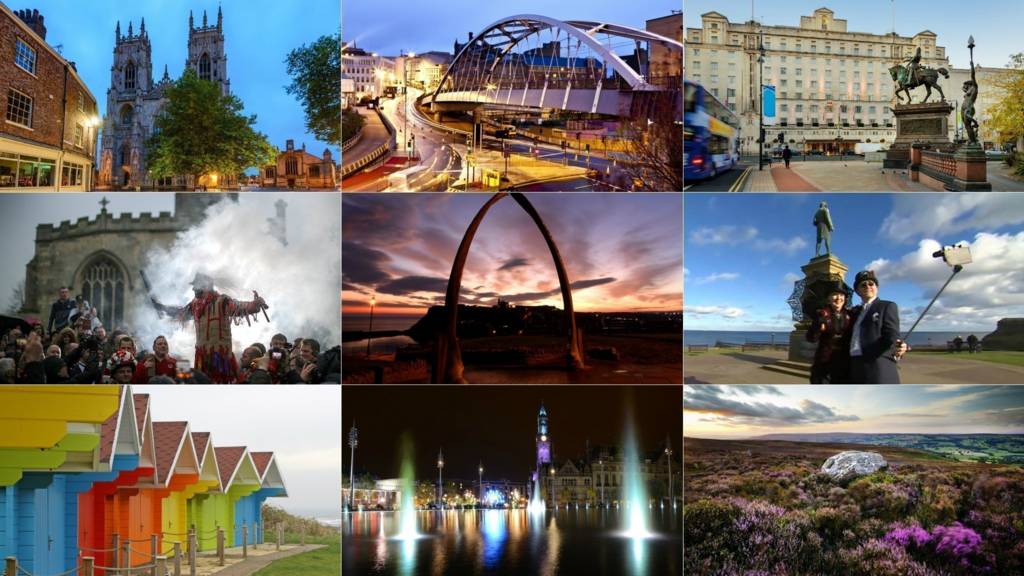 Keep up with the news on Wednesday

That's all for our coverage on Tuesday, if you want to keep up to date with the news, sport, travel and weather across Yorkshire on Wednesday, then click here

Five things we learned on Tuesday

That's almost as far as we go today - more news, sport, weather and travel updates will appear through the evening and night.

Don't forget to come back tomorrow from 06:30 when we'll have all the news, sport, weather and travel from where you live.

Meanwhile, here are five of our best from the day's stories:

Claims rail fares in Yorkshire have risen twice as quickly as wages

The TUC in Yorkshire is claiming rail fares in the region have risen over twice as fast as wages in the last 10 years.

The Union says the latest increase announced from next January - averaging 3.6% - is the biggest in five years.

The rail industry insists the extra revenue will be invested in improving services, but the TUC says its own research shows UK commuters spend up to six times as much of their salary on fares as other European passengers.

Quote Message: It's quite clear in our privatised rail network that passengers are paying more for less." from Mick Cash General Secretary for the RMT Union

Severe accident: A653 West Yorkshire southbound

BBC News Travel

A653 West Yorkshire southbound severe accident, around A61 East Street.

A653 West Yorkshire - Very slow traffic on A653 Crown Point Road southbound in Leeds around the A61 East Street junction, because of an accident earlier on. All lanes have been re-opened.

To report traffic and travel incidents dial 0330 123 0184 at any time

Sheffield college to admit younger students from September

Sheffield's University Technology College will be able to admit younger students from next year.

The Department for Education has approved plans to allow 13-year-olds to study at the college.

The state funded school says young people progress noticeably when they start at the UTC.

The man who was awarded the George Medal for trying to stop the murder of MP Jo Cox died on Monday.

Update: incident at Dewsbury railway station

Police are investigating a suspected stabbing in Dewsbury, after an injured man was found at the railway station this afternoon.

The incident is thought to have taken place in the town centre, near to the train station on Wellington Road.

The man's injuries are not thought to be life-threatening.

Police and Crime Commissioner won't oversee fire authority

North Yorkshire County Council's executive has confirmed it doesn't support plans for the running of the fire authority to be taken over by North Yorkshire's Police and Crime Commissioner.

Julia Mulligan wanted a model which would allow her to oversee the two emergency services, claiming it would save nearly £7m over the next decade.

The Council has instead recommended a different way, saying Mrs Mulligan can become a member of the Fire Authority, but not run it.

Hebden protester's Palestine posters campaign

A protestor in Hebden Bridge is taking on Calderdale Council over her rights to demonstrate in the town square.

Chris Drake campaigns about Palestine, using graphic images of injured children as part of her silent protest.

The authority's told her she can't put her posters on council property including bins, lamp posts and the public highway, which includes the paving-slabs of the square itself.

Chris Drake claims that's unfair and that she is willing to go to jail if she is moved on.

Breaking

Incident at Dewsbury railway station

We are getting reports of a police incident at Dewsbury railway station.

Police are at the scene and trains are not stopping at the station.

More as we get it.

Further funds for Manchester bomb victims' families

The five families from Yorkshire who lost loved ones in the Manchester Arena bombing have been told they're eligible for more money from a fund set up after the tragedy.

The We Love Manchester Emergency Fund has announced they can each claim a further £180,000, on top of the £70,000 already being awarded.

The Fund has has so far raised £18 million, with donations still coming in for the 22 people who were killed.

Among those who died in the attack were:

Wendy Fawell, 50, from Otley, who had travelled with her friend Caroline and their children to the Manchester Arena.
Angelika and Marcin Klis from York who were who in the area waiting to pick up their children from the concert at the arena.
Fourteen-year-old Leeds schoolgirl Sorrell Leczkowski who had travelled to Manchester with her family, though it's understood she did not attend the concert.
Kelly Brewster, 32, from Sheffield who died as she tried to protect her niece from the explosion at the concert.

Watch: On this day in 1987 Scarborough FC made the national news

Scarborough Athletic FC played in its home town for the first time in a decade last month, when its new Flamingo Land stadium opened.

The club was formed after Scarborough FC went out of business with debts of £2.5m. It is jointly owned by about 350 supporters.

But on this day 30 years ago, in 1987, Scarborough FC made the BBC's national news, when they were the first side promoted into the Football League:

Do not approach wanted man, say police

Police say a man who failed to attend court is now wanted by police and should not be approached.

Jack Holland, 20, of Park View, Maltby, was due in court charged with robbery, but failed to turn up.

He is described as white, of slim build and with dark hair.

Anyone who knows where he is or can help is asked to call 999.

Copyright: South Yorkshire Police

Watch: Billy, 8, running for charity despite painful condition

The thought of running 26 miles brings me out in hot sweats and a side stitch.

But for eight-year-old Billy from Sheffield, it's a challenge he's attacking head on.

Billy has Prader-Willi syndrome which makes movement painful, but he's determined to finish the challenge.

Body found on tracks at Skipton

A body was found on the line at Skipton railway station this morning.

British Transport Police attended the scene after receiving reports shortly before 08:00 of a body on the line.

Officers are working to identify the body, but the circumstances are not thought to be suspicious.