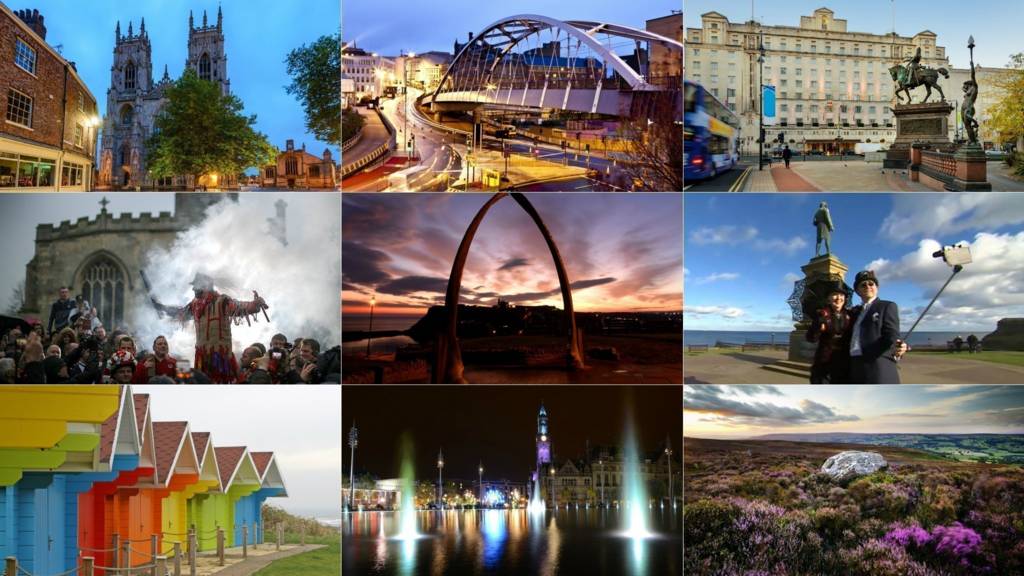 Severe accident: M1 South Yorkshire southbound

BBC News Travel

M1 South Yorkshire southbound severe accident, between J33 for A630 Catcliffe and J32 for M18.

M1 South Yorkshire - One lane closed on M1 southbound between J33, A630 (Catcliffe) and J32, M18 (Thurcroft), because of an accident.

To report traffic and travel incidents dial 0330 123 0184 at any time

Severe accident: M62 West Yorkshire eastbound

BBC News Travel

M62 West Yorkshire eastbound severe accident, between J28 for A650 and J29 for M1.

M62 West Yorkshire - Slow traffic and three lanes closed on M62 eastbound between J28, A650 (Tingley) and J29, M1 (Lofthouse), because of an accident.

To report traffic and travel incidents dial 0330 123 0184 at any time

Severe accident: M18 South Yorkshire southbound

BBC News Travel

M18 South Yorkshire southbound severe accident, between J2 for A1 and J1 for A631.

M18 South Yorkshire - M18 closed southbound between J2 A1(M) and J1, A631 (Bramley), because of an accident involving three vehicles earlier on. Diversion in operation - Follow the Signs with the symbol of a Hollow Diamond.

To report traffic and travel incidents dial 0330 123 0184 at any time

Five things we learned on Monday

Four-year-old Toby Nye, who has stage four neuroblastoma, received a surprise visit from a group of superheroes.

Watch: Sheffield celebrations during Pakistan Independence Day

Rob Rose

BBC Radio Sheffield

It's Pakistan Independence Day today, 70 years after British rule in India came to an end.

The country partitioned into two independent nation states: Hindu-majority India and Muslim-majority Pakistan.

Members of the Pakistani community have been holding celebrations today - including outside Sheffield City Hall.

Members of the Indian community will be holding their celebration tomorrow.

Keys handed over as high speed rail college is finished

Building work has finished on the National College for High Speed Rail (NCHSR) in Doncaster.

Mayor Ros Jones handed the keys over, before the college opens to students in September.

The NCHSR will teach students about projects such as HS2, with some of the work coming from the college.

Man seriously injured in street attack

Detectives in Calderdale are asking for the public's help after a man was seriously injured in Brighouse.

Police were called to reports of ongoing disorder on St John Street in the town yesterday at 14:00.

Officers found a man in his 30s who has been assaulted and suffered a "slash" wound.

He is currently in a stable condition in hospital.

A 27-year-old man was arrested on suspicion of violent disorder and has been released pending further enquiries.

A 25-year-old man has been arrested today in connection with the incident and remains in police custody.

A police spokesman said: "Enquiries are ongoing in to what is believed to be an isolated incident between parties known to each other."

Man taken to hospital after Doncaster machinery fire

A man was taken to hospital with burns after a machine at a glass factory caught fire on Saturday morning.

Four fire crews were called to Ardagh Glass Limited in Wheatley, Doncaster just after 07:00 to a machine on fire.

The flames had also spread to the roof area of the building.

The accidental fire was put out and firefighters left the scene at 10:00.

Scarborough man grabbed by throat and spat at after pleasure cruise

A Scarborough man's been repeatedly spat at and grabbed around the throat by a group who were littering.

The 36-year-old victim was with his wife and two children, when he confronted the men after disembarking the Regal Lady cruiser, on Burr Bank, at about 17:30 on Saturday afternoon.

Copyright: North Yorkshire Police

Officers want to speak to the men in the CCTV images in relation to the incident.

Did you see Bradford hit-and-run?

A man was left with a broken wrist after a hit-and-run in Bradford.

The collision is thought to have happened at about 11.30 on Saturday, 12 August in North Avenue, close to the traffic lights outside Beacon House in the Manningham area.

The car, believed to be a bright red Fiat Punto or Ford Fiesta with scratches to the hub caps, turned into Cunliffe Road after hitting the 26-year-old.

Dentistry student appears in court on terror charges

A dentistry student charged with seven terror offences is to be tried at the Old Bailey.

Abdurahman Kaabar, 22, of Martin Street, Sheffield, is charged with three offences of possessing records of a kind likely to be useful to a person committing or preparing an act of terrorism, and four offences of disseminating terrorist publications.

He was arrested on August 10 and has been in custody since.

Thickly bearded Kabaar, wearing a dark blue T-shirt and bottoms with flip-flops, remained expressionless throughout the Westminster Magistrates' Court hearing.

Kaabar, a UK citizen of Libyan descent, was studying at Plymouth University, according to court documents.

He is to appear at the Old Bailey on 1 September.

Kaabar intends to plead not guilty to the charges, defence lawyer Sav Khan said.

Bail was not granted.

Fire crews carry out major railway accident exercise in Barnsley

Fire crews from South Yorkshire have taken part in a training exercise testing their response to a incident at Elsecar Heritage Railway, near Barnsley.

It was done to test out what would happen in the event of a major incident, like a car getting stuck across the rails.

Copyright: South Yorkshire Fire and Rescue

"Casualties" included passengers on the train, and a 27st training dummy, to simulate a morbidly obese person.

Copyright: South Yorkshire Fire and Rescue

South Yorkshire Fire and Rescue said it specifically focused on the station's procedures for contacting the emergency services and for dealing with an incident before and during the arrival of the fire service.

Police appeal for witnesses after sex attack in York

Police are asking for the public's help to identify the people pictured below.

The people in the pictures, snapped walking along Riverside Walk towards Lendal Bridge, may be witnesses to a sex assault - but may not be aware that they possess potentially important information.

A woman was assaulted as she walked along the riverside path between Bridge Street and the Park Inn in York between 00:30 and 00:45 on Saturday, 15 July.

A man in his 30s has been charged with sexual assault following the incident and appeared in front of magistrates in York last month.

Copyright: North Yorkshire Police

Copyright: North Yorkshire Police

Copyright: North Yorkshire Police

Hammer gang attack cash van

An armed gang attacked a van carrying cash as it called at petrol station in Leeds.

Three men damaged a G4S security van with a hammer, while it was parked up within the petrol station at Asda on Killingbeck Drive at around 12:40.

They then made off in a black VW Sirocco, which was later found abandoned.

No one was injured in the incident.