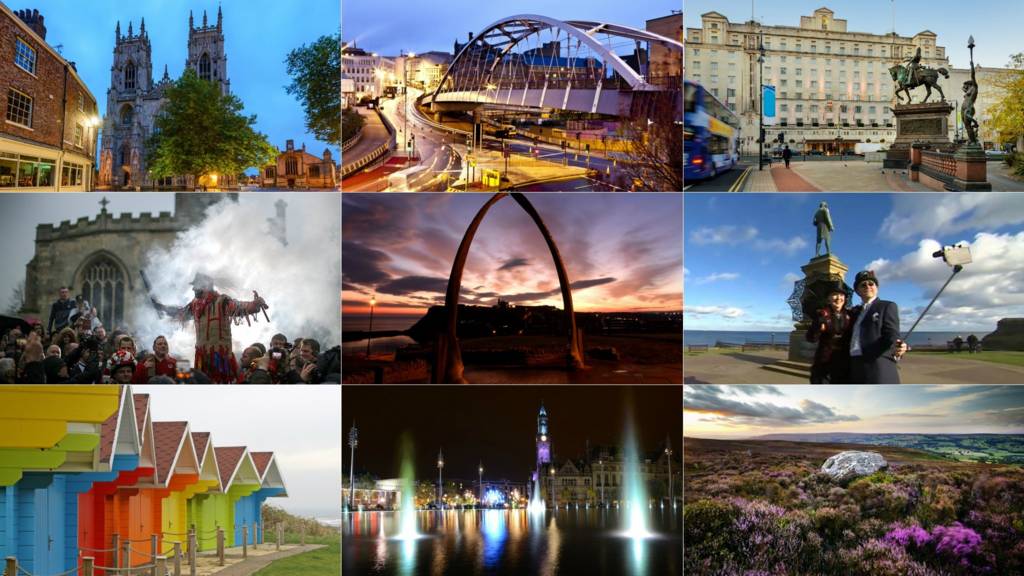 Summary
York fatal house explosion 'accidental', inquest finds
South Yorkshire teacher banned for measuring boys' genitals
Inquest opens into death of 14-year-old kickboxer in Leeds
Large police presence in York for 'Project Servator'
Almost 100 care workers quit jobs every day in Yorkshire
Gangnam Style Balls in bid for Bafta
Swan that was holding up traffic in Rotherham this morning dies after being taken to vet
Updates on Tuesday 11 April 2017
Catalans Dragons twice come from behind to beat Huddersfield Giants and record back-to-back Super League away wins.
Read more
That's all from Tuesday...
Severe disruption: M62 West Yorkshire westbound
BBC News Travel
M62 West Yorkshire westbound severe disruption, between J26 for M606 and J25 for A644.
M62 West Yorkshire - One lane closed on M62 westbound between J26, M606 (Chain Bar) and J25, A644 (Brighouse), because of a broken down vehicle.
To report traffic and travel incidents dial 0330 123 0184 at any time
Traffic in both directions on the M62 was held up while police officers rescued the pig near Leeds.
Read more
Severe disruption: M62 West Yorkshire both ways
BBC News Travel
M62 West Yorkshire both ways severe disruption, between J28 for A650 and J29 for M1.
M62 West Yorkshire - Very slow traffic on M62 in both directions between J28, A650 (Tingley) and J29, M1 (Lofthouse), because of a rolling road-block and pig on the road.
To report traffic and travel incidents dial 0330 123 0184 at any time
Our five top stories today

Nick Wilmshurst
BBC Local Live, Yorkshire
Well that's all from us for today, we'll be back tomorrow from 06:30 with all the latest news, sport, weather and travel for Yorkshire. 
Updates on breaking news will continue throughout the night, but before we go, let's look back at some of our top stories from today: 
See you tomorrow.
Family gets mesothelioma payout
The family of a man from Sheffield has been awarded compensation after he died at the age of 77 of mesothelioma.
Derek Naylor was a construction labourer in the 1960s - so he worked alongside joiners who were sawing asbestos boards and plasterers who were mixing powdered coatings containing the substance.  
The painted parrot on a peanut from the 50s
Who's have thought we'd all have lived to see the day that Wakefield Museums told the world about a peanut painted as a parrot?
Well it's happened and here it is:
Obviously people had more time on their hands in the 50s.
Appeal over recovered items from burglaries
Do you recognise any of this stuff? If you've had anything nicked recently, it could be yours.
South Yorkshire Police say they think the items could have been stolen between 22 March and yesterday.
If you think any of them could be yours, give the police a call on 101.
Happy ending for dog after owner's car stolen
A  dog has been reunited with her owner after being driven away in a stolen car. 
Dotty the dog was in the back of her owner's Mitsubishi which was stolen in Hellaby today.
Luckily officers from South Yorkshire Police managed to trace the car and Dotty was found safe and sound. 
Did you know? Leeds East MP is 'metal head'
He may spend most of his time talking about the NHS or the minimum wage, but did you know that Labour MP for Leeds East, Richard Burgon, is a massive fan of metal?
Here's the proof:
Retiring officer hands collar number to son
A student police officer in West Yorkshire has been out on patrol with his dad, who is retiring from the force after 30 years.
Inspector Ged Sharp has been with West Yorkshire Police since 1987 and retires at the end of May, yesterday he and his son, Ryan, spent a final shift together.
We don't know if they managed to catch any criminals, but I bet a few tips and tricks were shared as they patrolled the beat!
Ged has had a varied career with the force from general police to firearms support. The nice thing is that Ryan will be taking his dad's collar number.
I am looking forward to my retirement and following my son's career as he takes on my old collar number - 3220."
Safe and sound makeover for York's older residents
A sheltered accommodation scheme for older people in York is being given a makeover today by young volunteers who've experienced being homeless. 
City Mills is on the banks of the Ouse near Skeldergate Bridge.
York-based charity Safe and Sound Homes, which aims to prevent youth homelessness, is helping young people complete tasks such as decorating and gardening for the tenants there.
E-fit released after attempted distraction burglary on man in his eighties
Police have released an e-fit of a man they'd like to talk to following the attempted distraction burglary of a man in his 80s.
It happened last Friday morning in Mexborough when the suspect called at the man's home. 
He claimed that he needed work doing to his roof but left when challeneged.
If you think you can help, call South Yorkshire Police on 101.
Girl treated for shock after Huddersfield house fire
A girl has been treated for shock following a house fire in Huddersfield this lunchtime. 
It happened on St. James Road in Marsh in a bedroom, which fire officers say was "100% involved in fire" and was very badly damaged. 
The girl suffered shock and was given oxygen therapy by fire service, but didn't need hospital treatment.
Two fire engines attended from Huddersfield and Rastrick.
The long leash of the law
North Yorkshire Police have been out in large numbers across the city of York today, as part of the newly-launched 'Project Servator'.
You might have missed one or two of the officers patrolling the streets though - anyone spot PD Meg? 
They don't all wear helmets and hi-vis jackets!
Watch: South Yorkshire's litter louts targeted

Andy Kershaw
BBC Radio Sheffield News
This week the government's outlined plans to give councils more power to issue on-the-spot fines of up to £150 for anyone caught dropping rubbish.
Fly-tippers could also be forced to do community service.
The examples in the short film below were spotted in Rotherham this morning, but do local residents think fines will do any good?:
Sheffield United v MK Dons is hottest ticket in town
Sheffield United fans clearly want to make sure they can say "I was there"...
The club's completely sold out its allocation of over 7,000 tickets for their penultimate game of the League 1 season against MK Dons on 22 April.  
The Blades only need four more points in order to win the title, and it's obvious a fair few think that may happen at Stadium MK:
Listen: Commons leader rejects Yorkshire move for Parliament

Charlotte Rose
BBC Radio Sheffield Political Reporter
The Leader of the House of Commons has dismissed suggestions that MPs could be based in Yorkshire while the Palace of Westminster is repaired. 
Last year the Public Accounts Committee said it would be the most economic and efficient option for MPs to move out so restoration work can be carried out. 
The world heritage site has asbestos, leaks, old electrics and is said to be at high risk of "catastrophic failure". 
But David Lidington (pictured) doesn't think relocating to another part of the country would be helpful:   
'Project Servator' launched in York
We told you earlier about a larger than normal police presence in York today - and now we know why.
A new scheme which aims to tackle criminal and terrorist activity in crowded places, and at major events like the Tour de Yorkshire, has been launched by North Yorkshire Police.
It's called 'Project Servator', and involves the use of both visible and covert officers, as well as dogs, firearms teams , ANPR (Automatic Number Plate Recognition) and CCTV cameras in busy town centres and at large events.
NYP have revealed there were deployments at a number locations around York city centre today, as well as at the Designer Outlet, over a period of 3 hours.
The aim of Project Servator is to combine effective police deployments with increased levels of vigilance within our communities, to deter, detect and ultimately disrupt a broad spectrum of criminality, everything from pick-pocketing to terrorism. These tactics are not in response to a specific threat or the recent tragic events in Westminster, but have been in the planning stages since September 2016."