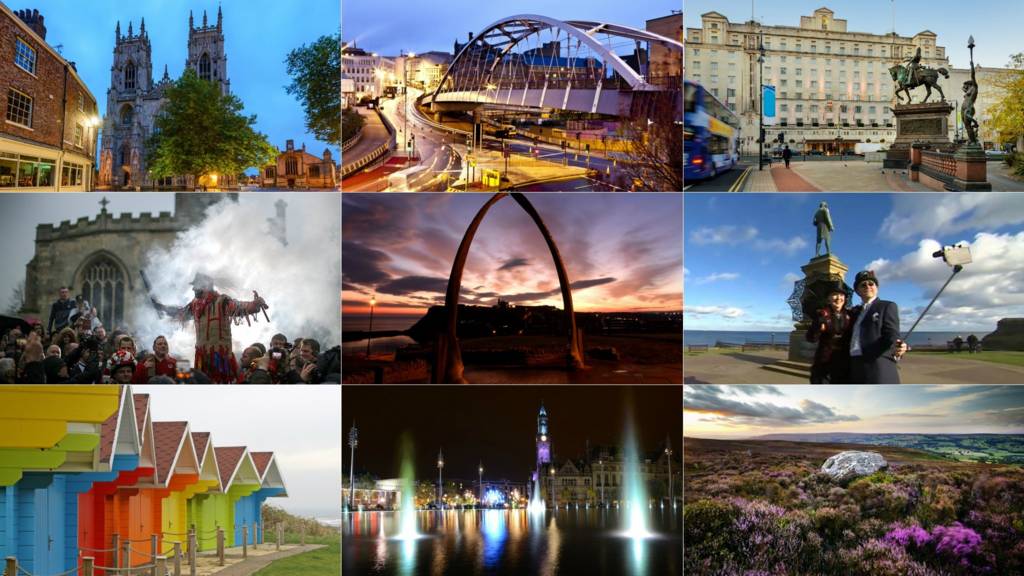 By Ian Woodcock

BBC Sport at The John Smith's Stadium

That's all from Monday...

Those are all the updates from Yorkshire on Monday 6 March 2017.

Want to get all the latest news, sport, weather and travel updates from across Yorkshire on Tuesday 7 March? Just click here .

Severe disruption: M62 West Yorkshire eastbound

BBC News Travel

M62 West Yorkshire eastbound severe disruption, between J33 for A162 and J34 for A19 Selby.

M62 West Yorkshire - One lane closed on M62 eastbound between J33, A162 (Ferrybridge Services) and J34, A19 (Selby), because of a broken down vehicle. Traffic is coping well.

To report traffic and travel incidents dial 0330 123 0184 at any time

Our five top stories from today

Nick Wilmshurst

BBC Local Live, Yorkshire

We'll be back tomorrow from 06:30 with our live service and all the latest news, sport, weather and travel for Yorkshire. 

But before we go, let's look back at some of our top stories from today: 

See you tomorrow

UKIP MEP: BBC ambushed me over wind farm

Earlier we told you how UKIP MEP William Dartmouth denied involvement in a Yorkshire wind farm in a 2014 BBC interview.

Here's his response: "Had I been given proper notice of your intention to ask me about this, all this could have been made clear, but, as it was, the interviewer broke BBC Guidelines in order to ambush me - and we were at cross purposes.  

"In conclusion, during the period of time you have referred to, there are and were no wind turbines on the land.  

"I did not own the land when asked on the programme in 2014 nor do I own the land now. 

"I had no financial interest in the unsuccessful application made in 2014 for installing wind turbines and in fact lodged my opposition to the application." 

Off-duty paramedics help at scene of crash

Two off-duty paramedics were able to help a motorcyclist who was injured in a crash in Slaithwaite near Huddersfield.

Copyright: West Yorkshire Police

The crash happened at around 08:00 on Manchester Road, involving a car and a motorbike.

The motorcyclist had a serious leg injury and was helped by the passing paramedics, and then taken to hospital in Huddersfield.

Listen: 'It's helped restore my dignity'

Sheffield City Council's new specialist equipment lending service, which tries to help disabled people move around and live more independently, has been praised by service users.

David Statham, 57, from South Sheffield, has had a neuro-muscle wasting condition for the last 10 years and says the service has helped restore his dignity.

Severe congestion: M62 West Yorkshire westbound

BBC News Travel

M62 West Yorkshire westbound severe congestion, between J28 for A650 and J27 for M621.

M62 West Yorkshire - Very slow traffic and two lanes closed on M62 westbound between J28, A650 (Tingley) and J27, M621 (Gildersome).

To report traffic and travel incidents dial 0330 123 0184 at any time

Listen: Teenager questioned after body found in York

Elly Fiorentini

BBC Local Live, Yorkshire

Police are questioning a 19-year-old man on suspicion of murder after a 50-year-old man was found dead at a flat in York.

Officers were called to reports of a young man with blood on his hands at York railway station before the 50-year-old's body was found on Holgate Road.

I've been to the scene and spoken to locals there:

Asda fined over dead mice and flies at Enfield depot

Leeds-based supermarket Asda has been fined £300,000 for food safety breaches after inspectors found dead mice and flies at one of its depots. 

Inspectors found dead mice and flies at its north London home delivery depot.

Copyright: Enfield Council

Council officers found mouse droppings on the shelves and cereal and sugar packets gnawed by rodents during a visit to the Enfield site in May 2016.

Asda admitted three food safety and hygiene breaches at Highbury Corner Magistrates' Court in January.

Quote Message: The conditions found at our Enfield home shopping centre were completely unacceptable and we are deeply sorry that the strict processes we have in place failed at a local level." from Asda spokesperson

Woman chokes to death at Keighley pub

Bradford Telegraph and Argus

Paramedics were unable to save the life of an elderly woman who was found choking and struggling to breathe at a pub in Keighley last night.  

Road worker left with serious leg injuries as van pursued

A roadworker's been left with a serious leg injury, after being hit by a van  which was involved in a police pursuit across Leeds. 

It happened last Tuesday, when a van is alleged to have failed to stop for police after a burglary in Moortown. 

The vehicle eventually ended up on Gildersome Lane, which was closed for road repairs, where the worker was injured. 

Three men have been charged with burglary and dangerous driving offences, and have appeared in court, where their cases are ongoing.

101 problems in North Yorkshire

North Yorkshire Police say they're having intermittent problems with the non-emergency phone number, 101.

They say emergency calls to 999 are unaffected, but it should only be called if it is a genuine emergency.

You can also report non-emergency crime online by going to this link.

Yorkshire in pictures: Flowers and sunshine

It's a treat to see the BBC Weather Watchers inbox offering flowers and sunshine.

Signs of spring abound below: the sun raises its head top left over Robin Hoods bay, thanks to Chunky Monkey for that.

The orange backdrop to birds in flight over Doncaster came from Double S Detailer and the daffodils in front of a ruined benedictine monastery in York, are courtesy of June Gothika.

More signs of spring are always welcome. Just  click here to send yours in . 

Barnsley woman, 60, attacked at bus stop

A woman in Barnsley had her bag snatched from her as she waited for a bus outside the Travellers Inn early on Sunday morning.

The 60-year-old was at the bus stop outside the pub on Sheffield Road with her husband when a small, dark-coloured car stopped.

A man, who was sat in the back of the car got out and snatched the woman's handbag causing her to stumble and fall, before driving away.

The man is white, about 5ft 9ins tall, in his early 20s, of average build, with short dark brown hair and a broad nose.

He is described as wearing grey oversized jogging trousers with tight elasticated ankles and a short, dark padded bomber style jacket and dark trainers.  

Miracle mara makes recovery after being taken in by zoo keeper

Oli Constable

BBC Local Live, Yorkshire

A South American mara born in Yorkshire has made a miracle recovery after a zoo keeper took him in when it was abandoned by its mother.

Copyright: Yorkshire Wildlife Park

Jack, who looks like a mix between a rabbit and a small deer, was born three weeks ago on the coldest day of the year.

When the keepers at Yorkshire Wildlife Park, near Doncaster, realised he had just minutes to live, they wrapped him in tea towels and whisked him away to warm up under a heat lamp.

Copyright: Yorkshire Wildlife Park

Quote Message: He slowly came back to life and we have been hand rearing him and feeding him from a bottle to get him going." from Colin Northcott Zoo keeper

Large funeral procession expected to cause York traffic disruption

Andrew Barton

BBC Local Live, Yorkshire

A warning of four hours of traffic disruption in York tomorrow has been issued by the City of York Council.

The delays are expected between James Street and Fulford between the hours of 11:00 and 15:00.

This is due to a large funeral procession travelling along this route. 

The council say "very heavy traffic levels are likely to occur in the St Oswalds Church area on Fulford Road during the funeral and when the procession moves on to Fulford Cemetery off Fordlands Road."

Traffic signal timings will be amended to minimise disruption where possible but the council say "motorists are advised to use alternative routes if possible and allow more time for their journeys in the area."