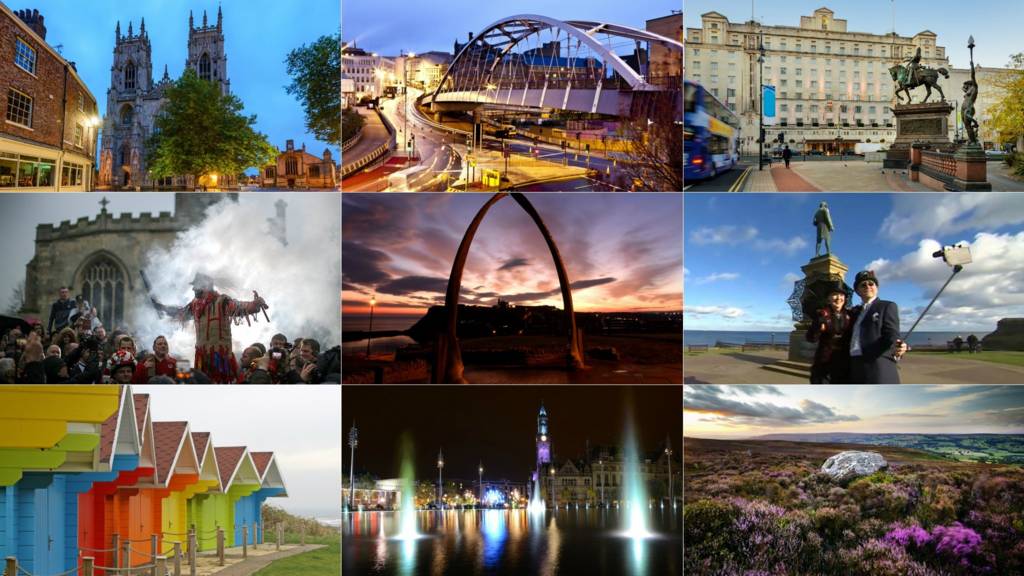 Severe disruption: West Yorkshire both ways

BBC News Travel

West Yorkshire both ways severe disruption, between Silver Royd Hill and Fawcett Lane.

West Yorkshire - Blue Hill Lane in Leeds closed in both directions between the Silver Royd Hill junction and the Fawcett Lane junction, because of a building fire.

To report traffic and travel incidents dial 0330 123 0184 at any time

Today's top stories from across Yorkshire

That's all from us today, but news, sport and travel updates will continue right here throughout the evening and tonight.

We'll be back again with all the latest live updates from across Yorkshire from 06:30 on Friday morning.

In the meantime, let's take a look back at some of the top stories we've been covering today:

Yorkshire's weather forecast

Paul Hudson

Weather presenter, BBC Look North

Tonight will be dry, with clear spells, although some low cloud is possible later, and a minimum temperature of about 1C (34F) with a widespread ground frost. 

Tomorrow, it'll be mostly dry but rather cloudy in the morning. 

Becoming wet through the afternoon and evening as rain spreads from the south with a top temperature of about 7C (45F).

Watch: South Yorkshire village is test ground for solar power storage

Kate Linderholm

BBC Local Live, Yorkshire

A village in Barnsley is taking part in a groundbreaking trial which could lead to thousands more homes being powered by solar energy. 

New batteries will store power when it is sunny for use on grey days: 

Woman dies after collision on A19 near Easingwold

A woman from Northallerton has died after a collision between her car and a lorry near Easingwold earlier today.

It happened at about 09:20 this morning on the A19 near the Husthwaite junction and involved a grey Toyota Avensis and a white Scania truck.

The driver of the Toyota was pronounced dead at the scene.

The driver of the lorry, a 66-year-old man from Northallerton, has been arrested on suspicion of causing death by dangerous driving.

Anyone who saw the collision is being asked to contact police.

Craig Preston death: Love rival 'killed in senseless attack'

A man was beaten to death in a "brutal and senseless" killing by a love rival, his ex-partner and three teenage boys, a court has heard.

Copyright: South Yorkshire Police

Craig Preston (pictured), 34, was allegedly attacked by Shiraz Bashir, 43, Leonie Mason, 23, and the teenagers in a lay-by near Rotherham before being dumped close to the Woodhead Tunnel in August.

The prosecution say Mr Preston was tied up and then kicked, punched and stamped on during the attack.

All five defendants deny murder.

The trial of Mr Bashir and Ms Mason, both of Holme Park Court, Huddersfield, and the three teenagers, two aged 15 and one aged 16, continues.  

Sheffield photographer 'one of world's best'

Oli Constable

BBC Local Live, Yorkshire

We've all no doubt taken decent photos in our lives: I took a great shot of some pancakes this week. But this one takes the biscuit: 

Harry Botley has been announced as one of the top 10 photographers in the world with this beauty entitled Verdigris II.

It has been entered in the Sony World Photography event in the Open Enhanced category.

There were 227,000 entries from 183 countries in the world.

Leeds boxer Nicola Adams 'so proud' over OBE

It's been a big day for Leeds Olympic boxing champion Nicola Adams, who's been at Buckingham Palace to receive her OBE .

This is the moment she was given the honour by the Duke of Cambridge:

Arthur Brumhill trial: Jury sent home

Mike Cartwright

BBC Look East

The jury at the trial of Stuart Jenkins, who is accused of murdering Arthur Brumhill in Northampton in 1993, has been sent home.

They will continue their deliberations at 10:00 tomorrow.

Mr Jenkins, 41, of Ossett, West Yorkshire,  denies killing the 76-year-old pet shop worker , who body was found in the basement of Denton's pet and garden shop on Wellingborough Road.

Fears grow over missing Sheffield man Barry Jones

Police in Sheffield say they're becoming "increasingly anxious" for the safety and wellbeing of a 77-year-old man who's been missing for over 48 hours. 

Copyright: South Yorkshire Police

Barry Jones was reported missing on Tuesday and the latest information police have is that he got on the X5 bus in Aston, heading towards Sheffield, at about 11:05.

He's then thought to have boarded the number 120 bus to Fulwood at about 12:12, with CCTV footage at Sheffield city centre bus station showing him getting on the X5 bus towards Dinnington at about 13:10. 

Mr Jones is then believed to have got off the bus at the Woodhouse Mill stop at about 13:20 on Tuesday, and this is the last known sighting.

He was last seen wearing blue jeans, a thermal vest and a green coat with a leather collar. He is about 5ft 8ins tall, of a slim build and has a shaved head.

North Yorkshire Police 'requires improvement' on tackling serious crime

North Yorkshire Police has been rated as good by the the organisation overseeing policing standards, but the force "requires improvement" in how it tackles serious and organised crime.  

Copyright: North Yorkshire Police

Her Majesty's Inspectorate of Constabulary says across the country  a third of forces needed improvement , while a small number were putting the public at unacceptable risk by rationing what they provided.

However, statistics show that North Yorkshire still remains the safest place to live in England.  

Quote Message: I will work with my deputy to ensure we keep a close eye on progress in dealing with serious and organised crime." from Julia Mulligan Police and Crime Commissioner for North Yorkshire

Pontus Jansson staying at Elland Road - Leeds United boss Monk

Adam Pope

BBC West Yorkshire Sport

Leeds United head coach Garry Monk says defender Pontus Jansson is here to stay at Elland Road.

Copyright: Allsport/Getty Images

Monk dismissed speculation linking the Sweden international with a move to Southampton in the summer, when he's expected to complete a permanent deal at United.

"He's fully focused on what he's doing here along with all of us and ready for the games coming.

"Pontus is a Leeds United player, he's here, he's ready to fight, he's ready to be a Leeds United player for the future."

Leeds Civic Trust welcomes Corn Exchange purchase

The purchase of Leeds' landmark Corn Exchange by property company Rushbond has been welcomed by Leeds Civic Trust.

The Victorian building, which was designed by famous architect Cuthbert Brodrick and completed in 1864, is Grade I listed.

The sale of the Corn Exchange to Rushbond comes after the same firm bought Leeds' Grade II listed First White Cloth Hall, which dates back to 1711.

Martin Hamilton, director of Leeds Civic Trust, says: "We hope this critical mass of buildings enables them to act as a catalyst for the wider regeneration of the Kirkgate area of Leeds."

'We're just focusing on us' - York City Knights coach ahead of promotion battle

York City Knights start their battle for promotion this weekend. 

They've got a tough trip to Barrow on Saturday night for their first game this year in League 1.

Assistant player coach Johnny Presley says the quality of the division keeps improving: "I think the competition's getting stronger and tougher each year.

"It's a difficult league to get out of, but we're just focusing on us and our performance, and if we get better at the things we want to improve the results will take care of themselves."

Bradford pair jailed over £10,000 train set theft

Two people have been jailed after stealing a model railway collection worth £10,000 in West Yorkshire.

Copyright: West Yorkshire Police

Bradford Crown Court heard Catherine Petty, 38, took the collection from the attic of a man who had let her stay at his house in Baildon.

She and her accomplice Shazad Manzoor, 33, sold the train collection to a specialist dealer in Cheshire for £3,700.

Manzoor was jailed for three years and Petty for two years.

Arrests after group seen with 'sword' in Leeds park

Three people have been arrested after a group were seen waving a "sword" in a park in Armley, Leeds.

When police arrived, they searched an address and found a machete and drugs which were both seized.