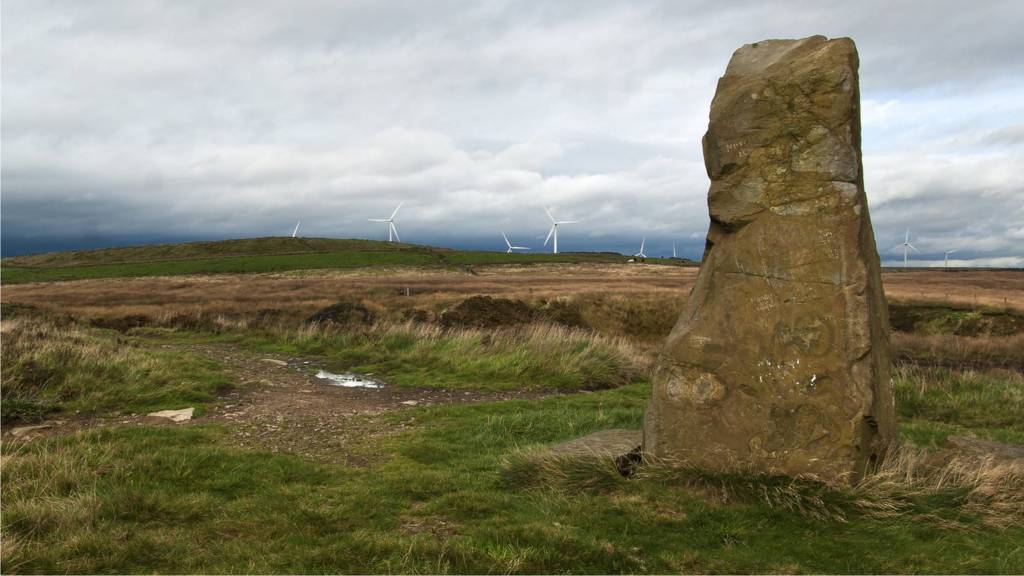 BBC Local Live: Lancashire
Summary
More news, sport, weather and travel updates from 08:00 on Tuesday
Our live coverage across the day

Weather: Scattered wintry showers overnight

Scattered showers will continue tonight and could be wintry at times, especially over the hills. It will also feel cold in the strong winds.

Tomorrow will start cold but it will become milder, as cloudy skies and patchy rain move in from the west. Highs of 10C.

Funding boost for Burnley park

A £1.19m restoration of a park in Burnley has been boosted by more than £800,000 from the Heritage Lottery Fund.

The grant will go towards the total cost of the project to redevelop Thompson Park.

Burnley Council is looking to restore the Grade II listed site, which opened in 1930.

Work on the restoration will start in early autumn and will be complete by Easter 2018.

Hertfordshire councillor dies on Blackpool trip

A flag is flying at half mast at Stevenage Borough Council after a prominent councillor died in Blackpool.

Copyright: Stevenage Borough Council

Sherma Batson served on the borough and county councils for 12 years, and became the town's first black mayor in 2014.

Latest headlines for Lancashire

Two men are arrested over the death of a 15-year-old girl who died after apparently suffering an allergic reaction to a takeaway meal
A teenage boy dies after collapsing in Read
A motorcyclist has a leg amputated following a crash in Haslingden

'You were loved by so many' - tributes to teen who collapsed and died

Staff arrested in takeaway death inquiry

Two men have been arrested over the death of a 15-year-old girl who died after apparently suffering an allergic reaction to a takeaway meal.

Megan Lee, from Oswaldtwistle, died on 1 January, two days after she was admitted to hospital.

The men, both staff at the Indian takeaway, are being held on suspicion of involuntary manslaughter by gross negligence, Lancashire Police said.

A police and trading standards investigation is continuing.

A post-mortem examination has been carried out but police said the full results would not be known "for some time".

The takeaway involved, in the Hyndburn area, has not been identified.

Motorcyclist loses leg after Haslingden crash

A motorcyclist has had a leg amputated following a crash in Haslingden.

The 30-year-old man also suffered a number of other serious injuries when he crashed on the Rising Bridge roundabout at the junction of the A56 and A680 on Saturday.

No other vehicle was involved, police said.

Police are asking anyone who witnessed the crash to contact them.

Breaking

Two arrested in investigation over takeaway girl's death

Two men have been arrested after the death of a girl who suffered an apparent allergic reaction to an Indian takeaway.

Megan Lee, 15, from Oswaldtwistle fell ill after eating the meal in Hyndburn on 30 December.

She was taken to Royal Blackburn Hospital but died on New Year's Day.  

Police have confirmed the two men, aged 37 from Rossendale and 38 from Blackburn, have been arrested on suspicion of involuntary manslaughter by gross negligence and are currently in custody.

Lorry driver cut free after Tarleton crash

A lorry driver has been cut from from his cab after a crash in Tarleton.

The crash involving two lorries happened in Liverpool Road about 05:00.

Firefighters used specialist equipment to free him.

Football: Giroud goal knocks Preston out of cup

Preston were knocked out of the FA Cup despite a spirited performance against Arsenal.

Oliver Giroud's late goal secured a 2-1 win for the Londoners.

North End had gone ahead through Callum Robinson early in the first half.

Weather: Cold with wintry showers

Some sunny spells are possible this afternoon but it will feel colder, with wintry showers over higher ground.  

Scattered showers will continue tonight and they will be wintry at times, especially over the hills. It will feel cold in the strong winds too.

Lows of 5C.

Fans light up foggy FA Cup game

Fans at Accrington's fog-bound FA Cup match against Luton had a unique way of watching the game and indicating where the away end of the ground was.

Copyright: Laurence Inwood

Supporters at both sides of the Crown Ground flashed their mobile phones during chants of "can you tell us if we score?" from Luton fans.

Stanley saw through the fog to take a 2-1 victory on Saturday.

Lancashire average speed cameras plan for notorious roads

Average speed cameras are being installed on notorious stretches of road across Lancashire in which 13 people have been killed in five years.

The cameras will be placed along eight routes, including a stretch of Grane Road in Haslingden, which has seen a series of recent incidents.

Average speed cameras are more common on motorways rather than rural roads, and the scheme is Lancashire's first.

The devices use number plate recognition to calculate average speed.

Where the cameras will be installed:

B6232 Grane Road, Haslingden, between the A56 through Haslingden Grane to the A6177 Elton Road junction with Sough Lane.

A565 Southport Road between the B5246 at Mere Brow and the Gravel Lane roundabout at Banks.

A583 Preston New Road between the M55 junction 3, through Kirkham bypass, and Blackpool Road at Preston Old Road, Clifton.

A588 Head Dyke Lane, Pilling, between Fold House Caravan Park and Bourbles Lane.

A59 Brockholes Brow, Preston, between the M6 junction 31 and Glenluce Drive.

A6 London Road, Preston, between Capitol Centre (Winery Lane) and Albyn Street East.

A675 in Belmont between the M65 junction 3, through Abbey Village and Belmont to Scout Road.

A682 Gisburn Road, Pendle, between the A59 at Gisburn and Whittycroft Avenue, between Barrowford and Blacko.

Latest headlines for Lancashire

A lorry driver is cut free from his cab after a crash in Tarleton
The funeral of Lord Taylor of Blackburn is under way at Blackburn Cathedral
Towneley Park in Burnley receives an £800,000 grant towards its restoration

Tributes for popular teacher killed in mountain fall

Severe accident: M61 Lancashire southbound

BBC Travel

M61 Lancashire southbound severe accident, between J8 for A674 and J6 for A6027.

M61 Lancashire - Slow traffic and one lane closed on M61 southbound between J8, A674 (Chorley) and J6, A6027 (Horwich), because of an accident.

Check local traffic and travel reports for:

Boy found dead at house in Read

A teenage boy has died after collapsing in Read.

The 17-year-old was found at a house in Back Lane on Saturday.

A post-mortem examination is due to be carried out later to establish the cause.

His death is not being treated as suspicious, police said.

Football: Accrington into FA Cup last 32

Accrington reached the FA Cup fourth round for only the second time since they reformed in 1968 after beating Luton Town 2-1.  

Sean McConville curled in an opener from outside the penalty area for Stanley in first-half stoppage time.

Jake Gray equalised for Luton early in the second half after keeper Aaron Chapman had saved from Jake Marriott.

Accrington went back in front as Beckles headed in from eight yards - before Luton's Glen Rea was sent off.

The draw for the next round will be made at 19:00 this evening.

Service to mark centenary of WW1 soldier's death

The family of a soldier who was killed during World War One will hold a service to mark the 100th anniversary of his death.

Pte James McLaughlin, from Preston, was killed fighting Turkish forces in Mesopotamia, and a funeral was never held.

A service will take place at Preston Minster this afternoon.