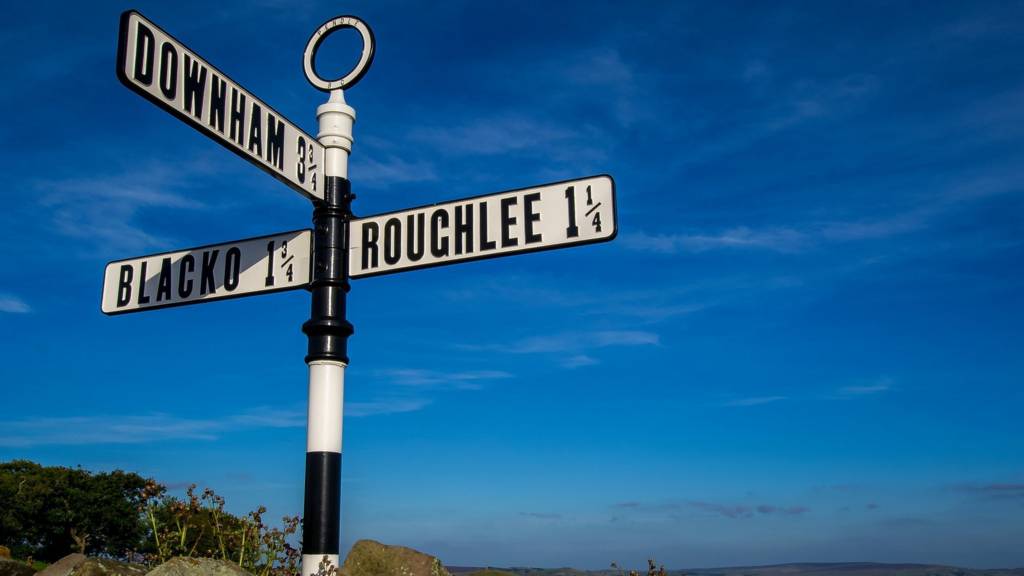 BBC Local Live: Lancashire
Summary
Updates on Monday 5 December
News, sport, weather and travel updates resume at 08:00 on Tuesday
Our live coverage across the day

Weather: Mist and fog forming overnight

Cloud will steadily thicken from the south overnight, with accompanying patches of mist and fog. There may also be a few spots of drizzle by dawn.

A dull and overcast day tomorrow, with mist and hill fog persisting in many areas, although temperatures will be higher than today.

Highs of 9C.

Image released of man wanted in connection with Chorley assault

Police have released a CCTV image of a man they want to trace in connection with an assault at a pub in Chorley.

Copyright: Lancashire Police

The man police are looking to trace became involved in a fracas with another man outside The George pub on St Thomas Road about 00:45 on 26 November. 

The second man later had to attend Royal Preston Hospital.

Police say they would also like to trace several women who left the pub in a dark-coloured Volkswagen Passat Estate, who may also have witnessed the incident.

Latest headlines for Lancashire

Football: Clarke confident Beckford-Doyle clash will not affect Preston's morale

Preston captain Tom Clarke believes the on-field clash between two North End players during Saturday's defeat at Sheffield Wednesday will not affect team spirit.

Jermaine Beckford and Eoin Doyle have both been fined and will reimburse supporters who travelled to Hillsborough.

Manager Simon Grayson described the incident as an "absolute embarrassment".

Quote Message: I let my passion for the game overtake my awareness of my responsibility as a role model and a professional. I sincerely apologise to fans, particularly younger fans from Jermaine Beckford Preston North End

Parking permit scheme rejected by Blackpool residents

A proposal to introduce parking permits in parts of Blackpool has been scrapped after local residents rejected the plan over access and traffic issues.

The scheme, which would have covered 2,000 properties in the Bloomfield area of the town, has been under consideration by Blackpool Council for more than two years.

A formal consultation by the authority found more than 90% of hoteliers and 75% of households objected to the proposal. 

The council said concerns were raised about access and traffic movement, as the plan also included a new one-way system. 

Residents, who supported the proposal, will now be consulted about incorporating them into a wider permit scheme that is already in operation.

Man and dog clean beaches of litter

A man is walking 7,000 miles around the British coastline with his dog, clearing litter from the beaches.  

Wayne Dixon from Lancashire and his Northern Inuit dog Koda have already walked more than 1,000 miles and collected 1,500 bags of rubbish.

He is hoping it will inspire others to keep the beaches clean.

Police and crime commissioner backs custody welfare scheme

Lancashire's Police and Crime Commissioner is calling for more volunteers to join a scheme that checks on the welfare of people in police custody.

There are currently more than 40 volunteers involved in the 'Independent Custody Visitors' initiative, organised by Clive Grunshaw.

Members of the group make random unannounced visits to police stations to speak to detainees to make sure they are being treated properly. They also work with staff to resolve any ongoing issues.

Football: Preston pair to reimburse fans after on-field clash

Preston North End have fined two players who were sent off for fighting each other on the pitch - and said fans who attended Saturday's game will be reimbursed.

Eoin Doyle and Jermaine Beckford clashed towards the of Preston's 2-1 loss to Sheffield Wednesday as they chased an equaliser.  

The pair will repay the cost of tickets for fans who attended the game. A statement from the club also said they will not be appealing the red cards.

Both players also issued a public apology to the management, their team-mates and fans.

Quote Message: Our behaviour was not acceptable in any walk of life, let alone on a football pitch. We let down the management, our team-mates and most importantly the supporters, who had spent a lot of money to support the team.

Quote Message: We accept the punishment given to us by the club and The FA and fully support the club's decision to refund the ticket costs to the supporters. from Eoin Doyle and Jermaine Beckford Joint statement

Weather: Dry with light winds

It will remain dry and settled this afternoon with plenty of sunshine and a light south-easterly wind. It will continue to feel cold.

Cloud will steadily thicken from the south overnight. Mist and fog is also likely, and perhaps a few spots of drizzle by dawn.  

Lows tonight of 2C.

Football: Dyche optimistic despite Burnley defeat

Man threatens shop staff with knife in 'terrifying ordeal'

Staff at a shop in Bamber Bridge were subjected to "a terrifying ordeal" after being threatened by a robber with a knife, say police.

The man leaned over the counter at Bargain Booze on Station Road and grabbed about £200 at about 20:45 on Friday.

Police, who are appealing for information, say the man is white, about 6ft (1.8m) tall, slim build and in his late 20s. 

He was wearing a light grey jogging top with a hood over his head and light grey jogging bottoms.

Latest headlines for Lancashire

Flooding across parts of the UK last winter - including Lancashire - was the 'most extreme on record', a review reveals
Staff at a shop in Bamber Bridge suffered a "terrifying ordeal" after being threatened by a robber with a knife, police say
Six Lancashire teams will feature in the draw for the third round of the FA Cup later

Weather Watchers: Underneath the arches

This view of Morecambe Bay has been sent in by one of the BBC's Weather Watchers. 

Copyright: Morecambebaywatch

You can do the same via this link.

Bus service returns to Sabden

A bus service has returned to Sabden after it was withdrawn earlier this year. 

Campaigners battled to have the service reinstated after it was stopped by operators in May.   

The money has come from a housing developer, with buses running to a new estate outside Clitheroe and to Sabden for at least the next five years.

Youngsters raise £500 for cancer girl

Football: Six Lancashire teams in FA Cup draw

The FA Cup third-round draw is live on BBC Radio Lancashire this evening, with Premier League and Championship teams entering the competition for the first time.

Burnley, Blackburn and Preston will be joined by Fleetwood, Accrington and Blackpool.

The 32 third-round ties will be played across the weekend of 6-9 January 2017.

Latest headlines for Lancashire

The government needs to do more to protect Lancashire from future flooding, warns the MP for Lancaster and Fleetwood 
More volunteers are needed to check on the welfare of people in police custody, the Police and Crime Commissioner says
Preston North End striker Jermaine Beckford "sincerely apologises" for clashing with teammate Eoin Doyle

Keane wants Burnley to become more 'streetwise' in Premier League

2015 floods 'most extreme on record'

Flooding across parts of the UK last winter was the most extreme on record, experts have said.  

Gales and heavy rain swept across large parts of the UK, causing devastating flooding in Cumbria and Lancashire, as well as parts of southern Scotland.

On the first anniversary of Storm Desmond, experts say November to January were the wettest three months since UK records began in 1910.

Review author Terry Marsh said flooding was "extensive and repetitive".

Storm Desmond began battering parts of the UK on 5 December, depositing a record month's worth of rain on Cumbria in just one day.