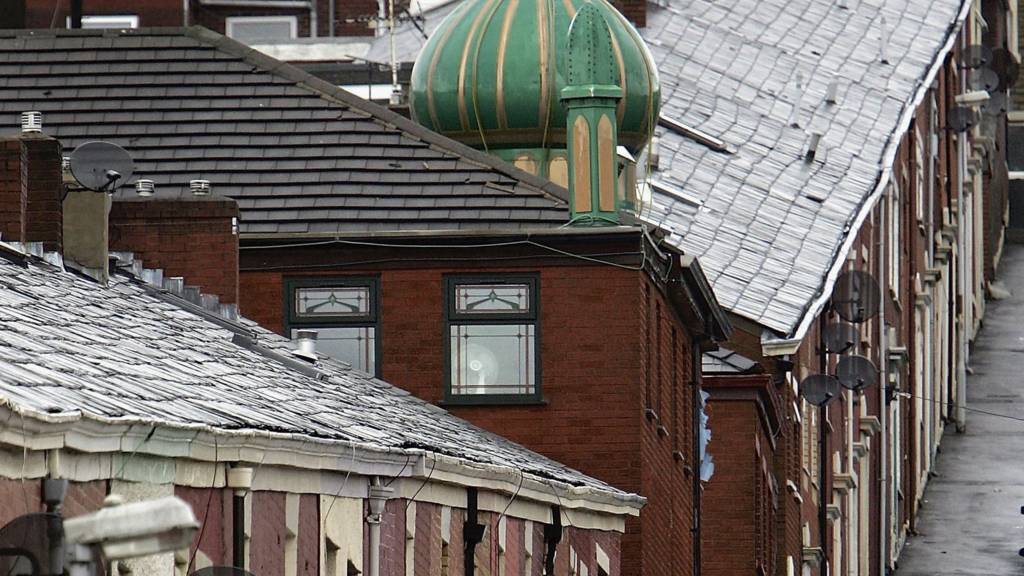 BBC Local Live: Lancashire
Summary
More news, sport, weather and travel updates from 08:00 on Tuesday
Our live coverage across the day

Weather: Mist or fog patches overnight

It will be quiet and dry for many tonight, although some mist and fog patches could form, especially over high ground. Overnight lows of 9C.

Tomorrow, any early morning mist and fog will soon clear to leave some bright or sunny spells.

£32m Pendle mill redevelopment under way

A £32m redevelopment of a former mill in East Lancashire is under way.

Brierfield Mill in Pendle was built in the 19th Century and is being converted into new businesses, a leisure complex, hotel and 72 apartments.

The Northlight project has been part funded by Lancashire County Council.

Latest headlines for Lancashire

Three generations of same family recruited by fire service

Three generations of the same family are all working for Lancashire Fire and Rescue Service.

Michael Dawson, his sister and father have contributed more than 70 years to the service. 

Now Michael's daughter, Jenny, has joined as a fire cadet.

Football: Team hunger delights Preston boss Grayson

BBC Radio Lancashire

Sport

Preston manager Simon Grayson has said he has a group of players who are desperate to do well in the game.

North End beat Aston Villa 2-0 on Saturday - a result which has led to the sacking of Villa manager Roberto di Matteo this morning.

Villa signed nine players for a combined outlay of about £50m during di Matteo's 124-day managerial tenure.

But Preston boss Grayson believes team spirit far outweighs transfer budgets.

Electrification upgrade to Blackpool-Preston rail network

Work on the electrification of the railway line between Blackpool and Preston has begun.

The work is part of a £1bn upgrade plan to strengthen transport links in the north, Network Rail said.

The company is also spending £1.6m on repairs to the Whalley viaduct.

Burnley MP asks Foreign Secretary to help in Thai arrests case

Burnley Express

Burnley Express

Football: Accrington sign former Blackpool forward Taylor-Fletcher

Accrington have signed former Blackpool forward Gary Taylor-Fletcher on non-contract terms.

The former Lincoln, Leicester and Hudderfield player, 35, will go straight into the squad for tomorrow's Checkatrade Trophy game at Chesterfield, subject to ratification from the EFL.  

Taylor-Fletcher is a free agent after playing at Tranmere Rovers last season.

Bishop of Lancaster offers resignation to the Vatican

The Bishop of Lancaster has offered his resignation to the Vatican.

Bishop Michael Campbell made the move in line with the Roman Catholic Church's tradition after celebrating his 75th birthday this weekend.

He will remain in his post until a new bishop is appointed.

Quote Message: I have been blessed with wonderful health, but at 75, the energies probably aren't what they once were from Bishop Michael Campbell Bishop of Lancaster

Northern Powerhouse 'still a priority'

The man hired by the former chancellor to help deliver the "Northern Powerhouse" project says the strategy will "certainly continue to get a lot of policy priority", after he became the first minister to resign from Theresa May's government.  

Lord Jim O'Neill told the BBC "being in government was probably always only ever going to be a pretty temporary thing".

The former economist said he did not leave his job because of some disappointment and while the Northern Powerhouse may not get "sole attention relative to other regions" it could still succeed.

Boxing: World heavyweight champion Fury says he has retired

World heavyweight champion Tyson Fury says he has retired from boxing in an expletive-laden message on Twitter.

The 28-year-old Morecambe-based fighter withdrew from a rematch with Ukrainian Wladimir Klitschko, scheduled for 29 October, because of reported mental health issues.

Fury, who holds the WBA and WBO titles, faces a hearing into a charge for an alleged doping violation in November.

"Boxing is the saddest thing I ever took part in" read his tweet, adding: "I'm the greatest, and also retired".

Weather: Breezy with sunny spells

Long sunny spells are expected this afternoon, although there will be a fresh breeze, especially along the coast. Highs of 16C.

Boxing: World heavyweight champion Fury says he has retired

World heavyweight champion Tyson Fury says he has retired from boxing in an expletive-laden message on Twitter.

In the message Fury tweeted boxing "is the saddest thing I ever took part in" and "I'm also retired".

The Morecambe-based fighter, 28, has withdrawn from his rematch with Wladimir Klitschko, scheduled for 29 October, because of reported mental health issues.

Broughton bypass completion delayed

Construction of a major road project has been delayed by five months.

It is expected work on the Broughton bypass will now be completed next August, with the delays costing an extra £3m.

Lancashire County Council said the delay is due to complications surrounding ground conditions.

The bypass was originally due to be finished by March 2017 at a cost of £24m.

Latest headlines for Lancashire

A patient watchdog group says funding priorities need to change as figures show Lancashire's hospital debt has risen to £83m
Construction work on the Broughton bypass is delayed by five months costing the project an extra £3m  

Lancaster biker killed in crash in Scotland

A 74-year-old biker from Lancaster has died in hospital following a crash in Scotland.

Emergency services were called at 15:30 on Saturday to a spot near Glenamour Farm, north of Newton Stewart.

A Honda 1300 motorbike had left the road and the seriously hurt rider was taken to the Queen Elizabeth University Hospital in Glasgow for treatment.

However, police said the man had died as a result of his injuries early on Monday morning.

Why have Lancashire's NHS hospital debts doubled?

This week, BBC Radio Lancashire is looking at the NHS under pressure.

Figures compiled by the BBC have revealed the scale of rising hospital debts across the region.

The total debt of Lancashire's NHS hospitals nearly doubled in the last financial year, BBC research has found.

'Change NHS funding priorities', Healthwatch chairman says

The chairman of Lancashire Healthwatch says the government is focusing priorities on wrong areas, amid figures showing that hospital debt in the region had more than doubled in the last financial year.

Figures for the previous accounting period showed Lancashire's NHS hospitals were collectively £43m in the red, but by April 2016 the debt had increased to £83m.

Lancashire Healthwatch chairman Michael Wedgewood says not enough  is being invested in transforming NHS services to make the system more sustainable. 

Nature reserve to welcome specially created ducks

A number of giant celebrity ducks designed by the world-famous Aardman studios will arrive at a Lancashire nature reserve this week.

The 14 ducks will be housed at Martin Mere Wetland Centre near Burscough to celebrate the Wildfowl and Wetlands Trust's 70th anniversary. 

The public will be able to discover Dusty Duck on a special trail.