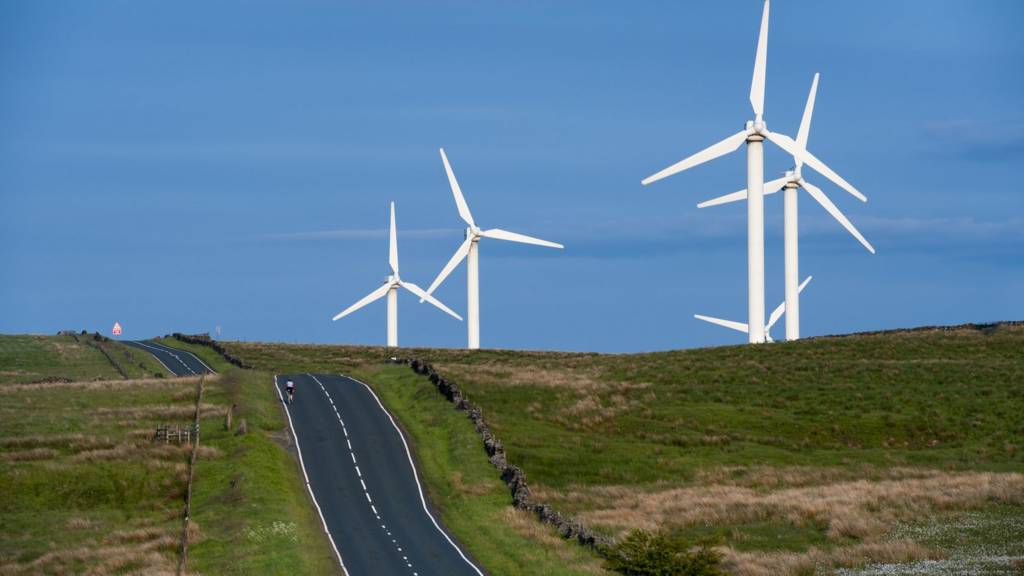 BBC Local Live: Lancashire
Our live coverage across the day

Weather: Showers clearing to leave dry and cool night

There will be a few showers around during the early evening.

But it will eventually become dry with clear spells and light winds. It will be cooler than last night.

Football: Murphy determined to surprise Morecambe doubters

The Morecambe captain, Peter Murphy, says every one at the club is determined to confound expectations and stay at the top of League Two.

The midfielder could be involved against Leyton Orient tomorrow after an eight-month injury lay-off. 

He returns to a team that have won five of their six league games.

CCTV appeal after attack outside Preston nightclub

A CCTV image has been released after a man was assaulted outside a nightclub on Saturday.

Copyright: Preston Police

The 26-year-old, from Walton-le-Dale, was attacked outside Blitz in Church Row, Preston, about 03:20.

He became separated from friends after being confronted by a group of people.

One of the group attacked him, knocking him to the ground with a single punch.

Latest headlines for Lancashire

A motorcyclist from Poulton dies in a crash near Cockerham
A man from Blackpool is wanted in conenction with a number of serious incidents including rape, false imprisonment and threats to kill
Damage is caused to a number of businesses in Nelson after a water main burst this morning

Man wanted over rape and false imprisonment

A man is wanted by police in connection with a number of offences including rape, false imprisonment, wounding, possession of a firearm, threats to kill and theft. 

Copyright: Blackpool Police

John Hewitt, 36, formerly of Dickson Road in Blackpool, also has links to Essex, Portsmouth, Wales, Norfolk, Thames Valley, Greater Manchester and London. 

He is also known to go under the names of John Wilson, Dean McKenzie, John Burton and John Davies.

Incidents are reported to have taken place between June 2015 and July this year.

Report highlights extent of people missing in Lancashire

A member of the Red Cross has revealed how simple techniques can trace missing people, after a National Crime Agency report revealed 7,000 people went missing from Lancashire last year.

Across the UK almost 300,000 calls were made to police regarding a missing or absent person in 2014-15.

International family tracing service coordinator Alex Walsh explained how the organisation helped a Lancashire woman recently track down her father in Poland.

Football: Marshall keen to stay at Blackburn - Coyle

Blackburn Rovers boss Owen Coyle says winger Ben Marshall wants to agree a new deal with the Championship club.

The 25-year-old's current contract runs out at the end of the season and has not yet signed a deal offered by the club.

Rovers turned down offers for the ex-Leicester player from Wolves and Fulham during the transfer window.

"I'm hopeful something can be resolved to have Ben at the club long term, and it protects an asset," Coyle said.

Motorcyclist killed in crash

A 58-year-old motorcyclist has died in a crash in north Lancashire.

Alan Inman, from Poulton, was travelling along the A588 towards Cockerham, when he approached standing traffic. 

He crashed with a stationary motorbike and then a lorry travelling in the opposite direction. 

He sustained serious injuries and died at the scene.

Police are appealing for witnesses.

Baby is 'poorly but stable' after being injured

A four-month-old baby girl found at her home with "significant head injuries" remains in a "poorly but stable" condition, a detective working on the case said.

Weather: Scattered showers through the afternoon

There will be a mixture of sunny spells and scattered showers this afternoon.

A few showers will continue at first this evening, although it will be mainly dry with clear spells and light winds.

Football: Accrington boss Coleman calls for return to 'learning how to win' mentality

Dan Jewell

BBC Radio Lancashire Sport

Accrington manager John Coleman has called on his players to show their character after an indifferent start.

Stanley have only won once in League Two this season and face Carlisle tomorrow.

Coleman said they need to show the same "learning how to win" mentality that took them to the play-offs last season.

Latest headlines for Lancashire

An investigation is under way into the cause of a fire at a former school in Skelmersdale
The former Eastenders actress Dame Barbara Windsor will switch on the Blackpool Illuminations this evening
League Two club Morecambe is taken over by Brazilian businessman Diego Lemos

Travel: Crash closes northbound M61

The northbound M61 is closed between junction 6, Horwich, and junction 8, Chorley, because of a crash. 

A car has reportedly left the carriageway.

Football: Brazilian businessman buys Morecambe

League Two club Morecambe have been taken over by Brazilian businessman Diego Lemos, subject to consent from the English Football League.

Lemos has bought a majority shareholding from Peter McGuigan.

Chairman McGuigan has owned the Shrimps for 16 years and oversaw the club's relocation to the Globe Arena in 2010.

When he put Morecambe up for sale in March, he said he hoped a new owner would aim to take them into League One in three years.

Child rescued from railings by fire crews

Latest headlines for Lancashire

Two men from Nelson are being questioned on suspicion of child abduction over the disappearance of a 13-year-old girl, who has since been found safe and well
A blaze at a derelict former school in Skelmersdale is being investigated
A public meeting involving a group of Blackburn supporters is calling for the club's owners, the Rao family, to sell

Barbara Windsor set for Blackpool Illuminations switch on

The Blackpool Illuminations will be switched on this evening by Dame Barbara Windsor.

The former Eastenders actress and Carry On star will light up the resort in front of thousands on the seafront. 

One of the new attractions is a projection show on the Tower buildings called "Chasing-Stars". 

The British astronaut, Tim Peake, and the European Space Agency have been involved in creating it.

Burnley target Grosicki reveals transfer deadline day frustration

Lancashire Telegraph

Lancashire Telegraph

Football: Rovers fans call for owners to sell club at public meeting

Andy Bayes

Reporter, BBC Radio Lancashire

More than 300 Blackburn Rovers supporters met last night to discuss the growing discontent between themselves and the club's owners, Venkys.

The open floor meeting was organised to find new ways of convincing the Rao family in India to sell the club.

Blackburn have lost four of their opening five league games and are currently bottom of the Championship.