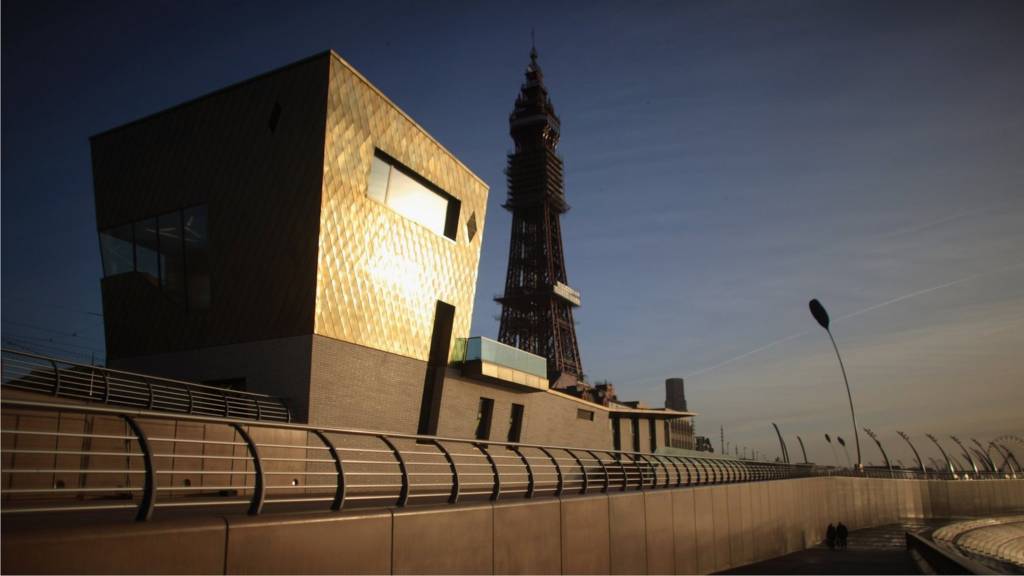 BBC Local Live: Lancashire
Summary
Updates on Thursday 4 August
More news, sport, travel and weather updates from 08:00 on Friday 5 August
Our live coverage across the day

Weather: Dry, clear night in store

Showers should ease this evening, leaving a largely dry night with some clear spells developing.

NHS bosses 'committed to reopen Chorley Hospital'

Senior managers at Lancashire Teaching Hospitals NHS Foundation Trust insist they do not plan to permanently shut the A&E unit at Chorley Hospital.

The department was closed earlier this year because of a shortage of doctors - and the trust last night announced it would remain closed until at least April 2017.

"We've always said we're committed to reopen Chorley emergency department," trust medical director Mark Pugh said. 

"The thing that's stopping us doing that at the moment is our ability to recruit the middle-grade staff we need to run the unit."

Former Blackburn and Blackpool player Coughlin dies

A former Blackpool and Blackburn midfielder has died at the age of 56.

Russell Coughlin is believed to have collapsed at the wheel of his car yesterday, and died shortly afterwards.

Coughlin spent two years with Blackburn after joining them in 1978.

He later joined Blackpool, going on to make more than 100 appearances.

Latest headlines for Lancashire

A woman accused of murdering a Lancashire businesswoman has told a court how her co-accused allegedly bought a 500,000-volt stun gun   
The medical director of Lancashire Teaching Hospitals NHS Trust says the trust has always been "committed" to reopening Chorley Hospital's A&E unit
Police are investigating after a 4x4 vehicle reportedly drove on to a cricket pitch near Preston, tearing up the turf  

Police investigating cricket pitch vandalism

Police are investigating after a 4x4 vehicle reportedly drove on to a cricket pitch near Preston, tearing up the turf.

Copyright: Gregson Lane CC

The vehicle was seen by a member of Gregson Lane Cricket Club.

AFC Fylde close to new stadium completion

National League North club AFC Fylde are close to completing building work on their new multimillion-pound 6,000-seat Mill Farm stadium.

BBC Radio Lancashire was given a tour of the new facility, which will be used for the first time for their game against Brackley on 13 August.

Warning following Darwen landslip

United Utilities have reassured people that reservoirs near to the site of a landslide in Darwen remain safe, but to remain cautious in the surrounding area.

The landslip occurred when saturated ground slipped into river near Sunnyhurst Woods.

Engineer Carl Sanders said: "The service and another nearby reservoir are really stable. 

"The downside is that quite a few trees have come down, and although no-one was hurt when they did we do need people to stay in case a few more trees come down."

Colne's Burke targets more Olympic success

Andy Bayes

Reporter, BBC Radio Lancashire

The opening ceremony for the Olympic Games in Rio is set to take place tomorrow night.

Lancashire has a number of medals hopefuls, including Colne cyclist Steven Burke, who is looking for a medal in a third successive games.

"I've been lucky I've managed to peak at the right time," said Burke. "I've struggled at World Championships but then managed to get it right at the Olympics, so hopefully this'll follow the same pattern."

Woman avoids jail after punching girl at house party

Lancashire Telegraph

Lancashire Telegraph

South Prom apartments bid back before planners

Blackpool Gazette

Blackpool Gazette

Council leader concerned over Chorley A&E future

The leader of Chorley Council says it is "unacceptable" the A&E department at Chorley Hospital may remain closed until at least April.

Councillor Alistair Bradley said: "I've always gone out of my way to be fair to the hospital trust's management to say I accept your assurances that the A&E will be reopened as soon as possible.

"But to be told it could be another nine to 12 months is unacceptable."

Damage to playing area at cricket club in Preston

Some troubling news from Gregson Lane Cricket Club today....

Olympics 2016: Burnley's Sophie Hitchon heading to Rio

Harry Poole

BBC Kick Off Reporter

From ballet beginnings to hammer heights.

That's the unusual sporting journey of Burnley's Sophie Hitchon, 25, has made on her way to competing in her second Olympics, in Rio, this summer.

Read more about her whirlwind rise

Latest headlines for Lancashire

Chorley MP Lindsay Hoyle calls for senior managers from Lancashire Teaching Hospitals NHS Trust to resign over the continuing closure of Chorley Hospital's A&E department 
A group of travellers are evicted from a children's play area in St Annes
Preston North End full-back Calum Woods undergoes successful surgery after a cruciate ligament injury

Preston's Calum Woods undergoes surgery on cruciate

Hannah Lupton

BBC Radio Lancashire Sport reporter

Preston North End manager Simon Grayson says full-back Calum Woods has had a successful operation on his cruciate ligament. 

The 29-year-old was ruled out of the season after suffering the injury in a pre-season friendly against Oldham last month.

MP calls for NHS resignations over A&E closure

The MP for Chorley believes people in the town have been "totally let down" by the continuing closure of Chorley Hospital's A&E unit.

Lancashire Teaching Hospitals NHS Trust has said the department will remain closed until at least April 2017 amid a shortage of doctors.

MP Lindsay Hoyle said senior managers must accept responsibility and resign.

"Resign now and get somebody in who can deal with the problem and get the department reopened," he said.

"Let's get new management in because they're letting people down. Totally unacceptable."

Rob Kelly becomes assistant boss at Fleetwood

League One side Fleetwood Town have appointed Rob Kelly as assistant head coach to new manager Uwe Rosler.

Travellers evicted from children's play area in St Annes

A group of travellers have been evicted from a children's play area in St Annes after a council took legal action.

Fylde Borough Council told Blackpool Magistrates Court the travellers had been behaving aggressively and using foul language to residents in nearby Frobisher Drive.

It was the second application granted in three days by the court after 12 travellers were told to leave playing fields on Blackpool Road North in the town.

Darwen woods landslide 'devastating', says community leader

Work is being carried out to make a huge landslip in a woodland in Darwen safe.

Copyright: United Utilities

United Utilities engineers have been on site at Sunnyhurst Woods after it happened on Monday.

Hayley Kirkpatrick, chairwoman of Friends of Sunnyhurst Woods, says it is very upsetting.

"It's devastating. We already had issues at Christmas with the storms and we've been trying to rectify that and to see the damage that's been caused is horrific."