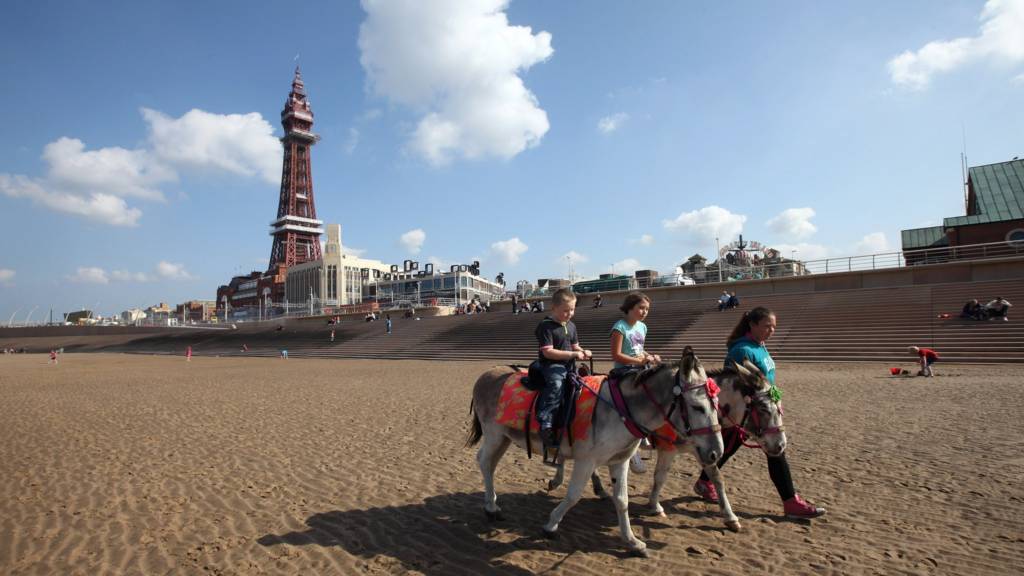 BBC Local Live: Lancashire
Summary
Updates on Wednesday 27 July
More news, sport and weather from 08:00 on Thursday 28 July
Our live coverage across the day

Latest headlines for Lancashire

A delivery driver in Blackburn is slashed across the chest in what police describe as a "targeted attack"
The MP for Pendle says nothing can justify recent "heinous" terrorist attacks and calls for local communities to work together
An initiative set up 10 years ago to improve schools in east Lancashire is hailed a success

Cycling: Briggs claims Colne Grand Prix crown

Graham Briggs won the final race of British Cycling's Elite Series at the Colne Grand Prix.

The 33-year-old cyclist, from JLT Condor, beat teammate Tom Moses, with Matt Cronshaw finishing third.

Drunk thief returned to shop three times

A bungling shoplifter who went back to the same shop three times and tormented a security guard has been sent to a young offender's institute for 12 weeks.

Pendle MP: Nothing can justify 'heinous' terrorist acts

The MP for Pendle has appealed for communities to unite following recent terrorist atrocities in France and Germany.

"It's really concerning what's going on in the world and how that leads to repercussions back home," Andrew Stephenson said. 

"The one thing everyone is united in saying is terrorists, no matter what their background, they use the great faiths of the world to try and justify their heinous acts.

"Nothing can justify killing innocent people. Nothing."

Weather: Largely dry, but cooler overnight

Charlie Slater

BBC Weather presenter

It should stay largely dry into the evening, with some clear spells developing overnight before cloud thickens by dawn.

It will feel cooler than on recent nights.

Delivery driver slashed in 'targeted' Blackburn knife attack

A delivery driver was slashed across the chest in what police have described as a "targeted attack" in Blackburn.

The 35-year-old was delivering alcohol in the Shadworth area and had parked up on Worcester Road to make a delivery to four men, Lancashire Police said.

One of the group then reached in through the driver's window and slashed him across the chest causing a large wound.

The driver was taken to Blackpool Victoria Hospital where he is being treated for his injuries.

The four men are described as white males in their twenties, and anyone with information about last night's incident is urged to contact police.

Lancashire-born world cycling chief discusses Russian doping controversy

The head of world cycling believes the failure to impose a blanket ban on Russian athletes from the Rio Olympics over the country's doping scandal has left his organisation with a problem.

It follows a decision by the International Olympic Committee to leave it up to individual sports' governing bodies to decide if Russian competitors should take part in next month's Olympic Games.

Speaking at the Colne Grand Prix cycling event, the Lancashire-born president of the International Cycling Union Brian Cookson said: "If they'd decided to ban the entire Russian team that's one thing but then to put it back onto us as international federations is a little problematic."

He said cyclists on the international road racing scene had already undergone thorough testing so "it's difficult for us to consider banning someone when they've been tested many times before. But we are looking at it." 

'Party' hotel stripped of booze licence

Blackpool Gazette

Blackpool Gazette

Former councillor hails success of school rebuilding initiative

An initiative to improve schools in parts of Lancashire has been hailed a success, 10 years after its inception.

The aim of the £250m "building schools for the future" project was to solve the problem of over-subscribed schools and to improve attainment and community cohesion in Burnley, Padiham and Pendle.  

Alan Whittaker, a former cabinet member for education at Lancashire County Council, said it has helped transform old and unsuitable schools.

"I was happy to attend some of the official openings and I think it was the best thing we've done in Lancashire," he said.

Latest headlines for Lancashire

Lancashire consultant earned more than £350k in overtime pay

Nick Triggle

Health Correspondent

Here's more on the story of a Lancashire hospital consultant who earned £375,000 in overtime in a just year, according to figures obtained by the BBC.

An investigation has found the overtime bill for consultants in the UK rose by a more than a third in two years.

HGVs could be banned from parts of Lancaster

Chorley MP 'astonished' over consultant's £350K overtime payments

The MP for Chorley has said he is "astonished" a consultant was paid £375,000 in overtime by Lancashire Teaching Hospitals NHS Foundation Trust.

Another consultant at Blackpool Teaching Hospitals was paid more than £180,000.

Lindsay Hoyle said: "I'm astonished. We've heard that when Chorley A&E closed it was because they couldn't pay any extra money for staff."

Chorley Hospital was downgraded to an urgent care centre in April due to a doctor shortage after a pay cap on agency staff was imposed.

Football: Blackburn and Fleetwood paired in EFL Trophy draw

Blackburn Rovers and Fleetwood have been drawn in the same group in this season's EFL Trophy.

Image caption: EFL Trophy

They will also face Oldham and Carlisle in Group D of the revamped competition.

Blackpool have been drawn against Everton, Bolton and Cheltenham.  

Morecambe will play Stoke, Bradford and Bury, with Accrington set to meet Wolves, Chesterfield and Crewe.

Latest headlines for Lancashire

The MP for Chorley says there are serious questions to answer after a consultant was paid £375,000 in overtime and extra pay last year by a Lancashire NHS Trust
A farm in Silverdale is selling raw milk from a vending machine in a bid to combat falling milk prices
This year marks a decade since a landmark project to improve schools in Burnley, Padiham and Pendle

Parents warned about children trespassing on North West railways

Parents are being warned children are almost twice as likely to trespass on the railway in the summer than in the winter.

British Transport Police has revealed there were 270 incidents of young people trespassing in the North West last summer - leading to more than 200 hours of delays to trains.

Fatal street attack suspect charged

A man has been charged with the manslaughter of a 37-year-old man who was found with serious head injuries in St Annes.

Copyright: Lancashire Police/Google

Jonathon Plum, 37, was found in Wood Street at the weekend and died on Monday night at the Royal Preston Hospital.

Peter Honeyman, 20, of Heyhouses Lane, St Annes is due to appear at Blackpool Magistrates' Court later.

Football: Morecambe add Burnley's Whitmore on loan

Morecambe have signed Burnley defender Alex Whitmore on loan until January.

The 20-year-old centre-back came through Burnley's youth system at Turf Moor.

"He's played at a good level last season and hopefully he can continue his progression," boss Jim Bentley told the club website.

One-hour ambulance wait for woman 'struggling to breathe'

Blackpool Gazette

Blackpool Gazette

A father has spoken of his fear after his daughter collapsed in the street – and was forced to wait more than an hour for an ambulance as she fell unconscious and struggled to breathe.