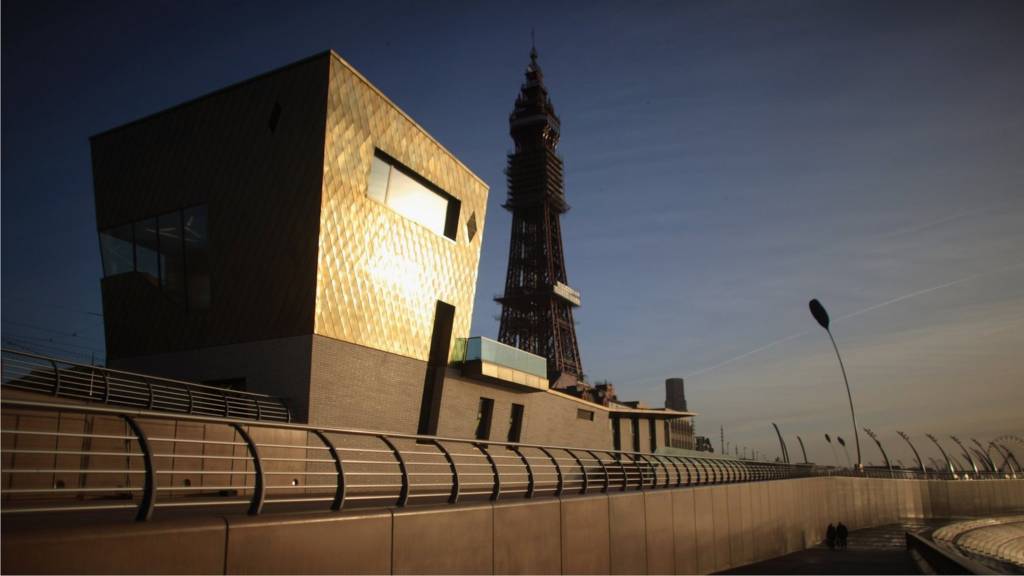 BBC Local Live: Lancashire
Summary
Updates on Monday 25 July
More news, sport, weather and travel updates from 08:00 on Tuesday 26 July
Our live coverage across the day

Weather: Mainly dry and mild evening in store

There will be one or two more light showers over the hills later but most places will stay dry and mild with clear spells as we move into the evening.

Latest headlines for Lancashire

A woman arrested after a baby was found in a park in Blackpool is bailed
A senior nurse at a Lancashire hospital trust allegedly told a colleague to keep quiet about a surgeon who operated on the wrong finger of a patient, a hearing in London is told
Police call off a search of a garden in Thornton after receiving reports of a body buried next to the property

Former England player Armfield remembers 1966 World Cup

Nearly 50 years since England won the World Cup, former Blackpool and England defender Jimmy Armfield has been reminiscing about the tournament.  

Armfield's teammate for both club and country Alan Ball was an integral member of the squad.

"Alan Ball played with his heart," said Armfield. "Alan was probably the best player on the field during the World Cup Final. He was the one that kept it all going and his work-rate was tremendous."

You can hear the full interview with Jimmy Armfield from 18:00 on BBC Radio Lancashire.

Captive bred butterfly thrives at Lancashire nature reserve

BBC Science and Environment

A small bog in Lancashire is once again home to a rare species of butterfly - for the first time in 100 years.  

Image caption: Large heath butterfly

After three years of careful breeding, scientists from Chester Zoo say they have established a stable wild colony at Heysham Moss.

Only two other locations in Lancashire play host to this fluffy brown species, which thrives in low, damp boglands.

"They've not been at Heysham for at least 100 years," said Heather Prince, an invertebrate keeper at the zoo.

Woman bailed after abandoned baby found in Blackpool park

A 43-year-old woman has been bailed pending further inquiries after a baby was found abandoned in a park in Blackpool.

Image caption: Watson Road Park

The 11-month-old girl was found in an upturned pram in Watson Road Park yesterday morning.

Her mother was arrested on suspicion of child neglect.

Travels: Accident closes A6 in Bolton-le-Sands

An accident has closed the A6 Slyne Road in Bolton-le-Sands between Greenwood Avenue and Bottomdale Road.  

Football: England boss Allardyce wants to increase 'passion and desire'

New England football manager Sam Allardyce says he wants to create a "feelgood factor" and capitalise on his players' "passion and desire".

In his first news conference since being appointed, the former Blackpool and Blackburn boss said his greatest assets were his man-management skills. And he said he wanted all his players to enjoy themselves.

Experts help in Preston housing zone boost

Child put in armlock in 'train seat row'

Photographs have emerged purportedly showing a man putting a young boy in an armlock on a train travelling from Clitheroe. 

The incident on a Clitheroe to Manchester Victoria service on Friday was reportedly snapped by another child travelling with the youngster.

Copyright: Trinity Mirror

A witness told the Manchester Evening News the man acted after the "cocky" boy would not take his feet off a seat. 

British Transport Police are investigating and appealed for witnesses to come forward.

Star Trek fun: Beam yourself up from Blackpool

Chris Long

Entertainment reporter

The Star Trek exhibition in Blackpool - which is running alongside a film festival celebrating 50 years of the sci-fi drama - comes with a free to download app.

Chiefly, it offers you augmented reality insights throughout the show, but it also has the fun feature of allowing you to "beam up" from a transporter.  

Lancashire economist reports financial slow-down after Brexit

Firms in the region have reported a drop in economic activity since the EU referendum result, according to a Lancashire University economist.

But professor Geraint Johns from Lancaster University's School of Economics says it will take some time to see what long-term financial impact Brexit will have on the county.

"In July, we are having not just a slowdown but a contraction in output.

"But for that to convert into a recession we'd need that to go on for another five months and we simply don't know what'll happen."

Football: Burnley captain's 'no brainer' decision to sign new deal

Andy Bayes

Reporter, BBC Radio Lancashire

Burnley captain Tom Heaton says he had no hesitation is signing a new four-year deal with the Premier League club.

The 30-year-old goalkeeper - who was part of England's Euro 2016 squad - said the decision was a "no brainer".

"I've had three great years here and have thoroughly enjoyed every minute of it," he said. "To sign another four years with the club where it's going, I'm over the moon."

Woman arrested after man hurt in late night attack

Lancashire Telegraph

Lancashire Telegraph

Latest headlines for Lancashire

A woman is released on bail after a baby girl is found abandoned in a park in Blackpool
An investigation into reports of a body buried in a garden in Thornton is called off
Blackpool councillor Eddie Collett dies of cancer, aged 58

Former Blackpool mayor dies from cancer

A respected Blackpool councillor and former mayor has died from cancer at the age of 58.

Copyright: Blackpool Council

Image caption: Eddie Collett

Eddie Collett, who represented the Tyldsley ward for Labour, was first elected to the council in 1991.

Teenage cyclist airlifted after Morecambe car collision

Morecambe Visitor

http://www.thevisitor.co.uk/

Cricket: Cross ready for Super League season opener

Lancashire Thunder's Kate Cross says the side are "ready to hit the ground running" ahead of the inaugural Women's Super League season.

"We've done a lot of talking about the Super League and now we just want to play some cricket," she said.

The Thunder begin their campaign against Western Storm on Sunday.

Church leader calls for stronger Lancashire-Germany ties after Brexit

A leading member of Lutheran Church in Germany believes the Brexit vote will strengthen ties between the church and the Church of England's Blackburn Diocese.

The diocese has worked with their German counterparts since 1994. 

Lutheran Church co-ordinator Birgit Holstein hopes the EU vote will not damage the relationship.

"We want to find ways to unite rather than be separate. I hope the link will strengthen," she said.

Thornton 'body in garden' probe called off

Police investigating reports of a body buried in a garden in Thornton have called off their search.

Image caption: Knowsley Crescent

Nothing significant was found on land next to a property on Knowsley Crescent, Lancashire Police said.

The cordon at the address has now been removed.