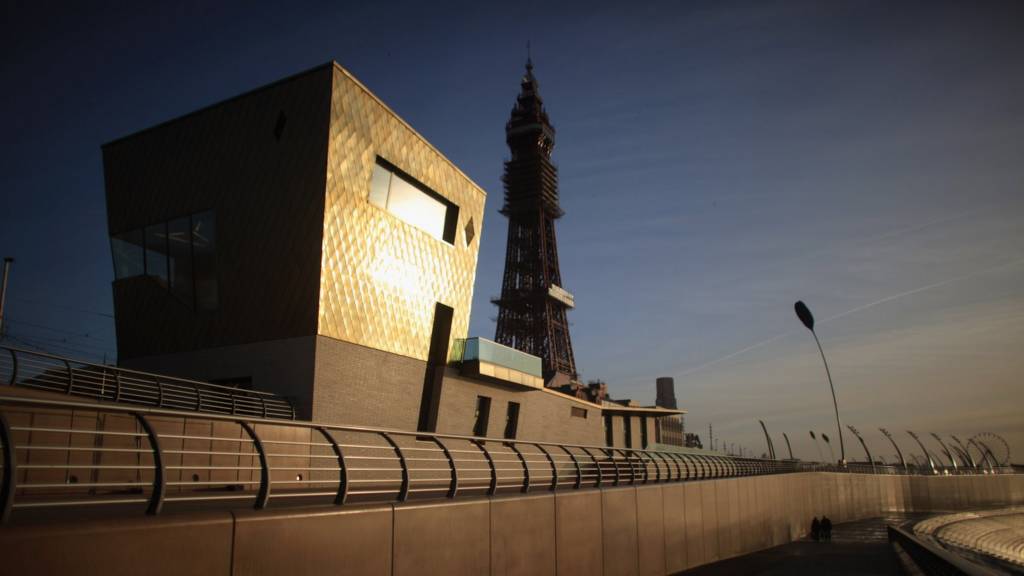 BBC Local Live: Lancashire
Summary
Key updates from Monday 4 July
News, sport, weather and travel updates from Lancashire resume at 08:00 on Tuesday
Our live coverage across the day

Flamingo chicks hatch at nature reserve

Two greater flamingo chicks have hatched at a nature reserve in Lancashire.

The flamingos were born at Martin Mere Wetland Centre, near Burscough.  

Centre Manager, Nick Brooks, said: "The flamingo chicks are quite late hatching this year as they are usually quite grown up by late July."

Latest headlines for Lancashire

A motorcyclist dies after a crash with a car in Preston at the weekend 
'Poisonous' immigration claims made by pro-Brexit campaigners are fuelling a rise in racist abuse, a Blackburn human rights adviser says 
A play detailing the lives of two Lancashire soldiers from World War One is being staged at Blackburn Cathedral tonight

Euromillions winner misses out on £1m prize claim

A lottery winner from Preston has failed to come forward to claim a £1m Euromillions prize.

Lottery operators Camelot say the money from the winning ticket, bought in January, will go towards National Lottery projects.

Football: Pre-season training ahead of Burnley's Premier League return

Weather: Heavy rain spreading across Lancashire

Alexandra Hamilton

BBC Weather

Rain, heavy at times, will eastwards during the afternoon.

A rainy evening across the region, with some heavy pulses in few places. Through the night the rain will ease, though cloud will remain extensive.

Overnight temperatures will fall to 11C (51.8F).

Plans submitted for wind turbines near Darwen

Plans to develop three wind turbines in Hoddlesden Moss have been submitted to Blackburn and Darwen Council for the second time.

The council received up to 400 objections after original plans were submitted for the site near Darwen.

'I truly believe my little boy is heaven sent'

A mum who suffered 15 miscarriages and lost her second son to stillbirth today spoke out about the tragedy and revealed how it is possible to find happiness after heartbreak.

Football: Lindegaard signs 'no brainer' Preston deal

Preston North End have re-signed goalkeeper Anders Lindegaard on a one-year deal after he had his contract cancelled at West Bromwich Albion.

The former Manchester United keeper, 32, spent the second half of last season on loan at Deepdale where he made 14 appearances.

"It was a very easy decision," he said. "I could have gone to several other clubs in England but it was a no brainer, I wanted to stay here." 

The Big Picture: Blackpool from the air

Jeremy Oki took this photo on 2 July from 1500ft (457.2m) while on a training flight from Blackpool Airport.

If you have a picture you'd like to share, email england@bbc.co.uk, post it on Facebook or tweet it to @BBCEngland. You can also find us on Instagram - use #englandsbigpicture to share an image there.

Motorcyclist dies in collision with car in Preston

A motorcyclist died on Sunday night after a collision with a car in Preston.

The accident happened about 19:15 on Sunday between London Road and Salmon Street. 

The 28-year-old rider was pronounced dead at the scene.

East Lancashire schools to close over national teacher strikes

Lancashire Telegraph

Lancashire Telegraph

Latest headlines for Lancashire

A woman is hit by a lorry and killed after getting out of her car on the M61 motorway to inspect minor damage
Police say the death of a man whose body was found in a river in Burnley is not suspicious
A Blackburn human rights adviser blames "poisonous" immigration claims by pro-Brexit politicians for a rise in racist abuse

Football: Bowyer the man to change Blackpool's fortunes, says Andy Taylor

New Blackpool signing Andy Taylor believes the appointment of manager Gary Bowyer will improves the club's fortunes.

Taylor, who worked with Bowyer at Blackburn Rovers' academy, has signed a 12-month contract, with the option of a second year.

Advice for motorists after M61 fatal accident

Highways England has advised motorists to remain in their vehicles if they break down or are stuck in a "live" motorway lane with traffic around them.

It follows the death of a 24-year-old woman who was hit by a lorry and killed on the M61 as she got out of her car to inspect minor damage.

The advice is to remain in your vehicle, switch on your hazard lights and call the police on 999.

Body find in Burnley river 'not suspicious'

The death of a man whose body was found in a Burnley river is not being treated as suspicious, say police. 

The man's body was discovered on Sunday afternoon in the section running through Thompson Park.

The 29-year-old was pronounced dead at the scene.

DIY SOS appeal for volunteers to complete Blackpool house renovation

A BBC TV programme is appealing for more volunteers to help complete work on a carers centre in Blackpool.

The DIY SOS programme is renovating a run-down house for this year's Children in Need.

They are still looking for key tradespeople, including plasterers and decorators.

Government minister to hear fracking recommendations

A Government minister is due to begin considering a report into fracking in Lancashire.

Recommendations from planning inspector Wendy McKay are due to be viewed by the Secretary of State for Communities and Local Government, Greg Clarke.

An inquiry was held in Blackpool in March into an appeal by the energy firm Cuadrilla against a refusal of permission by Lancashire County Council.

Latest headlines for Lancashire

A woman is hit by a lorry and killed after getting out of her car on the M61 motorway to inspect minor damage  
Patients are urged to stay away from the Accident and Emergency unit at the Royal Lancaster Infirmary due to bed shortages
A government minister is to consider a report into fracking at two sites in Lancashire

Duke of Lancaster's Regiment marks Somme centenary

Tim Padfield

Assistant editor, BBC Radio Lancashire

Soldiers from the Duke of Lancaster's Regiment marched through Blackburn at the weekend to mark the centenary of the start of the Battle of the Somme.

The parade on Sunday followed a service at the town's cathedral.

The regiment lost nearly 2,000 men on the first day of fighting.