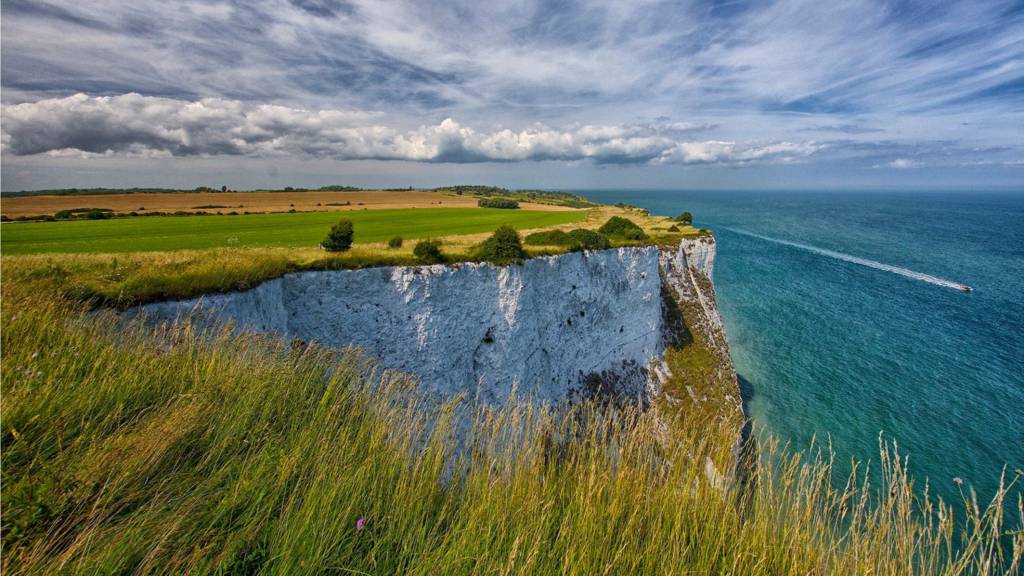 Summary
Updates on Wednesday 3 August 2016
How would you sum up Margate?

Wendy, who owns Crafted Naturally in Margate, loves the town so much that she can't describe it in three words.

She needs four. 

"Please play me!! I'm yours."

Only in Margate would there be a piano on the side of a cafe.

Three things you (probably) didn't know about the east Kent coast

Image caption: A sunny Margate beach today

The area claims a number of holiday "firsts" including donkey rides in 1890 and deckchairs in 1898 in Margate

Famous names drawn to the east Kent coast include Charles Dickens, JMW Turner and Augustus Pugin and their connections are all still celebrated today

Tourism chiefs say the area has not only helped to defend the nation - Ramsgate sent "little ships" to Dunkirk and welcomed 80,000 soldiers back from France - but has also defined seaside style

'Margate has everything I love about the seaside'

I spoke to Rob and Amber about why they love Margate.

They said they're so fond of the place they decided to move here.

Breaking

Southern train drivers to be balloted for strike action

Train drivers employed by Southern rail and Gatwick Express are to be balloted for strikes over a "breakdown in industrial relations", says the Aslef union.

'The Old Man of Kent': 1840-2016

This is the moment the ancient tree was felled.

It was captured by our Environment Correspondent Yvette Austin.

No donkey rides in Margate...

But I did spot this snazzily dressed character.

Your chance to buy a piece of history

Parts of Canterbury Cathedral will be available to buy for the first time ever.

Ancient stone, which has been removed during renovation of the famous south stained-glass window, is to be sold at auction.

Here's Leanne Rinne's report.  

How would you sum up Margate in three words?

Here's the view of Wendy and Gregory.

And they really like the town.

The end for the 'Old Man of Kent'

The "Old Man of Kent" was planted in 1840. 

The Grand Fir - one of the tallest trees in England - suffered serious damage during Storm Katie at Easter.

A survey in June revealed the 50m tall tree was diseased and dangerous.

I've spoken to young mum Sophie who lives in Margate.

She says there aren't many job opportunities in the town - but is pleased the Dreamland heritage theme park re-opened for "entertainment".

Timber: 'Old Man of Kent' is chopped down

The chainsaws have begun their destructive work on Kent's oldest tree.

Georgina Burnett

BBC Weather

After a cloudy start, it's looking brighter and it's feeling warm.

Here's my lunch-time weather forecast.

Migrant problems for Kent County Council, Sussex villagers back environmental campaigners and Kent becomes home to the latest source of green energy - it's Bob Dale with #onthisday

Football: Gills striker set to leave club

Ronan Sully

Radio Kent Sports Reporter

Gillingham striker Luke Norris is set to leave the club before the end of the month.

The 23-year-old frontman is in talks with a number of clubs about a transfer and Gills manager Justin Edinburgh says a move is now likely.

Norris also won't be involved against Southend in their League One season opener on Saturday.

You can hear full commentary of that match - and all Gillingham matches home and away this season - on BBC Radio Kent.

Image caption: Luke Norris looks set to leave Gillingham

How social media reunited Eileen, 96, with her precious 'lucky' WWII pic

A photograph of a soldier from the Second World War has been reunited with its owner after a social media campaign. Read the KentOnline report here.

Image caption: Graeme Corner reuniting Eileen Addis with her lost photograph

UKIP confirms leadership contenders

Helen Catt, BBC South East Today's political editor, has tweeted this. 

'Old Man of Kent' facing the axe

BBC South East Today's environment correspondent, Yvette Austin, is about to film Kent's oldest tree being chopped down. 

Roger Daltrey: 'It's absolutely magical'

The Who frontman Roger Daltrey has paid a visit to the Romney, Hythe and Dymchurch Railway.